updated: 11/13/2019
Colon cleansing or colon therapy has been widely used throughout history to boost the natural detoxification processes of the body, improve digestive health, and improve the overall quality of life. The purpose of colon cleansing is to help digestive organs to do their own job in the best state. In fact, it is not necessary for everybody to do colon cleansing, but some could really benefit from this method to eliminate waste, bacterial matter and other toxic materials from the intestinal tract and colon. There are many natural ways to do a colon cleanse, but basically, it is divided into two major categories: the professional type and the homemade type. This article will show you some of the best home remedies for colon cleansing detox. But, remember that "natural" does not mean safe. Thus, it is best to talk with your doctor or health provider before starting a new practice, like colon cleansing. Take a look!
Top 22 Effective Home Remedies For Colon Cleansing Detox
The recipes we've focused on are traditional home remedies that can be used alongside usual medical treatment. Always consult your doctor about your colon condition, and if symptoms are getting worse rather than better.
1. Apple Juice
Apple juice is commonly used as a medication and homemade treatment for colon detox. It can break down toxins, thereby encouraging regular bowel movements. Apples are enriched with fiber[1], which helps to bulk up your stool while making it easy to pass. They may also help to prevent the growth and development of colon cancer cells[2].
By drinking a glass of apple juice, you can accelerate a healthy liver and digestive system as well[3]. Drinking unfiltered apple juice during the day is a good way to detox your colon. Alternatively, you can eat apples if you are not a fan of juice.
TrueRemedies Partner Solutions

Need a Help from the Leading Expert Online, Available 24/7?
They're all here and ready to answer your questions online or by phone. Keep asking questions until you get the answer you need.
2. Ginger
Ginger is among the most commonly consumed condiments worldwide. Having been used for more than 5000 years by the Chinese and Indians for handling many ailments, ginger is famous for its antiseptic properties[4]. Ginger possesses a bioactive compound known as gingerol that has antioxidant and anti-inflammatory activities[5] [6]. It is often used for weight loss and to deal with digestive problems. It further aids digestion by stimulating the secretion of digestive juices and hence helps to cleanse your colon[7].
Method 1: Ginger and Apple
Drink a ginger and apple smoothie once per day by mixing the following ingredients together:
Freshly peeled ginger: 1 tbsp

Sliced and seeds apple: 1

Fresh spinach: 1 cup

Carrot: 1

Pure filtered water: 8-10 ounces
Method 2: Ginger and Psyllium
The Psyllium will bind waste materials together whilst ginger helps to flush out toxins from your colon.
Fill an 8-oz glass with organic or fresh apple juice

Add 1 tsp each of ground psyllium husk and ground ginger into

Stir them well and have it
Note: Just have light foods after drinking.
Method 3: Ginger, Lemon Juice, and Apple Juice
Prepare a tall glass and a spoon

Put 3.5 ounces of purified water in a pan

Warm the water up (not boiling)

Pour it in the glass and add ½ tsp of sea salt into, stir them well

Add ½ cup of 100% pure organic apple juice, 2 tbsp of lemon juice, and 1 tsp of ginger juice into that glass and stir.

Have this solution on an empty stomach in the morning, before your light lunch, and mid-afternoon.
3. Apple Cider Vinegar
Apple cider vinegar is very wonderful for boosting overall health, improving your immune system, and detoxifying the human body. Thanks to its antioxidant and antibiotic properties, apple cider vinegar is quite beneficial for a healthy colon and gut[8]. Its antibiotic property can aid the proper functioning of your gut and digestion. Moreover, the acidic nature in it may remove toxins, increase the acid level in the stomach, and reduce body weight[9].
Mix 1 tbsp of raw apple cider vinegar, 2 tsp of raw organic honey, 8 ounces of pure filtered water, and a dash of Ceylon cinnamon together

Drink the mixture thrice per day for about 1 week
It is recommended to drink this mixture right after waking up in the morning, before having breakfast. If you want to maintain the result, keep drinking this solution 1-2 times per day daily.
4. Yogurt
Yogurt is particularly good for digestive health[10]. It has a beneficial bacteria called Lactobacillus acidophilus that is referred to as a probiotic. This bacteria is found naturally in the colon unless you experience irritable bowel syndrome and other GI issues.
Thanks to probiotics and good bacteria which can nourish the body concurrently, yogurt can cleanse your colon from the inside out. Have a cup of natural, unsweetened yogurt daily to help prevent abnormal bacterial balances developing in the colon, and to aid digestion. Besides, due to its calcium content, yogurt can also prevent digestive problems such as flatulence and indigestion[11].
5. Water
This sounds very simple when it comes to home remedies for colon cleansing. The best thing you can do for your goal of having a healthy digestive system is drinking lots of water. It is very essential to have at least 10-12 glasses of water (a total of around 2 liters) daily. That way, your body will have enough liquid and lubrication to flush out harmful toxins and waste from itself in natural ways.
Drinking plenty of water also helps to stimulate natural peristaltic actions, therefore helping consumed food to move smoothly through the digestive system[12]. Water, on the other hand, is essential for your body's hydration. You can also make use of vegetable juice and fruit juice as a good addition.
6. Lemon Juice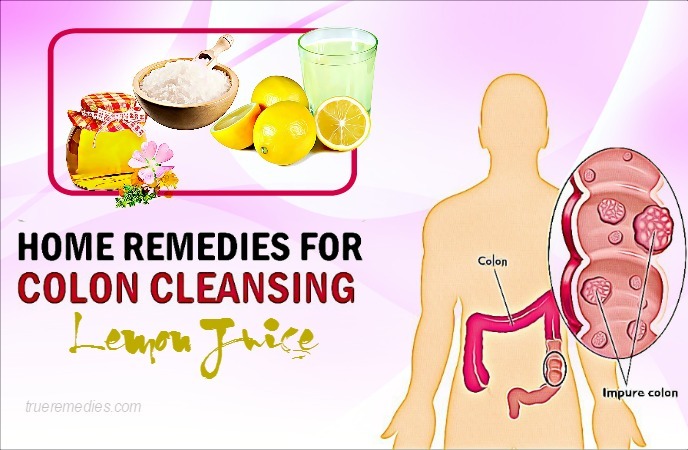 Lemon is one of the most versatile citrus fruits which possesses antioxidant properties thanks to its high content of vitamin C. Vitamin C is a water soluble, thus it could travel easily through your own body and help neutralize the toxins or free radicals, which may cause cell damage and other serious health issues, including cancer[13] [14]. It may be used for colon cleansing and help you reduce weight[15]. Along with that, its natural antioxidants may help to guard your body against free radical damage[16].
Method 1:
Mix the juice of a lemon with a little honey and a pinch of sea salt in a glass of warm pure water

Have this mixture before having breakfast each morning
This method will not only help you cleanse your colon but also give you more energy and improve your skin health at the same time.
Method 2:
Drink up to 12 glasses of the mixture between organic lemon juice, cayenne pepper, pure water, grade B or C maple syrup

Maintain this habit daily for 7-10 days
7. Raw Vegetable Juice
To cleanse your colon, you should stay away from cooked or process food for 1-2 days. Rather than consuming solid food, you need to drink lots of vegetable juice throughout per day. In fact, greens contain chlorophyll which can help to remove toxins. Besides, the minerals, vitamins, and amino acids along with enzymes available in vegetable juice can keep your whole body well energized and health. Consuming raw vegetable juices is quite beneficial for detoxifying your body and cleansing your colon[17] [18]. You can also drink some herbal teas.
But, remember that you should not use ready-made veggie juice because they do not have effective enzymes which are beneficial for your body to break down and eliminate waste products. Just simply make vegetable juices from beets, squash, carrots, spinach, kale, etc. at home using a blender or juicer.
Do not follow a juice cleanse for more than 2 days.
8. Flaxseeds
Flaxseeds are high in omega-3 fatty acids, natural fibers, and antioxidants which can help to cleanse your colon in a natural way. It can absorb the water while expanding in your colon and assists in eliminating mucus and toxins when it passes through[21] [22] [23].
What you have to do is:
In a glass of water, add 1 tbsp of ground flaxseed and stir them well

Have this solution 30 minutes before having breakfast, and 30 minutes before going to bed in the evening
To reap more benefits of flaxseeds, you can add them to your yogurt, cereals, fruits, vegetables, salads and other healthy foods.
9. Triphala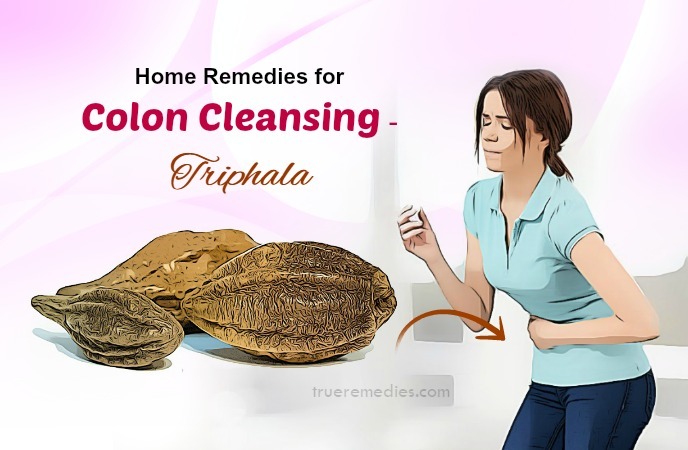 This is an Ayurvedic medicine, which has bioflavonoids, natural laxatives, vitamin C, phospholipids and linoleic oil. All of them can promote bowel movements. Having regular bowel movements are crucial for getting rid of bacteria, heavy metal detox, and riding your body of excess fatty acids. Thus, it may help to naturally cleanse your colon[24] [25] [26].
Follow the instructions here:
Buy triphala. You can find triphala in Ayurveda healthy stores or online shops

Add 1 tbsp of triphala to a glass of pure water and drink it in the morning daily
10. Senna
Senna, a flowering plant, acts as a laxative that may help to stimulate bowel movements because it is rich in anthraquinone glycosides[27] [28]. It is also a common ingredient in the commercial laxative, Ex-Lax that is widely used to alleviate constipation. The pods and the leaves of this plant are so beneficial for colon operation because it has anthraquinones, acting as a colon stimulant.
Take a senna tea bag or crushed senna herb

Boil water a little bit before pouring into the herb

Wait for 10 minutes to let them dissolve and strain the tea

Have it daily
Or, you can also steep it in cold water for about 10 to 12 hours and strain adequately because the resin of this herb might lead to abdominal cramping.
Note:
If you are suffering from appendicitis, inflammatory intestinal disorders such as IBS, kidney or liver disorders, ulcerative colitis, Crohn's disease, and intestinal blockage, you should avoid this method

Do not use this tip for children under 12 or pregnant or nursing women.

Only use Senna if you are actually constipated
11. Cayenne Pepper
Cayenne is good at breaking down mucus in the colon. With the help of cayenne pepper, you can enhance your digestive problems, bloating, cramping or blood circulation. The capsaicin found in cayenne pepper may help to reduce your appetite, increase your bowel movements, and remove toxins from your body[29] [30]. It also claims to prevent addictive cravings, stimulate weight loss, and purify your colon, kidneys, skin, nerves, glands, muscles, and all the cells of the body
Mix ½ tsp of cayenne pepper, 4 tbsp of fresh lemon juice, and ½ tsp of organic maple syrup together, and add them to 8 ounces of warm water

Stir them well and have it before having breakfast

Maintain it for 5 times per month
In case you feel it is burning, you can consume 1 tbsp of honey.
12. Aloe Vera
Aloe vera, one of the easy-to-find home remedies for colon cleansing, possesses detoxifying properties[31] [32]. Thus, it works as a good cleanser without side effects. Aloe vera juice can improve colon health and treat illnesses such as constipation, diarrhea, gastric pain, skin infections, and even headaches. If using aloe vera, you will get almost instant relief from bloating.
Take a fresh aloe vera leaf to extract its gel

Add it to lemon juice and blend well

Put them in the fridge and add some honey into before drinking a few times per day

Do not use Aloe vera if you are pregnant as it can stimulate uterine contractions.
13. Garlic
Garlic has been used for its medicinal value and as a food flavoring since ancient times. It is well known for its nutritional benefits and its antifungal, antibacterial, and antioxidant characteristics[33] [34]. All of these may be useful for naturally cleansing your colon by eliminating parasites, toxins, and pathogens from your body. Apart from that, it may help lower inflammation in your digestive system to enhance digestion, absorption of food nutrients, and the elimination of wastes owing to its anti-inflammatory agent. Moreover, garlic may help with heart problems such as heart attacks or heart failure.
For this treatment, crush some cloves of garlic and mix with honey. Consuming the mixture on a daily basis will help you alleviate the inflammation of the colon and cleanse your colon tract. You can also take advantage of food items containing garlic oil to get similar effects.
14. Fennel
Fennel seeds are a part of many natural therapies for different conditions and diseases. If used in moderation, they could give some important health benefits. The major health benefits of fennel seeds are benefits on heart health, colon health, and digestive health[35] [36] [37]. In regard to digestion, fennel seeds can treat stomach upsets. They have a large amount of fiber which can eliminate toxins from your body, including carcinogenic toxins. Being a natural colon cleanser, it can keep your colon healthy. Anti-inflammatory properties and other antioxidants of this herb also play an important role in preventing cancer.
You can boil fennel leaves in water and consume this mixture 2-3 times per day to eliminate all excess waste from your colon tract.
15. Cumin Seeds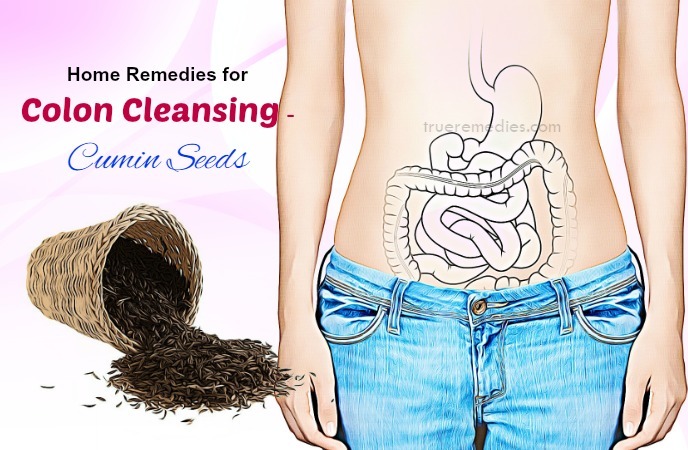 Cumin seeds are one of the best natural remedies for colon cleansing since they help remove toxins from the colon. Cumin contains a compound called thymol, which is known to promote the glands secreting acids, enzymes, and bile. Cumin seeds also aid with digestion by inhibiting the formation of gas in your gastrointestinal tract[38]. Besides, due to their carminative properties, cumin seeds can battle flatulence, which can cause abdominal pain or pressure and stomach aches. They may be used to inhibit food spoilage caused due to pathogens and harmful fungi thanks to their antibacterial and antifungal properties[39].
For this remedy, make a mixture of 1 teaspoon of ground cumin seeds and ¼ teaspoon of asafetida powder and consume them on a regular basis. This mixture will help remove toxins from your colon tract.
16. Chia Seeds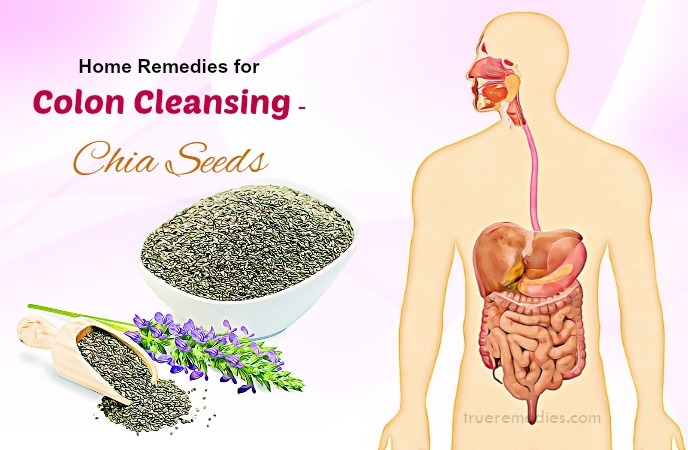 Chia seeds are high in nutrient content, including fiber and fats which are good for digestion and colon cleansing as well. Omega-3 fatty acids content in chia seeds can stabilize the cell walls and lessen inflammation. They are also high in soluble fiber which supports the digestive process[40] [41]. Furthermore, in chia seeds, there are fats which may enhance the natural defense against inflammation of the human body. Other nutrients include manganese, calcium, phosphorus, niacin, magnesium, zinc and copper.
Mix chia seeds and water as the ratio of 1:9

Consume the mixture for about 2 weeks

Repeat this routine when you want to practice colon cleansing
17. Rhubarb
Rhubarb has astringent properties[42] that may help protect against intestinal infection. You can take advantage of either rhubarb tea or rhubarb supplements. But, before taking supplements, have a consultation with your doctor.
Follow these steps to make a rhubarb tea:
Put some rhubarb and water in a large saucepan

Boil it for several minutes and reduce the heat

Let it simmer for about 20 minutes before straining it

Add a little honey and lemon juice to this tea for taste

Then, sip it slowly
18. Cascara Sagrada
The effect of Cascara sagrada is because of its anthraquinones which have laxative properties[43]. This substance plays a crucial role in strengthening the muscles of the colon walls and relieving constipation[44]. In addition, it can boost bile production in your liver, thereby detoxifying your body. Drinking cascara sagrada decoction is claimed to help stimulate bowel movements.
To make Cascara sagrada decoction, you need to prepare:
Pour 3 cups of water in a pan and boil for several minutes

Add 1 teaspoon of dried bark of Cascara sagrada to that boiling water and reduce the heat

Allow it to simmer for 30 minutes and turn off the heat

After letting it cool down, you drink it before going to bed
For optimum benefits, you should drink 1-2 cups of this concoction daily.
Caution:
Do not take it for more than 1 week.

Children should avoid using this herb.

Concerns have been raised about the safety and effectiveness of Cascara sagrada
19. Chickweed
Chickweed has numerous benefits, especially in toning and strengthening the muscles of the stomach and colon[45]. Chickweed may remove toxins and waste products out of your body, cleanse the colon, and decrease the risk of constipation[46]. Also, it stimulates bowel movements in a few hours.
You can find chickweed in many forms, from capsules, tincture to powder and tea. If you take chickweed capsules or tincture for medical goals, you had better consult your healthcare provider first. To make chickweed tea, follow these steps:
Boil a proper amount of water in a saucepan for several minutes and reduce the heat

Pour the water into a cup and put 2 tablespoons of dried chickweed in the cup

Wait for 10 minutes to let it steep

After straining it, sip slowly

Drink 1-2 cups of chickweed tea every day
20. Orange Juice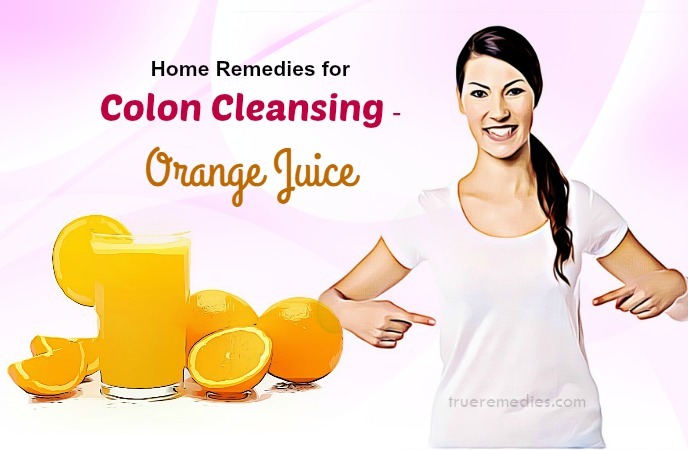 One of the most delicious citrus fruits is orange which jam packed with tons of health and beauty benefits. Consuming oranges or drinking its juice may improve immune system function, reduce aging signs, fight against cancer, increase metabolism, detoxify the whole body and while improving blood pressure and lowering cholesterol levels[47] [48]. Besides, it is also effective at cleansing the colon. Most benefits of oranges are majorly thanks to their vitamin C content, but for colon cleansing effect, it is because of the fiber content[49]. Just one cup of orange juice can provide you with 0.5gr of fiber.
It is best to choose fresh orange juice for colon cleansing purposes, but if you buy orange juice products in the grocery stores, choose the ones which do not contain sugar. Check the label carefully.
21. Amla Juice
Aka Indian gooseberry, Amla is well-known for its healing properties and is also one of the most excellent home remedies for colon cleansing. In Ayurvedic medicine, amla is an effective treatment for many diseases[50]. In amla, you can find a good source of vitamin C which is good for bones, liver, teeth, and heart. According to some studies, amla juice can detoxify your body and colon naturally. Furthermore, amla juice may relieve inflammation diseases that affect the digestive tract and colon[51].
What you have to do is:
Prepare 100 gm of fresh amalaki and remove the seeds

Steam and blend it

Add a proper amount of water to that blended amalaki, followed by a little honey

Consume it every day
22. Wheatgrass Juice
When it comes to effective home remedies for colon cleansing, wheatgrass juice gets lots of positive feedback. It is used as a healing herb thanks to its rich nutrients and vitamins and minerals. The chlorophyll in wheatgrass juice has antibacterial properties while other chemicals included could boost the detoxification process. The three most vital effects of wheatgrass juice on the human body include liver detoxification, blood, and colon cleansing[52]
To reap the most optimum benefits, you should drink wheatgrass juice every day. Not only does it provide your body with more oxygen, but it also removes toxins and waste products from your body.
Additional Tips
In addition to the mentioned-above home remedies for colon cleansing, you should also apply the following tips to get a healthy digestive system:
Drink plenty of water whilst cleansing in order to avoid dehydration

Do not cleanse colon too frequently because it might lead to malnutrition, anemia, and so on. Just do it only when really necessary.

Fasting could help your body recuperate and eradicate toxins. However, make sure that you take enough fruit and vegetable juice along with water to avoid dehydration.

Exercise regularly to improve the function of your bowel.

Consume liquid food such as herbal teas, soups, juice, and vegetable broth instead of solid ones whilst cleansing your colon.

Avoid spicy, high-calorie, and greasy food

Add more onions, garlic, and bananas which can kill harmful bacteria and parasites in your colon and improve the development of beneficial bacteria.

Consume fish oil since it may remove toxins along with waste products from your own intestines[1] thanks to its omega-3 fatty acids. Besides, it can keep giddiness, lethargy, stomach bloating, bad breath, and confusion at bay.

Eat fiber-rich foods because they can cleanse your colon naturally by eliminating harmful toxins in it, improving bowel movements and softening stools. Fiber-rich foods include fresh fruits such as pears, raspberries, apples, etc.; fresh veggies such as peas, artichokes, broccoli, etc., whole grains, cereals, seeds, nuts, and beans. Or, you can use fiber supplements.
There, you have discovered some natural home remedies for colon cleansing detox. This process is essential to warrant for proper function. Nevertheless, in some cases, it might lead to some side effects such as vomiting, nausea, bloating, and cramping. Thus, consult your doctor before doing any method of colon cleansing at home.