Updated: 11/11/2019
Normally, a man grows his prostate throughout his adult life. For some people, this is a common condition and doesn't cause any serious symptoms, but for others an enlarged prostate may directly affect their prostate health as well as life's quality. Studies have shown that one in five men between the age of 50 and 60 is affected by an enlarged prostate, and this is even more common in older men.
In making effort to get rid of enlarged prostate, many people make appointment with a doctor for medication or surgery immediately. However, you should be careful about this because you may make things worse when it is not really necessary to do so in some cases. On the contrary, others with enlarged prostate make a big difference by looking for safe and effective home remedies as a natural alternative to medicine. For those looking to go the more natural, home-remedy route, this article of 57 Natural Home Remedies For Enlarged Prostate Gland Symptom Relief shows you lots of useful natural methods that are recommended for eliminating enlarged prostate at home properly. Also see our wide variety of other natural home remedies at TrueRemedies.com!
Before taking a deep look at how to treat enlarged prostate naturally at home, let's access some basic information about enlarged prostate first.
What Is An Enlarged Prostate?
Prostate is the part of male reproductive system which has a small muscular walnut-shaped gland wrapping around the tube that urine flows out of, namely urethra, located just below the urinary bladder between the rectum and the base of the penis. One of its main jobs is to add fluid to the semen for allowing sperm mobility. The prostate has two main stages of growth. It begins small and multiples in size during teenage years. Then it continues to slowly grow bigger again at the age of 25. For most men, this growth happens till the rest of life but for some it leads to the enlarged prostate [1].
Enlarged prostate, or Benign Prostatic Hyperplasia (BPH), is when your prostate is larger than usual and squeezes against the bladder and urethra making the urethra narrow. This causes men have troubles with urination such as frequent urination, urinary leakage, urinary tract infections and difficulty in voiding.
TrueRemedies Partner Solutions

Need a Help from the Leading Expert Online, Available 24/7?
They're all here and ready to answer your questions online or by phone. Keep asking questions until you get the answer you need.
Enlarged prostate is not the same as prostate cancer and it doesn't lead to that kind of cancer.
What Are Common Causes Of Enlarged Prostate?
The number of cells (hyperplasia) is increased leading to larger growth of prostate gland. It is not always possible for doctors to identify the exact cause of an enlarged prostate. Some experts said that enlarged prostate is caused by hormonal changes as part of aging process but this opinion still keeps unclear. However, this reason is still the first thing that doctors think of when they diagnose this disease for men [2].
What Are Symptoms Of Enlarged Prostate?
Some men with enlarged prostate have very mild symptoms or even have no symptoms while other men have serious symptoms that affect badly their life's quality. Once you have an enlarged prostate, a variety of involved symptoms you may experience as follows [3]:
Frequent urge of urination (strong and sudden desire to pee)

Increased frequency of urinating at night

Difficult starting a urinary stream

Urinary leakage

Continued urinary dribbling (especially after urinating)

Weak stream of urine and taking longer to finish

Feeling that the bladder is not empty completely

Straining when urinating

Acute urinary retention (inability to urinate)

Blood in the urine

Sleepless nights and sleepy days

Severe discomfort
What Are Risk Factors?
It is said that almost every man will suffer from an enlarged prostate if his life lasts long enough. Whilst it is rare for males around 40 years old to have enlarged prostate, by their 80s, about 90% of men will have this condition [4].
There are also other risk factors of enlarged prostate besides age which may make you prone to develop this condition, such as:
Family history: enlarged prostate is inherited among family members. You will be prone to have prostate problems if your father or broth also had them.

Diabetes: diabetes could trigger prostate development. Insulin is the hormone normally moving glucose from foods out of bloodstream to be stored in body cells or used for energy. The bodies of people with type 2 diabetes do not respond well to insulin. As a result, there is an increase in blood glucose levels. As the pancreas releases more insulin to reduce blood glucose, that excess insulin will provoke the liver to produce more insulin-like growth factor (IGF). This IGF substance is believed to trigger the growth of prostate.

Obesity: overweight men have higher estrogen levels. Estrogen is a female hormone which triggers the growth of prostate.

Heart disease: despite heart disease does not directly cause enlarged prostate, the same risk contributing to heart issues, like high blood pressure, diabetes, obesity also causes enlarged prostate [5].

Inactivity: Inactive men are more likely to have enlarged prostate.

Erectile dysfunction: similar to heart disease, erectile dysfunction does not result in enlarged prostate but these two conditions usually accompany together.
When To See A Doctor?
If you do not have severe complications like urinary infections, bladder stones, bleeding and do not feel bothered enough to undergo a medical care, the treatment is optional. On the contrary, you should consult a doctor's advice immediately if any of the following warning signs occur with enlarged prostate:
Painful bladder

Burning with urination

Acute urinary retention

Blood in the urine associated with fever, chill, nausea and vomiting
Lower back pain

Symptoms of prostate enlargement worsen
There are many treatments for enlarged prostate including medications, therapies and surgery. Your doctor can help you choose the best cure by giving prostate questionnaires, asking about your symptoms and full medical history in general, measuring the strength of urinary flow and residual urine in the bladder and testing how the condition affects you depending on your age and health.
It is very important to schedule a doctor's visit because if you leave your enlarged prostate untreated, it can block the urinary flow out of the bladder. This can result in other more severe complications such as bladder stones, kidney damage, retentive urine and Urinary Tract Infection (UTI). If you are over the age of 50, we recommend that you should take annual prostate check even when you have no serious symptoms.
In addition to medical care, effective home remedies can also help ease the symptoms of enlarged prostate. Let's explore how we can make it ourselves now from TrueRemedies.com.
Top 57 Home Remedies For Enlarged Prostate Gland Symptom Relief
1. Saw Palmetto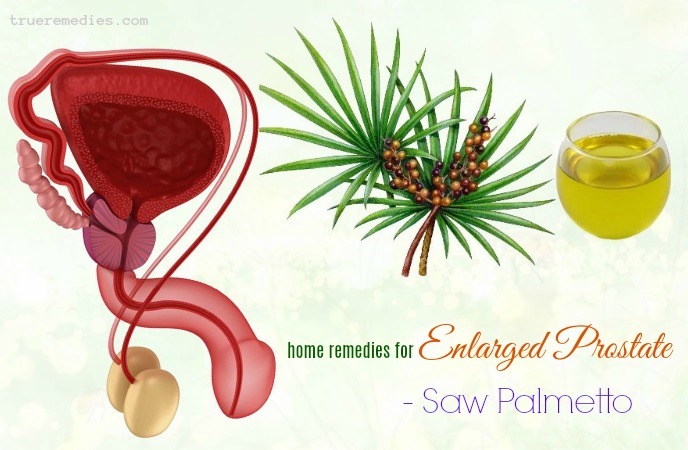 The first and foremost one in this series of natural home remedies for enlarged prostate gland that we want to mention here is saw palmetto. Saw palmetto, or Serenoa repens, is a shrubby plant with green or blue spiny-toothed leafstalks of the palm family that grows mainly in the southern of US and West Indies. Its ripe fruit has been used to make medicine for centuries, so it has healing effects for many diseases such as kidney disorder, colds and coughs, sore throat, chronic bronchitis, migraine headache, asthma, chronic pelvic pain syndrome and hair loss. Especially, saw palmetto is well known for male sexual and reproductive health including libido and virility increase, prostate cancer's prevention, and treatment for impotence and Benign Prostatic Hyperplasia (BPH) – the most common form of an enlarged prostate [6].
The National Institutes of Health (NIH) said that a few studies considered saw palmetto as an effective remedy to relieve BPH symptoms. Saw palmetto help cure prostate enlargement by shrinking the inner lining that presses on the tube carrying urine and strengthening the urinary organs.
Researchers also showed that the testosterone binding's curb and prostate cells' stimulation of saw palmetto can help reduce the multiplication of prostatic cells and enlargement. In addition, it is the best supplement for increasing testosterone and prostate health naturally. With all these advantages, saw palmetto deserves to be an effective natural home remedy for enlarged prostate gland. All you have to do is:
Prepare 320 milligrams of saw palmetto

Divide saw palmetto into two doses (160 milligrams each)

Take the doses two times daily

Continue using saw palmetto for 4 to 6 weeks (160 milligrams twice a day for 4 weeks, then 320 milligrams once a day)
Note:
Patients with blood thinner and prostate medication should consult with a doctor before taking saw palmetto.

You may experience minor side effects like headache, dizziness, nausea, upset stomach, constipation and diarrhea when using saw palmetto.
2. Cranberry
Cranberry, also known as Vaccinium macrocarpon, is the second one among best home remedies for enlarged prostate gland that we want to introduce in this article. Normally, we eat cranberry and drink the juice from this type of berry without knowing about its powerful benefits for a wide range of health problems containing dental plaque, stomach and respiratory disorders, kidney stones, heart related ailments, diabetes, cold, peptic ulcers, lung inflammation, scurvy and even enlarged prostate.
In fact, Native Americans have used cranberries to cure bladder and kidney conditions for long. Cranberries are good for both bacterial and nonbacterial prostatitis. The juice from this fruit can help prevent Urinary Tract Infections (UTI), manage prostatitis and enlarged prostate thanks to the A-type PACs (proanthocyanidins), antioxidants and vitamin C in them. Moreover, regular intake of cranberries can aid in resolving urinary symptoms like dribbling, weak stream of urinating, urgent, difficult and frequent urination. In sum, all these good points of cranberries make them one of the efficient natural home remedies for enlarged prostate gland. If you have a prostate enlargement, do as below:
Ingredients:
450 grams of fresh ripe cranberries

One liter of water
Directions:
Method 1:
Wash the cranberries thoroughly with water

Drain the fruits

Add cranberries and water into a blender

Blend them well until the mixture becomes smooth

Strain to get fresh cranberry juice

Pour into a glass

Drink the juice every morning
Method 2:
Wash the cranberries carefully with water

Drain the fruits

Put cranberries and water into a saucepan

Boil the mixture

Cook until cranberries burst under low heat

Use a fine strainer to filter the juice

Pour the juice into a glass

Allow cool and enjoy the concoction in the morning every day
Note: People taking warfarin should be cautious of consuming cranberries.
3. Indian Gooseberry
Indian gooseberry, also called Amla or Emblic is a small round sour fruit which is divided into 6 to 8 segments of the Phyllanthus Emblica subtropical tree in South and Southeast Asia. This fruit is usually used as a condiment in many kitchens. Nevertheless, it is amazing that Indian gooseberries have the capacity of curing diseases in many ways. The gooseberries are the doctor for respiratory disorders, cardiovascular, eye and bone diseases. Diabetes, indigestion, stress, anemia, skin and hair diseases can be significantly improved with the help of Indian gooseberries.
Besides, this Amla fruit can also treat enlarged prostate. Indian gooseberries has anti-oxidant, anti-bacterial, astringent properties which can help fight infections in the urinary tract and release unpleasant symptoms accompanied by prostatic enlargement. What's more? The supplementation of Indian gooseberries might be reproductive for damaged cells resulting in maintaining prostate health. With all these wonderful advantages, Indian gooseberry is one of the most effective natural home remedies for enlarged prostate gland. Follow the steps below:
Pick 10-15 fresh Indian gooseberries

Wash them carefully with water

Remove the seeds of gooseberries

Grind the gooseberries finely

Add the grinded gooseberries, two teaspoons of honey and a little turmeric powder in a bowl

Mix them well

Eat 1 tablespoon of this mixture every morning
4. Pomegranate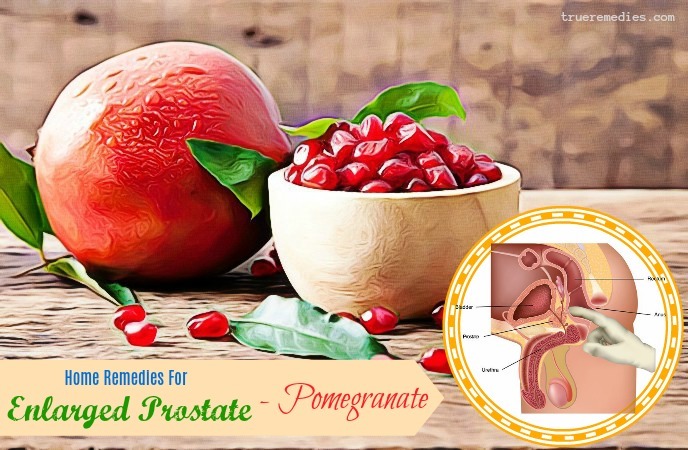 Our fourth natural option in regard to home remedies for enlarged prostate gland is pomegranate. Pomegranate, also called punica granatum, is a round, reddish thick-skinned fruit that contains a mass of sweet red gelatinous seeds inside. Besides being a tasty fruit, it is also has excellent medicinal properties for Alzheimer, digestion, memory, cancer, arthritis, heart disease, blood pressure, diabetes and sexual performance and fertility including enlarged prostate heal.
The antiviral, anti-oxidant and anti-inflammatory features of pomegranate are the effective support in the prevention and treatment of prostatic enlargement. Particularly, the juice extracted from pomegranate's arils consists of useful natural compounds like ellagic acid, anthocyanins and polyphenols which can help slow down BPH or prostate cancer. According to the National Kidney and Urologic Diseases Information Clearinghouse, pomegranate juice restrains an enzyme producing estrogen that might cause BPH in older men. Hence, men with overactive bladder or prostate problems can try this spherical fruit as a home remedy for curing enlarged prostate gland naturally. What you need to do is:
Pick one large fresh pomegranate

Thoroughly rinse it with water

Score it into 4 sections

Fill a big bowl with cool water

Put the pomegranate in the bowl and break apart its arils underneath the water

After finishing separating arils from the rind, drain the water from them

Use a blender to crush the arils

Pour the juice through a strainer to get fresh pomegranate juice

Add a teaspoon of pure honey or sugar into a glass of pomegranate juice and stir well for better taste (optional)

Slowly drink this beverage once per day
5. Tomato
Tomato, also known as Solanum lycopersicum, is a popular fruit which is cultivated in many parts of the world. Tomatoes are both fruit and vegetable and have been usually used for cooking to improve the food's flavor. They can be widely found in ketchup, pizzas, pasta, salad and different kinds of beverages. However, you may be surprised that this edible pulpy red berry has lots of potential health benefits. It can protect your heart, improve vision, manage diabetes, lower hypertension, aid in digestion, and combat the effect of smoking cigarette [7].
Additionally, scientists said that tomatoes are wonderfully supportive in the fight against cancers of stomach, mouth, breast, rectum, pharynx, esophagus, and prostate. Specially, tomato is very helpful in the prevention of prostate enlargement including urinary tract infection and bladder cancer, too. Tomatoes are a diuretic as they have high content of water which may encourage having pee speeding up the elimination of toxins, salts, uric acid, and excess water from your body.
One study also showed that lycopene in tomatoes can hamper the BPH progression by lowering the PSA (Prostate Specific Antigen) associated with prostate inflammation, BPH and prostate cancer. The red pigment carotenoid of lycopene in tomatoes are thought to help shrink an enlarged prostate and release serious symptoms. That is the reason why you should add tomato in the list of natural home remedies for enlarged prostate gland. Let's do as follows:
Method 1: Tomato juice
Prepare three fresh organic tomatoes

Wash them thoroughly with water

Remove the blossom ends, cores and damage spots of tomatoes

Use a knife to cut the tomatoes into quarters

Put the tomatoes in a saucepan with 300ml of water

Bring to boil and simmer for thirty minutes until the tomatoes are tender

Press the tomatoes through a sieve to get the juice

Pour the juice into the saucepan and make it boil again

Drink the juice slowly in a glass every day

Follow the process for at least three months
Method 2: Tomato salad
Ingredients:
3 fresh tomatoes

1 onion

1 cucumber

½ cup of fresh basil

½ cup of fresh parsley

2 tablespoons of white vinegar

½ tablespoon of salt

½ tablespoon of pepper
Process:
Clean tomatoes, cucumber, basil, parsley with water

Remove the blossom ends, cores and damage spots of tomatoes

Dice the tomatoes

Peel off the onion's skin, wash it with water and chop it

Cut the cucumber into slices

Chop basil and parsley

Combine tomatoes, onion, cucumber, basil, parsley and white vinegar in a large bowl

Toss all the ingredients

Add the salt and pepper to taste

Chill and serve the salad once a day

Repeat daily for at least three months
6. Avocado
Another natural solution of home remedies for enlarged prostate is avocado. It is not just a nutritious fruit but has also been used for centuries for its medicinal properties including eye, heart, liver, kidney and bone diseases, blood pressure, diabetes, arthritis, constipation, digestive problems and especially enlarged prostate. Avocado is a great source of 20 different nutrients such as vitamin C, E, K, B6, omega 3 fatty acids, riboflavin, pantothenic, niacin, folate, potassium and magnesium which provide an overall health to combat diseases as well as improve urine flow.
Like tomato, avocado is a lycopene rich food. It has high level of cholesterol-like substance namely beta sitosterol which can make enlarged prostate shrink and reduce inflammation. This substance heightens lymphocytes and encourages natural killer cells' effect. Together with beta sitosterol, bioactive carotenoids in avocado can act against cancer cells. Therefore, it can't be denied that avocado is a powerful remedy for enlarged prostate gland that you can at home naturally. Here is how to reap its benefits:
Method 1: Avocado juice
Pick a fresh organic avocado

Wash it carefully with water

Cut the avocado in half vertically

Gently remove the seed

Use a spoon to scoop out the pulp

Put the avocado's pulp, 200ml of milk, two tablespoon of condensed milk, four ice cubes in a blender

Puree the mixture until smooth

Enjoy the juice once a day
Method 2: Avocado salad
Prepare one medium fresh tomato, one fresh organic avocado, ¼ teaspoon of pepper powder, 1/2 teaspoon of salt, ½ teaspoon of sugar, 5 sprigs of cilantro, one teaspoon of fresh lemon juice.

Clean tomato, avocado, cilantro with water

Cut tomato into small cubes

Remove avocado skin and seed to get the flesh

Cut the flesh into cubes

Remove cilantros' roots and chop them

Add all the ingredients into a large bowl

Toss them well before serving

Eat the salad every day
7. Carrot
Carrot is the seventh remedy that we want to introduce for those who desire a natural treatment for enlarged prostate at home. Similar to tomatoes, carrots are rich source of lycopene and carotenoids such as beta carotene that can help in maintaining a healthy prostate. Firstly, carrot can be a healer for mgejala urine of prostatitis. Secondly, this vegetable fruit is able to decrease the chance of BPH as well as ward off prostate cancer. According to the latest findings in the European Journal of Nutrition, men who eat carrots at least three times per week are 18 percent less likely to develop prostate cancer. So now you can see that carrot is not only a nutritious food but also one of must-try natural home remedies for enlarged prostate gland. Follow the instructions below:
Take two medium sized fresh organic carrots

Wash them with water

Cut the top and end of the carrots

Peel the carrots' skin

Chop the carrots

Add a small amount of water and chopped carrots into a blender

Blend them well until the ingredients are pulverized

Pour the mixture in a nut milk bag

Squeeze the liquid out as much as possible to a container

Enjoy the fresh carrot juice in a glass one or two times per day
8. African Potato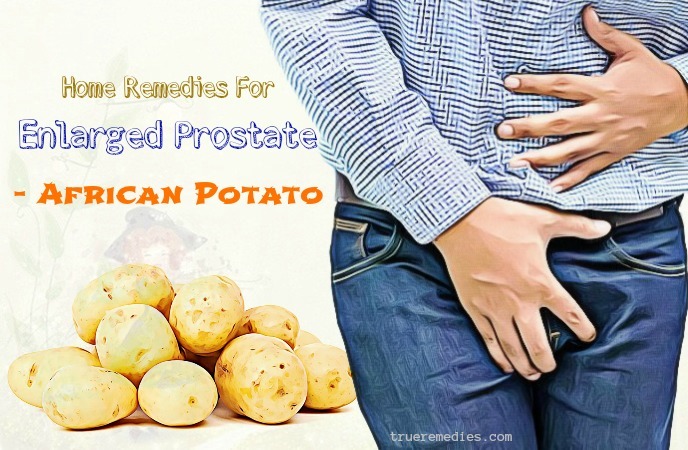 African potato, also called Hypoxis Hemerocallidea, is the seventh natural home remedy for enlarged prostate gland that we want to mention here. African potato is not only a delicious food but also an especially beneficial method for patients suffering from indigestion, heart disease, polyps, high cholesterol level, aging, blood pressure, skin disease, insomnia, eye disease, kidney stones, cancer and many more. It can treat enlarged prostate, too.
This potent potato owns anti-diabetic, anti-convulsing, anti-inflammatory, anti-oxidant natures that are a valuable aid in curing enlarged prostate. Reseachers indicated that hypoxis present in African potato can act as a treatment for urinary tract infections and prostate problems. In addition, African potato possesses a chemical namely beta-sitosterol which is very effective in reviving urinary flow and overall prostatic function. So, there is no reason to exclude African potato from the list of natural home remedies for enlarged prostate gland. This is what you need to do:
Method 1:
Prepare 1 to 2 teaspoons of dried African potato

Add the dried African potato and 500ml of water in a kettle

Bring the mixture to boil

Simmer for 10 to 15 minutes under low heat

Filter through a fine mesh to get African potato tea

Drink three cups of the tea per day
Method 2:
Ingredients:
1 egg

3 medium African potatoes

1 bunch of green onions

2 teaspoons of sweetened condensed milk

1 ½ cups of mayonnaise

1 tablespoon of fresh parsley
Process:
Wash potato, onion and parsley thoroughly with water

Remove potato's skin, chop parsley and onion

Make the egg hard-boiled and set aside to cool

Cook potatoes covered with water in a saucepan until a knife can easily insert into the potatoes. Do not make them too soft.

Peel the egg's skin

Chop the egg and potatoes

Mix the condensed milk with mayonnaise thoroughly

Add chopped egg, potatoes, onion and mixture of condensed milk and mayonnaise in a large serving bowl

Blend them well together

Finally, sprinkle chopped parsley over the top of the mixture

Chill them in the fridge until serving

Eat this salad once a day
Note:
You can purchase African potato extract or supplement from health stores to use instead of fresh African potato.

African potato might be unsafe to patients with liver problems, hyperglycemia, HIV/AIDS or people who are taking drugs metabolized by cytochrome P450 enzyme.
9. Pumpkin Seed
Most men with prostate enlargement are deficient in zinc. Experts recommend that our daily intake of zinc should be 90mg. It means we'd better focus on foods that provide us lots of zinc.
One type of that food should be listed here is pumpkin seeds. Pumpkin seeds are one of the best foods for prostate health. First, they are diuretic seeds that help patients with enlarged prostate go to pee more easily. Second, this edible pepita of pumpkin might support in boosting immune response and fighting against inflammatory substances making the prostate gland enlarged. Third, not only zinc but omega 3 fatty acids presenting in pumpkin seeds is effective for functioning the prostate gland. Fourth, pumpkin seeds consist of chemicals which may stop the conversion of testosterone into Dihydrotestosterone (DHT). This plays an important role in the prevention of enlarged prostate because one of the reasons causing prostatic problems is high level of DHT) [8] [9].
One study reported that consuming pumpkin seeds daily can reduce PSA (prostate specific antigen) and they are clinically safe to be an efficient alternative treatment for enlarged prostate. Thanks to these advantages, pumpkin seed becomes one of the best natural home remedies for enlarged prostate gland. Do as follows:
Method 1:
Take the raw whole seeds from a pumpkin

Thoroughly wash them with water

Dry them up under the sun or use an oven

Preheat the oven to 300 degrees F (150o C)

Spread the seeds in a single layer on a baking sheet

Keep baking for forty five minutes until the seeds turn golden brown

Stir occasionally during baking process

Keep the roasted seeds in a jar

Eat a handful of pumpkin seeds per day
Method 2:
Add a handful of crushed fresh pumpkin seeds in a big cup

Pour boiling water over them

Allow the mixture to cool down

Strain to get pumpkin seed tea

Slowly sip this tea a few times per week
10. Cashew Nut
Cashew nuts, also called Kaju or Andiparippu, are the kidney shaped or bean shaped edible nuts from a bushy tropical American tree related to the mango. The nuts are full of vitamins, minerals and anti-oxidants which are necessary for the normal body's functioning. They are extremely good for heart, eyes, blood and weight loss. Notably, eating cashew nuts can beat prostate enlargement.
Apart from pumpkin seeds, cashew is also one of the foods that has great source of zinc. The presence of zinc in cashew can help provide us essential mineral to strengthen our immune system and growth of cells. Hence, inflammation and enlargement of prostate gland are suppressed. So now you can see that this nut has many useful benefits for BPH. If you are having prostatic enlargement, why don't you try them as a natural home remedy for enlarged prostate gland now? Let's see how to reap their benefits as below:
Method 1:
Prepare raw whole cashew nuts

Clean them with water

Preheat the oven to 350oF (approximately 177oC)

Evenly spread the nuts in a single layer on a large baking tray

Bake them for 15 minutes

Stir frequently during the time of baking

Enjoy a handful of the nuts daily
Method 2:
Buy a bottle of pumpkin seed oil

Use the oil to make salad or cook every day

Consume the oil for three to six months until your symptoms disappear
Note: Other foods rich in zinc like seafood, almond, beans, yogurt and fortified cereals can be a replacement for cashew.
11. Sesame Seed
The eleventh home remedy that can cure enlarged prostate or Benign Prostatic Hyperplasia (BPH) without medicine is sesame seeds. The seeds are quite familiar with many people but it is surprising that they have been proven to be efficient against many forms of diseases like diabetes, lower blood pressure, heart disease, stress, radiation, bone disease, disorders of sleep, digestion and respiration, inflammation and apparently enlarged prostate.
Sesame seed's active ingredients include calcium, magnesium, iron, manganese, fiber, thiamin, tryptophan, folate, phosphorus, copper, protein, zinc and natural oils. A study in the Indian Journal of Urology showed that zinc in sesame seeds are essential mineral to the health of prostate. One of the main reason making men get BPH is lack of zinc (sometimes up to 75%) in the body. Therefore, men can improve considerably their BPH situation if they consume sesame seeds every day because zinc in food can be absorbed more easily than that in other supplements. Thanks to all these powerful benefits, sesame seeds are counted in the list of natural home remedies for enlarged prostate gland. How to use:
Method 1:
Soak some sesame seeds overnight

Wash them thoroughly in the next morning

Put them in basketry to drain them

Chew the raw sesame seeds every morning
Method 2:
Drown one cup of the fresh white or black sesame seeds in water overnight

Clean them careful with water in the next morning

Put 1 cup of sesame seeds, 3 cups of water into a blender

Blast the mixture for thirty to sixty seconds until the seeds are thoroughly pulverized

Use a filter to strain the fresh sesame milk

You can add sugar, milk, vanilla extract or salt to make the milk more delicious

Simmer the liquid under low heat

Drink the milk warm or cool once a day

Store the remaining milk in the fridge
12. Flaxseed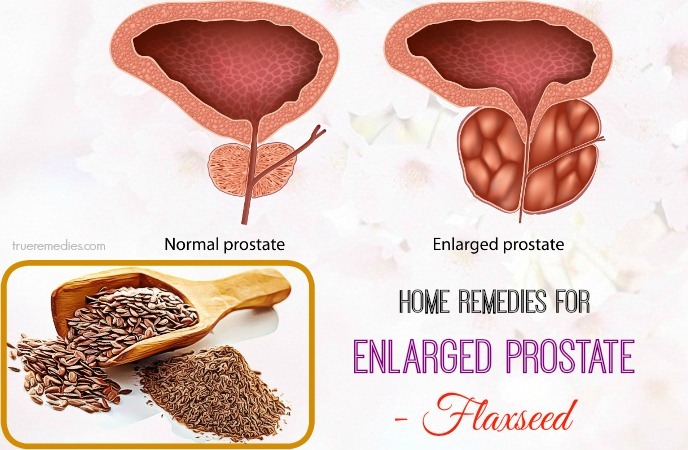 Flaxseeds, also called Linseed, Alasi, Aliviraaii, are brown small seeds of the flax which are often used to yield linseed oil and medicinal emollients. Apart from the healing for high cholesterol, blood pressure, blood sugar, skin and hair diseases, digestive health and cancer, they are also extremely beneficial to prostate enlargement.
Flaxseed does not only decrease the inflammation but also ease discomfort from symptoms of enlarged prostate. High level of omega-3 fatty acids and lignins in flaxseeds may aid in staying with a healthy prostate.  That is why we mention flaxseed as an effective natural home remedy for enlarged prostate gland. All you have to do is:
Method 1:
Roast some flaxseeds

Store them in a sealed jar in the cool place

Eat a handful of roasted flaxseeds two or three times per day

Drink a cup of water after finishing the process
Method 2:
Prepare a cup of organic flaxseeds

Roast the seeds

Use a grinder to grind them finely

Keep the flaxseed powder in a jar

Add one or two tablespoon of powdered flaxseed in a cup of yogurt

Mix them well before eating

Consume this mixture once a day in the morning
Note:
You can add powdered flaxseeds in your curries or cooked vegetables instead.

Flaxseeds might be unsafe for those in the treatment of bleeding disorders, diabetes, gastrointestinal obstruction, hormone sensitive cancers or conditions, high triglyceride levels (hypertriglyceridemia), hypotension (low blood pressure), hypertension (high blood pressure). If you are in one of these cases, consult your doctor before taking flaxseeds.
13. Watermelon Seed
Among natural home remedies for enlarged prostate gland, watermelon seed is an efficient great remedy that we want to introduce here. It is not just an edible seed, it can also protect against a number of conditions raging from slowing down aging, strengthening hair, cleansing skin, improving immune system, enhancing digestive health to treating diabetes, promoting heart health, maintaining brain health, lowering blood pressure, sharpening memory and improving male fertility including prostate health. Like pumpkin seeds, watermelon seeds consist of zinc which is important for the male reproductive system, especially prostate health.
Moreover, watermelon has the highest content of lycopene which is good for prostate issues. Thanks to the lycopene, the seeds hold antioxidant qualities which is said to keep prostate healthy by removing toxins from the bladder and supporting in overcoming prostatitis' problems. Doctors in the University of Illinois at Chicago made a test in which patients with enlarged prostate ingest lycopene for 3 weeks before they undergo a scheduled prostatectomy. In the end of that trial period, the doctors found significant diminutive damage for the prostate tissue. So, do not ignore watermelon seeds if you are trying to find a natural remedy to treat enlarged prostate at home. Let's follow these steps:
Method 1:
Cut a fresh watermelon into slices

Spit out the small black seeds into a bowl

Clean them carefully with water

Add them in a saucepan with a cup of water

Boil them under medium heat

Steep the liquid for a few minutes

Strain to get watermelon seed tea

Slowly sip 500ml of the concoction daily for 3 to 4 times

Repeat the steps for at least ten days until you see improvement
Method 2:
Cut a fresh watermelon into pieces

Remove the seeds from watermelon's flesh

Wash them with water

Make them dry in cool air or under the sun

Directly eat a handful of the seeds every day
14. Turmeric
One more home remedy that can work effectively against enlarge prostate is turmeric. Turmeric, or Curcuma Longa, is a perennial large aromatic yellow rhizome of an Asian plant belonging to the ginger family. It is the main spice in the Indian curry and famous for its potential ability to fight and reverse diseases.
Besides its numerous awesome health benefits for skin care, diabetes, arthritis, bowel disease, obesity, high cholesterol, DNA damage, detoxification, turmeric also plays an important role in easing prostate symptoms from enlarged prostate.
Turmeric has strong anti-inflammation that can make great contribution to the process of healing prostatitis as well as decrease the risk of prostate cancer. A study published in the December 2012 issue of Italy's Panminerva Medica said that the curcumin in turmeric has positive effect on people with BPH. The study was carried out for six months with 61 patients being divided into two groups. One group received curcumin supplement, the other did not. The result showed that the group with curcumin supplement experienced fewer urinary infection and incontinence than the other one. Researchers also reported that frequent curcumin supplement may improve urinary stream significantly and curb the factors causing prostate enlargement.
Now, you see why turmeric is a powerful natural home remedy for enlarged prostate gland that we cannot deny. Let's see what you can do with this wonderful herb as below:
Method 1:
Prepare some fresh turmeric roots from turmeric plant

Remove long roots and clean them clearly with water

Put all of them into a pan

Boil them under medium heat for 45 minutes

Cut the rhizomes into small vertical slices

Make them dry under sunlight in ten to fifteen days
(Or dry by an oven at around 60 degree Celsius if you are running against time)
Grind the dried turmeric slices thoroughly to get turmeric powder

Put the turmeric powder in a jar in cool and dry place

Add one tablespoon of turmeric powder in a cup of water

Add a teaspoon of honey to enrich the flavor

Use a spoon to mix them well together

Drink the concoction daily

Wash your eye with warm water

Follow the process two to three times per day
Method 2:
Ingredients:
One large fresh turmeric root

1 ½ liters of water

Three tablespoons of honey
Directions:
Wash the turmeric root carefully with water

Peel the turmeric's skin

Chop the turmeric into chunks

Place the chopped turmeric and water into a small pot

Cook the pot under medium heat until the water reaches a rolling boil

Turn the fire to minimum level

Continue to simmer the liquid for forty five minutes

Add honey 2 minutes before turning off the heat

Pour the decoction into a glass

Slowly drink this decoction 3 times per day for at least two weeks
15. Garlic
If you are looking for natural home remedies for enlarged prostate gland, do not forget to try garlic. It is not only a strong smell and delicious spice to make flavor for food but also a powerful potential medicinal herb for curing lots of diseases such as heart diseases, sickness, common cold, blood pressure, bone health, liver problems, Alzheimer's disease and dementia. Particularly, this herb of the Allium family may be an active aid in overcoming prostate problems including enlarged prostate.
The allicin in garlic is considered to be a potent medicine containing anti-oxidant, antibacterial and antiviral properties which has many positive effects on prostatitis treatment. One study found that men who ate garlic were 28 percent less likely to get BPH than men who never ate garlic. In addition, a study published in Nutrition Research in 2003 also showed that men with BPH and prostate cancer who had daily garlic supplementation for a month might experience significant improvement like enhancing urinary flow, decreasing urinary frequency and prostate gland's size. Therefore, you should not ignore garlic in your search for home remedy to treat prostate enlargement. Here is a quick and easy method:
Take two fresh garlic cloves

Separate the garlic cloves

Cut the hard bottom of each clove and remove the light skin

Wash all the peeled cloves with water

Puree garlic cloves by a blender or presser

Filter to get fresh garlic juice

Add fresh garlic juice, one or two tablespoons of honey in a glass of lukewarm water

Stir well

Drink the liquid two times a day before breakfast and before going to bed
16. Bell Pepper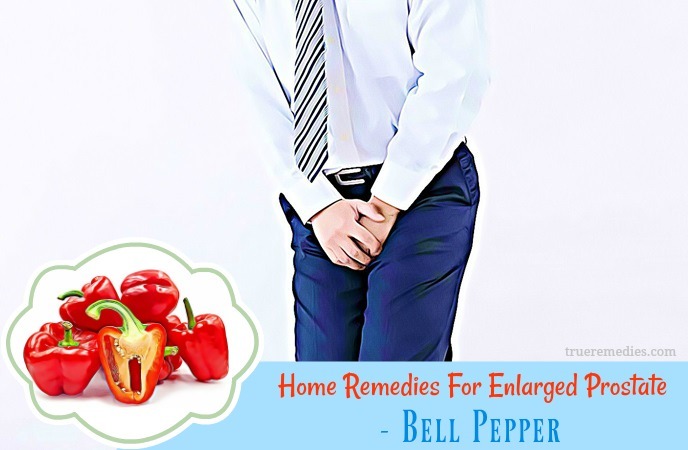 Bell pepper can act as a medical aid for those who are prone to developing an enlarged prostate gland. Mayo Clinic said that vitamin C in vegetables can play an important role in the fight against prostate enlargement. Beside valuable nutrients like vitamin B6, vitamin E, vitamin K, folate, fiber and molybdenum, bell pepper is also packed with a lot of vitamin C.
One cup of raw bell pepper provides 200% of your daily required vitamin C intake. Furthermore, available colors of bell pepper bring more than thirty different and beneficial carotenoid nutrients. Together with carotenoids, alpha-carotene, beta-carotene, lutein, zeaxanthin, lycopene and cryptoxanthin offer anti-oxidant properties that can help ease the symptoms of enlarged prostate. Hence, it is wise to consider bell pepper as an effective natural home remedy for enlarged prostate gland. All you have to do is:
What you need:
2 garlic cloves

½ teaspoon of caraway seeds

A teaspoon of olive oil

Red, yellow and orange bell peppers

½ of fresh lemon

Parsley

½ teaspoon of salt

½ teaspoon of pepper
What you have to do:
Separate the garlic cloves

Cut the hard bottom of each clove and peel the light skin

Wash garlic cloves, bell peppers, parsley thoroughly with water

Smash the garlic cloves

Cut the bell peppers into slices

Chop the parley

Extract the lemon to get fresh lemon juice

Saute the smashed garlic and caraway seeds in a skillet or a frying pan under medium heat for 30 seconds

Continue to add sliced bell peppers to the skillet

Cook until they are warm through

Toss the mixture with ½ teaspoon of lemon juice, chopped parsley, salt and pepper

Enjoy the salad every day

Include bell pepper in your diet at least a few times per week
Note: Cauliflower, kale and Brussels sprouts are other vegetables rich in vitamin C that you can add to your diet in replacement for bell pepper.
17. Broccoli
Among natural home remedies for enlarged prostate gland, broccoli is a good choice. It is a pity if you only think of broccoli as a tasty vegetable to cook in your kitchen. Do you know that broccoli also has many incredible health benefits for our body? This green flower bud vegetable of the cabbage family consists of many healing properties for high level of cholesterol, allergic reaction, cancer, bone, eye and heart disease. Additionally, broccoli is an excellent aid for the treatment of prostate enlargement, too.
There are some reasons why broccoli is a valuable food item for prostatic enlargement. Firstly, like bell peppers, broccoli has high level of vitamin C which is said to be protective against BPH. It is not only enriched with vitamin C but also contains flavonoids that can help recycle the vitamin C efficiently. Secondly, high amount of phytonutrients sulforaphane and the indoles in broccoli generate anticancer properties for prostate as well as other body parts. Thirdly, broccoli is packed with carotenoids lutein, beta-carotene and zeaxanthin. Thanks to these nutritional benefits, broccoli owns a tremendous amount of antioxidant capacity which might be great in lessening serious symptoms of an enlarged prostate. Thus, you can try broccoli to treat enlarged prostate at home naturally without doubt. How to use:
Method 1:
Cut the green flower buds of the broccoli, cut in half with large florets

Rinse them thoroughly with water

Add water into a saucepan

Make the water boil under medium heat

Place the broccoli florets in a steamer basket

Put the basket over the hot water

Cook for 5 to 6 minutes and use a fork to see if the broccoli florets are cooked through or not

Put the steamed broccoli in a dish

Consume steamed broccoli daily
Method 2:
Ingredients:
Two cups of clean and chopped broccoli

One tablespoon of minced garlic

Two tablespoons of olive oil

½ teaspoon of salt

½ teaspoon of pepper or cayenne
Process:
Wash a fresh broccoli with water

Chop the green flower buds

Peel garlic skin, cut the hard bottom of the cloves and mince them

Add olive oil into a frying pan

Boil the oil under medium heat

Add the minced garlic and stir well until garlic become yellow with delicious smell

Add the chopped broccoli in the pan

Mix them well together and saute for 5 minutes

Finally, add salt, pepper and stir well

Pour the sautéed broccoli in a dish

Eat them every day
Note: You can use cauliflower, kale and Brussels sprouts instead of broccoli.
18. Basil
Basil, or Great basil, Saint Joseph's wort, is an aromatic herb belonging to the genius Ocimum of the mint family that is used as a spice for culinary purpose. However, this culinary herb is not only used in cooking but also well known for its curing properties. It helps to fight arthritis, diabetes, bone density, blood clotting, epilepsy, eye, brain disease, cancer and even enlarged prostate.
Let us tell you how basil might exert their protective effect on prostatitis. In fact, basil offers anti-oxidant, anti-bacterial and anti-inflammatory benefits which may be supportive for the cure of prostate enlargement. Basil alleviates the associated pain and discomfort of BPH and minimizes inflammation naturally. Studies have shown that the consumption of basil can treat an enlarged prostate by easing prostatic symptoms. For this reason, we take basil as an efficient natural home remedy for enlarged prostate gland. To reap basil's benefits, do as the following steps:
Clean one large handful of fresh basil leaves and ½ of a fresh lemon carefully with water

Extract the lemon juice

Add lemon juice, fresh basil leaves in a juicer

Blend them well

Filter to get basil juice

Pour the juice in a cup

Consume one to two teaspoons of fresh basil juice daily
Note: You can use basil to add to your recipes as leaves or powdered form instead.
19. Pygeum
Pygeum, also known as Pygeum Africanum, is an herb made from the bark of African plum tree. It is an old therapy for men with mild to moderate enlarged prostate that is often used in Europe. Does this ancient remedy work effectively for prostatitis treatment? The answer is yes.
Pygeum is composed mainly of active components, namely fatty acids and fat soluble sterols. These two components are called phytosterols which can inhibit the production of DHT (dihydrotestosterone) in our body – a hormone increasing the risk of BPH and prostate cancer. Many studies involved men with BPH has reported that pygeum improves urinary outflow, urgency and frequency. Furthermore, it can help decrease residual urine left in the bladder, too. Consequently, pygeum are chosen to be one of the effective natural home remedies for enlarged prostate gland. How to use:
Chop a bark of pygeum

Add 500ml of water and chopped pygeum bark in a kettle

Bring the mixture to boil under medium heat

Steep for 10 to 15 minutes

Strain to get pygeum tea

Add milk or honey to flavor the tea

Slowly sip the tea once a day
Note:
Pygeum powder can be used to make tea instead of pygeum bark.

You may have upset stomach during the time using pygeum.
20. Stinging Nettle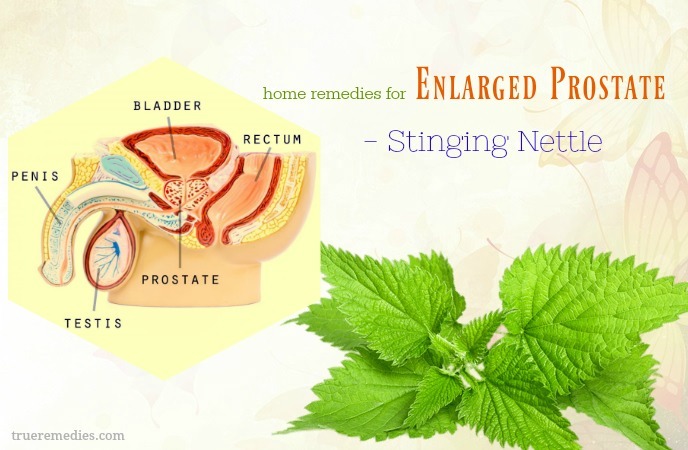 Along with pygeum, stinging nettle, or Urtica Dioica, is another popular treatment for enlarged prostate in Europe. Traditionally, stinging nettle is commonly used to treat redness, swelling, immune disorders and harmful organism. On the other hand, it is a medicinal herb that can help balance cholesterol levels and blood sugar. Moreover, it is believed to own moderate improvement for symptoms of prostatic gland enlargement [10].
Stinging nettle contains compounds which can prohibit the enzyme 5-alpha reductase – an enzyme converts testosterone into DHT (dihydrotestosterone). DHT is known as a potent androgen hormone causing enlarged prostate, hair loss and low testosterone levels in men. A recent study carrying out with 100 BPH patients found that stinging nettle is efficient in cutting down the prostate size and symptoms associated with prostate enlargement. The symptoms being suppressed include lower urinary tract, frequent and urgent need to urinate, poor stream of urination or incomplete voiding of bladder. That is why we strongly recommend stinging nettle as an effective natural home remedy for enlarged prostate gland. Do as follows:
Gather young healthy stinging nettle leaves

Wash the leaves carefully with water

Boil 500ml of water in a saucepan

Add stinging nettle leaves in boiling water

Simmer under low heat for 10 to 15 minutes until the water turns light green

Strain the tea through a mesh sieve to get the tea

Add honey to sweeten the tea if you want

Slowly drink the tea every day
Note:
Stinging nettle can be used in combination with pygeum or saw palmetto for better results.

If you have any medical ailment for blood sugar (including diabetes, blood disorders, blood pressure or over-the-counter painkiller, consult your doctors before starting to use stinging nettle.

There may be the occurrence of mild side effects like upset stomach and skin rash.
21. Milk Thistle
One day you accidently find that you have an enlarged prostate. Then you are forced to join in the fight against prostatitis. If you are on your way to look for an effective remedy to treat BPH, why don't you take a look at milk thistle? Milk thistle is a solitary purple flowering plant with glossy marble leaves in Mediterranean countries that belongs to the same plant family as daisy. Health practitioners use it commonly for its potency against cirrhosis, hepatitis, gallbladder disorders, jaundice, liver and skin diseases, weight gain, high level of cholesterol, insulin resistance, allergic asthma symptoms, cancer, bone disease, Alzheimer's, infection of immune system and so on.
However, the benefits don't stop there. As one of the efficient natural home remedies for enlarged prostate gland, milk thistle is known to support prostate health. Researchers have shown that milk thistle possesses active compounds called flavonoids (also known as silymarin) that encourage the prostate health and balance men hormone. For example, milk thistle can act as a prostate protector to control protein development, so that prostate cells can function properly. Thus, milk thistle should be used as a natural home remedy for enlarged prostate gland. Mimic these steps as follows:
Prepare a tablespoon of milk thistle seeds, two cups of water, 1 teaspoon of honey

Ground the seeds into powder

Make the water boil in a kettle

Add milk thistle powder to the kettle

Lower the heat and let it simmer for 3 to 5 minutes

Strain to get the tea

Add honey to sweeten the tea

Slowly drink one to two cups of the tea per day
Note:
Limit the intake of milk thistle tea to 6 cups a day

If you don't have milk thistle tea, you can use buy milk thistle supplement from health food stores. Remember to read the suggested dosage on the packaging.
22. Goldenseal
Another excellent herb that can deal with enlarged prostate is goldenseal. Goldenseal, or Hydrastis Canadensis, is an herbal plant with thick knotted yellow rootstock and large leaves of the buttercup family. The herb has been shown to be effective in the treatment of many diseases including bowel irregularity, sinus conditions, parasitic issues, metabolism, allergy, fever, fatigue, canker sores, skin disease, etc… It is also a natural remedy for enlarged prostate due to the fact that it has bioactive constituent called berberine. This constituent is very useful for minimizing swelling and infections of the prostate.
The anti-bacterial and anti-inflammatory nature of goldenseal can help flush away bacteria in the urinary tract and eradicate discomfort caused by infected urinary tract. Thus, it can't be denied that goldenseal is a good natural home remedy for enlarged prostate gland. Do as below:
Take two teaspoons of dried goldenseal

Boil two cups of water

Add dried goldenseal in the boiling water

Steep for fifteen minutes

Strain through a fine mesh to get goldenseal tea

Drink one to two cups of goldenseal tea per day
Note: Overdosing of goldenseal may lead to shortness of breath, trouble breathing, nausea and severe muscle spasms.
23. Green Tea
One more remedy that is effective for healing enlarged prostate is green tea. It is quite popular to everyone. If your favorite drink is green tea, keep it up because you will receive enormous benefits from this herb. Regular intake of green tea has been proven beneficial for patients who are undergoing heart related issues, high blood pressure, diabetes, Alzheimer's, Parkinson, stress, dental problems, infection, obesity, breast cancer, colorectal cancer, prostate cancer and certainly prostate enlargement [11].
Green tea has high level of anti-oxidant property which might reduce the swollen prostate's size, control frequent urination, sense of burning. As a result, the consumption of this tea helps promote healing process and check the growth of cancer cells. Because of these advantages, green tea deserves to be an efficient natural home remedies for enlarged prostate gland. To brew green tea, take these steps below:
Bring two cups of water to boil

Put a green tea bag in a teapot

Pour the boiling water over the green tea bag and close the teapot lid

Let the tea brew for 10 to 15 minutes

Remove the tea bag

Sip a few cups of green tea every day
Note: You can make green tea by cooking green tea leaves instead.
24. Corn Silk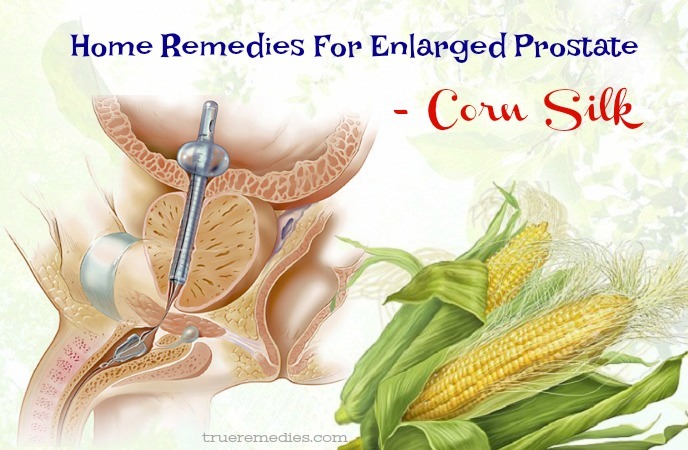 Together with other old natural home remedies for enlarged prostate gland, corn silk are said to be beneficial in reducing the risk of this disease. Corn silk can help relax the urinary muscles and ease the symptoms of an enlarged prostate in an incredible way.
So how does it work effectively? First, it possesses an anti-inflammatory agent that can soothe the inflamed bladder, urinary tract and irritated prostate gland. Second, corn silk acts as a natural diuretic agent which may help expel excess water and waste in your body. Once it makes you urinate, it might cut down the risk of bacteria build-up in the urinary tract. That is why Amish men have used the silk from corn from generations to generations as an effective natural home remedy for alleviating associated symptoms from an enlarged prostate gland. How to use:
Cut the fresh silk from 6 ears of corn

Wash the silk thoroughly with water

Add four cups of water and the silk in a saucepan

Boil the mixture under medium heat

Simmer for ten minutes under low heat

Filter to get the corn silk tea

Drink 3 cups of the corn silk tea daily
Note: You can make corn silk dried for later use.
25. Triphala Powder
Triphala is a traditional Ayurvedic herbal formula which consists of three fruits: Amalaki (Emblica officinalis), Bibhitaki (Terminalia belerica) and Haritaki (Terminalia chebula). The powder of triphala is made from equal parts of these three fruits taken without seeds. Traditionally, there are numerous health benefits of this powder. It can assist natural internal cleansing, maintain regularity gently, nourish and rejuvenate the tissues.
Triphala powder also helps aid healthy digestion and absorption. Furthermore, the powder is well known for its healing effects for eye disease, anemia, bone and joint pain, blood pressure, allergy, dizziness and motion sickness, eczema, skin and hair's problems. Then this ancient herb caught the attention of nontraditional healers in the efforts to treat enlarged prostate.
So how can triphala powder be effective for healing prostatic enlargement? The first factor that we need to know is that triphala powder is packed with natural antioxidant, anti-inflammation and anti-bacteria. This can help to lessen the uncomfortable symptoms associated with prostate tissues. The second factor is that the supplement of triphala powder might regulate hormonal imbalance, then promote a healthy prostate gland. Thanks to these advantages, triphala powder is used as an efficient home remedy for enlarged prostate gland. All you have to do is:
Bring 300 ml of water in a pan to boil

Add a tablespoon of triphala powder in the pan and stir well

Continue to boil the mixture for 20 minutes under low heat

Pour the liquid through a fine mesh to get triphala tea

Slowly enjoy the tea in a cup when it is warm

Sip the tea one to two times daily
Note: If you cannot find triphala powder, use triphala tablets or liquid extract instead.
26. Bee Pollen
Bee pollen has long been considered potentially powerful weapons against enlarged prostate in Europe. Bee pollen has natural anti-inflammatory and anti-oxidant effect which can assist in treating an enlarged prostate and restoring prostate health. It can shrink the swollen prostate gland and decrease the frequency of urination.
A number of scientific studies in North America and Europe demonstrated that bee pollen has the ability to improve symptoms of BPH and prostatitis. A Japanese study of 79 patients with BPH also concluded that bee pollen can help reduce the prostatic volume significantly with men who took bee pollen for more than 12 weeks. Because of these benefits, bee pollen becomes an effective natural home remedy for enlarged prostate gland. Here is how to use:
Method 1:
Buy some raw bee pollen granules

Put one to two granules on your tongue on the first day you take bee pollen

Let them dissolve completely or simply chew and swallow them

Increase the number of bee pollen granules from second day to 1-2 teaspoons of granules

Consume bee pollen granules daily
Note:
Do not use bee pollen if you undergo allergic reaction with it

You can test the allergic reaction by placing one bee pollen granule under your tongue, let it dissolve completely to see if there is any adverse reaction with your body.

If you want to use bee pollen capsules as an alternative to bee pollen granules, remember to take 1000mg – 2000mg per day with water or juice.
Method 2:
Take a yogurt

Mix a teaspoon of bee pollen in the yogurt

Eat this mixture every morning
Note: You can use juice, smoothie, apple sauce and cereal instead of yogurt.
27. Rye Grass Pollen Extract
One of the most effective natural home remedies for enlarged prostate gland is rye grass pollen extract. Rye grass pollen extract, also known as Cernilton, is made from three types of pollen: rye pollen (Secale cereal), timothy pollen (Phleum pretense) and corn pollens (Zea mays). Components in rye grass pollen extract are phytosterols (beta-sitosterols and stigmasterol) and flavonoids (quercetin, kaempferol and apigenin). These constituents are said to be beneficial to prostate health.
Studies have shown that frequent supplementation of rye grass pollen extract can help improve enlarged prostate and chronic prostatitis. Another study also found that rye grass pollen extract can result in lowering urinary tract's symptoms. According to the NIH Chronic Prostatitis Symptom Index (NIH-CPSI), rye grass pollen extract may support in deadening pain and swelling associated with BPH, prostatitis symptoms and improving life quality. The symptoms from enlarged prostate being improved contain night time urination, left amount of urine in the bladder and the prostate's size. All these benefits make rye grass pollen extract become an efficient natural home remedy for enlarged prostate gland. Directions:
Buy rye grass pollen extract in a trusted health store

Take rye grass pollen extract three times per day

Consume 126mg of rye grass pollen extract each time
Note: You may experience some side effects such as heartburn, nausea or stomach swelling during the time you take rye grass pollen extract.
28. Apple Cider Vinegar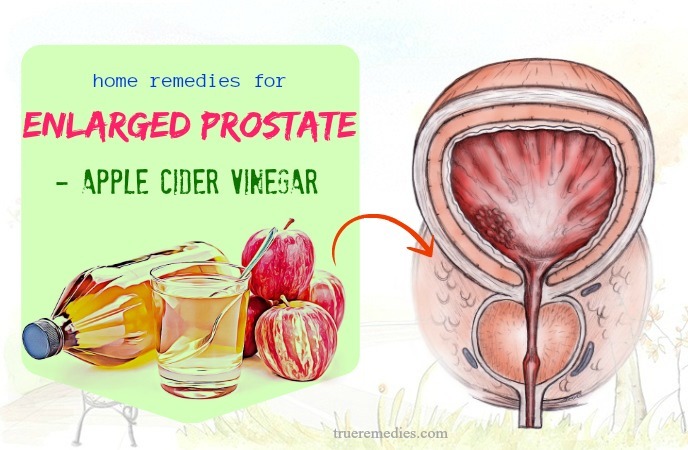 It is easy to find apple cider vinegar in many kitchens. Do not make use of it for culinary purpose only. You may be surprised at this cider vinegar's amazing health benefits. Apple cider vinegar, or ACV, can cure a lot of health conditions from skin care (acne), metabolism, diarrhea, asthma, hair care (dandruff), weight loss, detoxification, tummy troubles, hiccup, sore throat, indigestion, stuffy nose, night time leg cramps, bad breath, bruise to depression, high blood pressure, high level of cholesterol, arthritis, diabetes, heart disease, cancer and many more.
Furthermore, apple cider vinegar is one of the simplest natural home remedies for enlarged prostate gland. It can provide relief from prostatic enlargement by shrinking the swollen prostate gland with its powerful astringent properties. The cider vinegar also can decrease the infections of urinary tract thanks to the uric acid presents in ACV. Hence, we strong recommend you to choose apple cider vinegar one of effective home remedies for enlarged prostate gland. Follow the steps below:
Method 1:
Prepare one to two teaspoons of raw and unfiltered organic apple cider vinegar

Add the vinegar to a glass of water

Put one to two teaspoons of honey to sweeten the liquid

Stir the mixture well with a spoon

Drink the liquid twice daily
Method 2:
Add one cup of apple cider vinegar to the bathtub with warm water

Soak your body in the bathtub for ten to twelve minutes

Do this every day
Note:                   
Use apple cider vinegar in excess may cause enamel erosion of the teeth, burning of the throat, hypoglycemia, low potassium and bone loss leading to osteoporosis.

Do not drink apple cider vinegar in an undiluted form.
29. Tofu
Tofu is a soft and white cheese-like food that is made from soybean milk with coagulants. It is mostly used in Asian and vegetarian cookery. The bland tofu's benefits make them useful in food as well as in medicinal purpose for enlarged prostate gland. As you know, high level of testosterone is a contributing factor that makes prostate cancer grow. Tofu is capable of slowing down the production of testosterone in the body. Therefore, it is highly likely that tofu consumption may also be the best insurance policy to prevent prostate cancer from developing.
Additionally, the isoflavones in tofu which are also phytoestrogens can balance hormone. There are three most important isoflavones found in tofu that can act like estrogen hormone. They are genistein, daidzein and glycitein. Once these isoflavones are absorbed in your body, they preferentially accumulate in the prostate, slow the growth of prostate tissues in BPH, then promote a healthy prostate. That is the big reason why tofu is among must-try natural home remedies for enlarged prostate gland that we should not ignore. Do as the following ways:
Buy some pieces of fresh creamy silken tofu

Clean them carefully with water

Cut them into small cubes

Fry them in a pan until the outer skin turns yellow

Blend ½ cup of fried tofu, 2 cups of fruit with a splash of milk

Eat this mixture every morning
Note: If you cannot find tofu in your location, use other soy-based products instead.
30. Beta-sitosterol
Beta-sitosterol, or B-Sitosterol, is an herbal mixture of different plants such as saw palmetto, pumpkin seeds, soybeans and pecans. Beta-sitosterol is believed to be an herbal medication for both lowering cholesterol and curing prostatic enlargement.  It is composed of cholesterol-like substances called sitosterols or phytosterols but does not act as cholesterol. The truth is that it mimics the actions of proscar (prescription drug finasteride) by curbing the 5-alpha-reductase enzyme's activity – an enzyme converts testosterone into DHT (dihydrotestosterone) resulting in an enlarged prostate.
In addition, beta-sitosterol is used to suppress symptoms associated with BPH like frequent urination, urinary urgency and flow disorders deriving from an enlarged prostate. Thanks to these positive points, beta-sitosterol becomes one of the most trusted natural home remedies for enlarged prostate gland that many experts advise their patients to try. What you need to do is:
Buy a beta-sitosterol supplement in a drug store.

Consume 60 to 130mg of beta-sitosterol divided into two to three dose daily
Note: Beta-sitosterol can cause some side effects such as constipation, indigestion, nausea, gas or diarrhea.
31. Quercetin
Apart from zinc and beta-sitosterol, quercetin is another necessary supplementation to support BPH treatment that you should pay attention to. Quercetin is a flavonoid which can be found in apples, onions, red grapes, red wine, capers and many other vegetables. Studies have shown that frequent quercetin supplement can reduce and improve chronic prostatitis' symptoms as well as block the cancer cells' growth in the prostate.
Quercetin can help prevent the enlargement of prostate gland by inhibiting the growth of cells. It also exhibits the anti-inflammation which can be a good candidate to cut down pain and swelling occurring during the time you suffer from an enlarged prostate. Thus, you should list quercetin as one of needful natural home remedies for enlarged prostate gland. To reap quercetin's benefits, do as below:
Method 1:
Take a fresh organic red apple

Cleanse it with water

Peel the apple's skin

Cut the apple into four or six pieces

Remove the core and seeds

Eat the apple every day
Method 2:
Pick the fresh red grapes

Rinse them with water

De-stem the grapes

Use a juicer to extract the grape juice

Pour the grape through a sieve, press to get fresh grape juice

Drink this juice one time per day
Note: You can make smoothie of red apple and red grapes for better taste.
Method 3:
Buy quercetin tablets in a health store

Consume 500 mg of quercetin twice daily
Note:
Consult your doctor before taking quercetin tablets

Side effects of taking quercetin may include upset stomach and headache.
32. Sitz Bath
If you are not satisfied with other natural home remedies for enlarged prostate gland, sitz bath might provide you an ideal alternative approach. Taking sitz bath help soothe swelling by relaxing the pelvic muscles leading to ease the pain associated with chronic prostatitis. Sitz bath has been used for hundreds of years to increase blood flow and keep the treatment area clean by removing toxin from prostate to the urethra and finally moving out of the body with urine. Thanks to all these advantages, sitz bath was chosen as an effective home use among a wide range of natural home remedies for enlarged prostate gland. Instructions:
Prepare two bath tubs: one tub filled with cold water and the other filled with warm water

Add ½ cup of Epsom salt in the warm water

Add 1-2 drops of lavender essential oil in the cold water

Sit in the warm water for three minutes, then change to sit in the cold water for one minute

Repeat the process for two more times

Make sure you sit in the tub with cold water at the end

Do this several times per week
Note: Men with acute bacterial prostatitis should not take sitz bath.
33. Yoga
It is better for you to do yoga in combination with other natural home remedies for prostate gland. Yoga is not only a good preventive measure but also a supportive treatment for men with BPH. Yoga can aid in strengthening the pelvic muscle resulting in easing discomfort of an enlarged prostate. Be patient to practice yoga and you will see that symptoms of prostate enlargement are improved significantly. Listed are few yoga postures (or asanas) you can try and get relieved:
Kegel                                    
Empty your urinary bladder

Lie on the floor

Bend your knees apart

Squeeze your pelvic muscles, hold for a few seconds and relax

Perform these steps again for fifteen to twenty times daily
Note: Do not practice kegel if you are diagnosed with chronic pelvic pain syndrome.
Hero Pose (Virasana)
Kneel on the floor with a folded blanket beneath your knees (put your knees together and your thighs are perpendicular to the floor

Keep your toes face backward

Put your hands on your thigh with the palms facing down

Put your weight in your hips (not your knees)

Tighten your pelvic muscles, hold for a few seconds and relax

Roll over to one side and release your legs

Repeat a few times daily
Cobbler Pose (Baddha Konasana)
Sit down on the floor or on the edge of a cushion

Extend your legs in front of you

Bend your knees and drop them to the sides

Press the soles of your feet close together

Bring your heels to the pelvis as close as you can

Use your thumb and first finger to hold the big thumbs of your feet (try to keep the outer edges of the feet always pressed on the floor)

Move your hands forward, round your spine, enfold your chin to drop into a forward fold

Inhale deeply and hold the pose for 1 to 5 minutes

Lift your knees and extend your legs

Do this several times per day
Head To Knee Pose (Janusirsasana)
Sit down with a pillow under your sit bones and both legs extended straight out in front of you

Make your right knee bent and put your right foot's sole against your left inner thigh

Turn your torso to face the left foot

Inhale deeply and extend both arms up alongside your ears

Keep your arms' position along the spine, hinge at the hips and fold forward over the extended leg. Leave your hands fall whenever they may.

Maintain the pose for five to ten deep breaths

Switch your legs and repeat the process for the opposite side

Keep practicing a few times daily
Reclining Big Toe Pose (Supta Padangusthasana)
Lie supine on the floor with legs strongly extended and a strap nearby

Exhale, bend the left knee and draw the thigh into your torso

Hug the thigh to your belly

Press the right leg heavily to the floor and push through the right heel

Loop a strap around the arch of left foot and hold it in both hands

Inhale deeply, straighten the knee and press the left heel up toward the ceiling

Walk your hands up the strap until you fully extend your elbows

Keep the hands as high as possible and press your shoulder blades lightly into the floor

Allow your leg to fall out to the left and keep the right leg heavily on the floor

Bring the left leg back up to the top, release the strap and hug the leg back into your belly

Repeat on the other side
Bow pose (Dhanurasana)
Lie flat on your stomach with your hands resting at your sides (palms facing up)

Bend your knees, bring your heels to the buttocks as close as you can

Reach back with both hands grasp the outer ankles

Lift your head, chest and shoulders off the mat

Gaze forward and breathe softly and long

Hold the pose for 30 seconds

Gently lower your thighs to the mat, slowly release your legs and feet to the floor

Rest your right ear on the mat, relax your arms at your sides and breathe for a few times

Repeat with the other side and rest with left ear on the mat
34. Aerobic And Resistance Exercises
Being active with aerobic and resistance exercises is always good for overall health in general as well as prostate health in particular. Taking exercises helps avoid obesity – one of the risk causing an enlarged prostate. Like yoga, what aerobic and resistance exercises can help is both healing and preventing BPH. Aerobic exercises can help maintain an ideal weight whereas resistance exercises can help strengthen muscles and cut down inflammation [12].
Aerobic exercises that are effective for enlarged prostate include tennis, basketball, walking, jogging, running and rowing. Add one of these exercises in your daily routine and practice once per day. How about resistance exercises? You can try weight lifting, push-ups or swimming a few times per week, at least 30 minutes each time. All of them are beneficial to enlarged prostate. Select one exercise that best suits your ability and make it be in this list of best natural home remedies for enlarged prostate.
35. Lifestyle Changes
You had better change your habit in order to control and reduce the symptoms associated with an enlarged prostate. Pay attention to these following things:
Drink a normal amount of liquid based on thirst during a day

Not drinking fluid after 6pm daily

Avoid alcohol, caffeinated and cold drinks, spicy and acidic foods, fatty foods, dairy foods like cheese, curd, etc…

Cut down the consumption of red meat and processed foods

Eat more vegetables and soy based foods (avoid GMO soy beans)

Eat a diet high in nutrition and low in starches.

Use polyunsaturated fat for cooking

Regularly do yoga, aerobic, resistance or breathing exercises

Keep yourself warm and avoid cold weather

Reduce stress and tensions

Do not keep sitting in the same position for a long time.
So now you can see that we have just listed a number of natural home remedies for enlarged prostate gland. Actually, there is not a cure-all in the realm of home remedies. What works best for one person may not be the ideal choice for others.
36. Supplements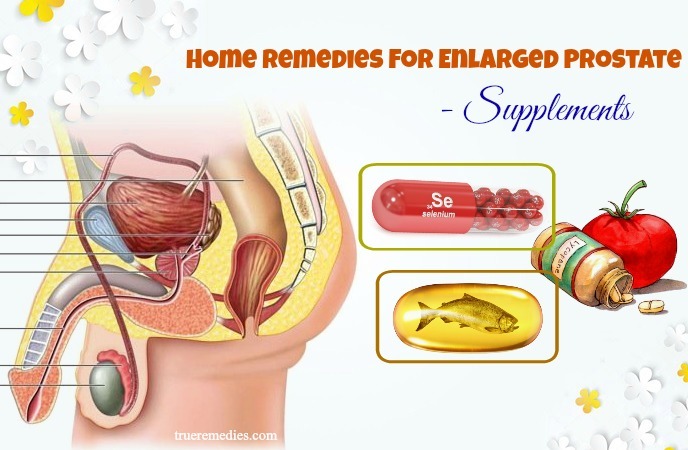 In addition to carry out the home remedies for enlarged prostate gland above, you should also pay attention to your current diet plan, which should include essential vitamins for healthy prostate. The followings are important vitamins you should add to your diet:
This vitamin plays as an antioxidant in the human body. According to researchers, it was estimated that the incidence of prostate cancer was reduced by 32% among those people receiving 50mg of vitamin E for 5-8 years [13].
A study conducted by experts at Boston University School of Medicine reported that there was a link between the lack of vitamin D or reduced sun exposure and the higher risk of prostate cancer at the young age. Thus, vitamin D should be among priorities of men of all ages to maintain healthy prostate [14].
Selenium has a lot of merits, including the ability of increasing immunity, reducing cancer risk and increasing longevity. Researchers from the University of Arizona assessed the impacts of selenium supplementation on skin cancer prevention and concluded a 67% reduction in the risk of prostate cancer and other prostate issues (like enlarged prostate) among people receiving 200mcg of selenium daily [15].
This is a powerful antioxidant giving fruits and veggies their color. You can find lycopene the most in cooking tomatoes. This substance is also available in the supplement form. Higher consumption of lycopene will lower the risk of enlarged prostate and prostate cancer [16].
Zinc plays an important role in maintaining prostate health. Stress, infection and diet impact the levels of zinc in our bodies, which are significantly reduced in people with prostate issues. Some studies showed that both enlarged prostate and prostate cancer might be associated with deficiency in zinc [17].
Fish oil is renowned for the ability of reducing inflammation. Inflammation, in fact, leads to prostatitis as well as prostate cancer.  Consuming fish oil in the later life will lower the potential risk of advanced prostate cancer and other prostate issues [18].
37. Essential Oils
Essential oils are lifeblood of plants. They can be absorbed directly and go directly to work through bloodstream and support different systems of the body. Essential oils from plants are highly concentrated, so it has tons of phytochemicals and nutrients, antioxidants and natural hormones instantly. Recommended  essential oils for enlarged prostate gland include rosemary, myrrh, thyme, sage, oregano and wintergreen oil. Check out below to see details about each essential oil:
This is a powerful antioxidant and has carnosol and carnosic acid, which may inhibit prostate cancer and other prostate issues. The polyphenols of rosemary target different signaling pathways which are involved in cell cycle modulation and apoptosis. Pure, good-quality rosemary oil could be used internally for about 6 weeks continuously or applied topically to the area below genitals two times per day. This powerful oil can be diluted with equal amounts of carrier oil prior to using on skin.
This oil is produced by steam distillation from the tree's resin. Myrrh oil is a natural remedy for treating arthritis, dysmenorrheal, anemia, asthma, menopausal problems, bronchitis, obesity, mouth ulcers, gum diseases, rheumatism, digestive problems, cough and of course enlarged prostate. The HS-1 and MCF-7 cancer cell lines are very sensitive to myrrh oil, according to a recent study [19].
Having a spicy aroma, frankincense oil is able to calm the mind and elevate the mood. This essential oil could target cancer cells in those women who have late-stage ovarian cancer.
Furthermore, this oil was thought to cause death to pancreatic cancer cells [20].
The plant compounds in ginger oil possess antioxidant and anti-inflammatory properties which help to prevent cancer. Not only does ginger oil kill cancer cells but it also prevents them from getting resilient to the chemotherapy.
As with many other natural cures, it is important to keep in mind that you should try multi-therapy approaches. Be patient with the healing process and make notes regarding the one that works best with your body. Do not hesitate to try these numerous natural options and tips for resolving prostatic enlargement by yourself at home. Share with us your experience after applying these methods. Do you know any other amazing ideas for the article "57 Natural Home Remedies For Enlarged Prostate Gland"? Please feel free to share with us in Home Remedies Category
If you have any question, please drop your comments in the box below. We will reply as soon as possible.