Dry skin is a common issue that occurs at any age and due to many causes. You can use a moisturizer often to help repair dry skin. In medical terms, dry skin is called xerosis, which is not usually serious, but unsightly and uncomfortable. It may be a lifelong condition. The signs and symptoms of dry skin will depend on your health, your age, your living place, the amount of time spent outdoors and the cause of the issue. Of course, having dry skin is not comfortable at all, that is why you are reading this article of "Home Remedies for Dry Skin on Face and Body". Nonetheless, before getting to know those solutions, you need to have a general understanding about this skin issue. Take a quick look at the following parts from TrueRemedies.com!
What Is Dry Skin?
Oftentimes, dry skin does not represent a serious issue but sometimes it could be hard to treat. Furthermore, it may be correlated to some other skin issues or accompanied with pathological conditions like hypothyroidism, diabetes, malnutrition, Sjögren syndrome.
Types Of Dry Skin
The exposure to dry weather conditions, certain chemicals, hot water could result in dry skin. Furthermore, dry skin could result from underlying medical issues.
Dermatitis is medical term of extremely dry skin. Some types of dermatitis are:
Allergic contact

Irritant contact

atopic

Seborrheic
Contact dermatitis often develops when the skin reacts to something it contacts, leading to localized inflammation. The irritant contact dermatitis could happen when the skin is exposed to bleach or other irritating chemical agents. Also, this condition could develop when the skin is exposed to the substance that you are allergic to, like nickel.
On the other hand, seborrheic dermatitis happens when the skin manufactures lots of oil. It causes a scaly and red skin rash. This kind of dermatitis is very common in infants.
The next type of dermatitis is atopic dermatitis which is also known as eczema. This chronic skin issue causes dry scaly skin patches and is common among young children.
Besides, other conditions like type 2 diabetes and psoriasis could make skin dry out.
What Does It Look Like?
Dry skin involves skin areas which appear peeled, dehydrated, inflamed and irritated. It feels scaly, rough, sometimes itchy and painful. Severe cases of dry skin might be featured by intense itchiness and redness. Skin shows the tendency to break or crack, leading to deep fissures which might bleed. Also, they are signs of very dry skin.
When the dry skin cracks, germs may get in via the skin. Once getting inside, these germs could lead to an infection. Sore, red spots on skin might be an early signal of an infection.

What Are Causes Of Dry Skin?
Dry skin can happen for various reasons. You may have naturally dry skin, but even when your skin tends to be oily, you may still develop dry skin now and then.
Generally, anyone could suffer from dry skin. The skin turns into dry as it loses too much oil or water. Some people seem to be prone to dry skin. Common causes of dry skin are:
Climate: the dry climate like a desert.

Age: older adults are prone to develop dry skin. When people age, their skin pores produce less oil naturally, increasing the risk of dry skin.

Medical history: you will be more likely to suffer from allergic contact dermatitis or eczema if your health history has these conditions or other allergic diseases.

Season: dry skin is much more common during the winter and fall months, when the humidity levels are low. In summer months, the higher humidity levels can prevent your skin from drying out.

Habits of bathing: Taking frequent baths or using hot water to wash will increase your risk of having dry skin.
What Are Risk Factors?
Any person could develop dry skin. However, you might be prone to this condition if you:
Are over 40 years old. This risk will increase with age – over 50% of older adults suffer from dry skin.

Live in cold, dry or low-humidity climates

Have a job which requires the immersing of skin in water, like hairstyling and nursing.

Frequently swim in chlorinated pools
When To See A Doctor?
Most cases of dry skin response positively to home remedies and lifestyle. However, you should see your doctor if:
Your skin does not get better despite you try your best

Dry skin is associated with redness

Itching and dryness affect your sleeping

Large skin areas are peeling or scaling

You have infections or open skin pores from scratching
Top 22 Best Home Remedies For Dry Skin Relief
1. Home Remedies For Dry Skin – Coconut Oil
Having emollient properties, coconut oil can fill the skin spaces between skin cells, thereby creating a smooth, soft surface. It is the reason why the saturated fatty acids which happen naturally in coconut could hydrate and smooth your skin.
You could use this oil every day on every body part, including the area around your mouth and underneath your eyes. Using coconut oil for dry skin relief does not require too complicated preparation, so you do not need to mix it with anything. Coconut oil is gentle enough for the substantial daily use.
When rubbing coconut oil onto your skin, it will be absorbed slowly. Moreover, if you have psoriasis or eczema, this oil can calm these conditions, too. It is really a win, win.
2. Olive Oil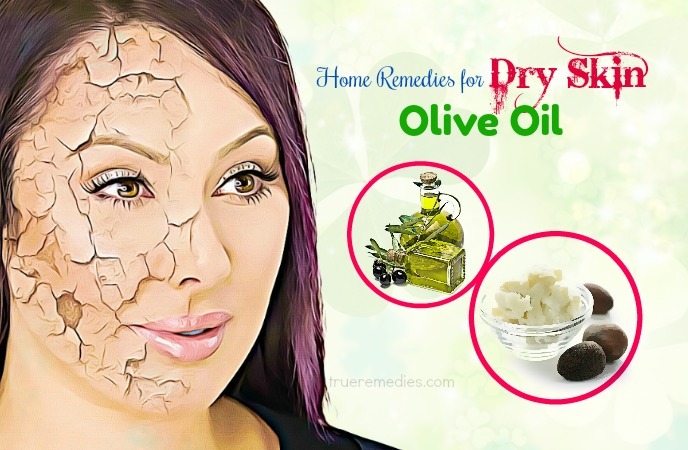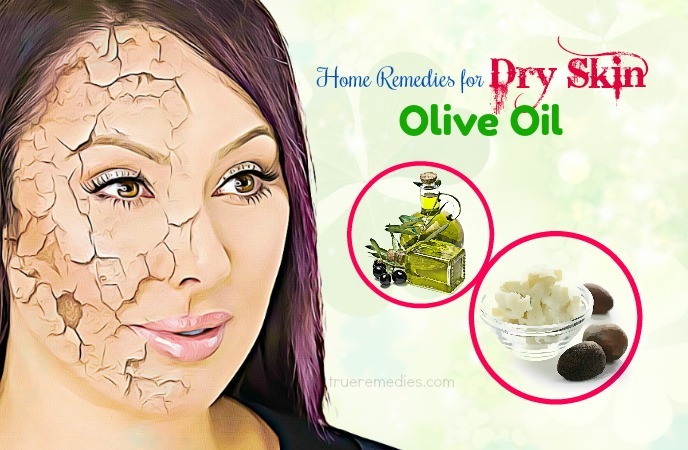 Olive oil, one of most effective home remedies for dry skin, has vitamin E, which is a potent antioxidant protecting the human skin from environmental factors like the wind and sun rays.
Also the healthy fats available in olive oil can moisturize your skin and prevents it from being dried out. Also, it helps seal the moisture within skin cells by creating a protective layer on skin. Thanks to anti-aging properties of olive oil, it reduces wrinkles and fine lines, one of common problems accompanied with dry skin. You can also use olive oil to promote the new generation of skin cells, remove damaged, dry and dead skin cells, in addition to smoothening out the coarse and rough texture of dry skin [1].
You can use olive oil only for massage or combine it with some other ingredients, such as honey, sugar, salt, lemon juice or shea butter. Some easy-to-do methods for you are:
Method 1: Olive oil and sugar
Mix 2 tablespoons of olive oil with 1 tablespoon of sugar

Apply the mixture over your skin and massage for 5-10 minutes

Wait for 15 minutes before washing it off with tepid water

Re-do this routine twice or thrice per week
Method 2: Olive oil and lemon juice
Lemon juice has vitamin C which acts as a natural antioxidant protecting the skin against free radical damage. Besides, vitamin C can increase collagen and elastin that can hold the skin cells together. Using lemon juice also gives you smooth skin as dead and dry skin cells have been removed.
Mix freshly squeezed lemon juice with olive oil as the ratio of 1:2

Apply it all over your face

Massage for 5-8 minutes, wait for 10 minutes or so

Wash it off with tepid water
Note: Avoid going out under the sun after applying this recipe as it makes your skin photosensitive.
Method 3: Olive Oil and Shea Butter
In shea butter, there are vitamins and fatty acids which can help nourish and moisturize your dry skin. Besides, the palmitic, oleic, stearic, and linoleic acids in this ingredient can retain natural oils in your skin and alleviate wrinkle formation.
Mix unrefined, raw shea butter with olive oil as the ratio of 2:1

Apply the mixture onto your skin, wait for 20 minutes and wash it off with water

Reapply it 2-3 times per week
3. Home Remedies For Dry Skin – Flaxseed Oil
Being rich in omega-3 fatty acids, flaxseed oil can hydrate your skin, bring your flaky, dry skin the moisture from within. Thus, you should take 1 teaspoon of flaxseed oil every day or take capsules of flaxseed oil if you want to get your skin smooth from inside out. However, remember that your body will absorb the oil more easily in pure form.
Read more: 25 Natural Home Remedies For Dry Feet Skin
4. Milk Cream
In milk cream, there is lactic acid which acts an exfoliant to dry skin. Also, soothing nature of milk cream can preserve the dedicate pH skin level and moisturize your skin naturally. All of these benefits are thanks to the fat-soluble enzyme lipase and lactic acid.
There are a few ways to take advantage of milk cream for your dry skin. You can practice some methods below:
Method 1:
To use milk for dry skin, after washing the none-acne prone skin area, massage milk cream on your face

Use a wet cotton ball to wipe out and pat dry
Method 2:
Mix 4 tablespoons of gram flour with some milk cream

Apply the paste over your face, legs and hands

Wait for 15 minutes and wash it thoroughly with tepid water

Do it once per day
You can also alternate milk cream with milk to get similar effects. Not only does milk moisturize your skin, but it also lightens your skin.
5. Home Remedies For Dry Skin – Honey
Honey is really worth trying if you are looking for simple but effective home remedies for dry skin. It has superior antibacterial, healing, and probiotic properties, not to mention nourishing and hydrating effects [2]. This ingredient is beneficial for those with skin ailments like eczema and honey. Nonetheless, it is recommended using raw and unfiltered honey to take most advantage of it. You had better choose Manuka honey as it has the most anti-bacterial effects [3].
You can use honey combined with another ingredient to have a facial scrub to remove rough skin cell. Most face washes available nowadays in the market contain honey as a main constituent. You can make your own facial scrub by following these steps:
Mix olive oil, brown sugar, honey and fresh lemon juice together

Whip up to have a properly thick mask and apply a thin layer over your face

Massage for 2-3 minutes slowly to remove dead skin cells and reveal bright skin.

Rinse it off with warm water after 15 minutes
Or, you could simple rub honey over your body and wait for 10 minutes before rinsing it off. That way, you will have well-moisturized skin.
6. Yogurt
Yogurt is very familiar with us as a food, but it is also used as a skin care ingredient. Being an excellent skin-hydrated agent, yogurt with its anti-inflammatory and antioxidant effects can soothe your itchy and dry skin.
Besides, the lactic acid in yogurt will remove any bacteria or germs out of your body, which may result in itchiness or dryness. To use yogurt for dry skin removal, follow these guidelines:
Method 1:
Put some fresh yogurt onto your hands, legs and face to start massaging for 2-3 minutes

Leave it there for 10 minutes and take a shower

Do this once per day
Method 2:
Mix 3 tablespoons of blended or mashed papaya with ½ cup of yogurt

Stir well and add several drops of lemon juice and honey into

Apply the mixture over your skin, wash off with cold water after 10 minutes

Do it once per week
7. Avocado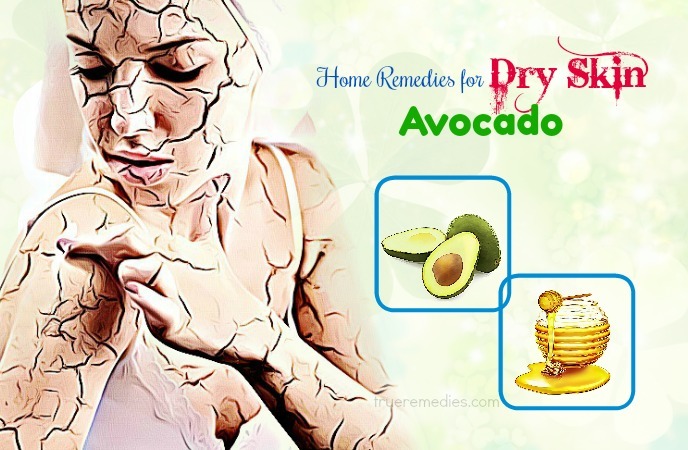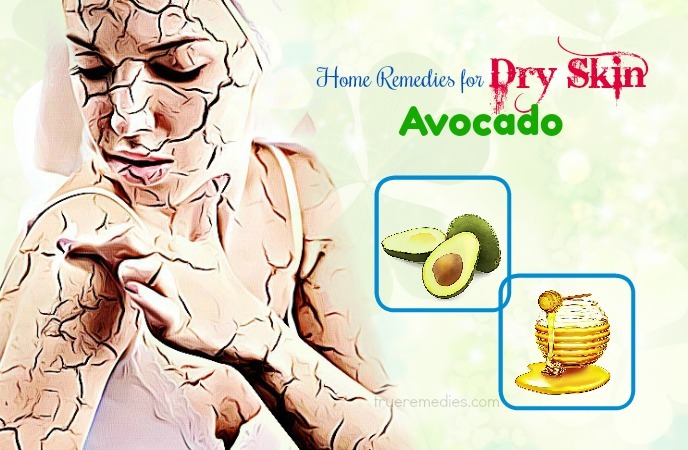 Maybe, among home remedies for dry skin, this is the most delicious and common one for all of us. Thanks to a high concentration of vitamin A, glutamine (an antioxidant), copper and vitamin C, avocado can help ensure enough sebum production on your skin, stimulate collagen production and maintain elasticity of your skin while evening out skin tone [4].
Besides, avocado also has oleic acid, which is a monosaturated fatty acid with moisturizing properties, alpha-, beta-carotene and letein, which improve skin tone as well as protect skin from premature aging. What is more, this fruit possesses powerful anti-inflammatory, minerals like magnesium, iron, phosphorus, and zinc – all of which help alleviate itchiness of the dry skin meanwhile protecting skin from sun damage.
You can use avocado directly or mix it with other natural ingredients, be it olive oil, honey or yogurt.
Remember to wash your skin carefully with a mild cleanser along with tepid water prior to using any natural avocado mask.
Method 1:
Mash an avocado's pulp into a good paste.

Rub this paste over your skin, wait for 15 minutes and wash it off with cold water

Repeat this routine daily
Method 2:
Mix ½ of a ripe avocado with ½ cup of honey

Apply the mixture over your dry skin and wait for 15 minutes prior to rinsing it off

Use it up to twice per week
In addition to the external methods above, you should also drink a glass of an avocado smoothie every day to boost your intake of healthy fats and keep your skin moisturized and hydrated.
8. Home Remedies For Dry Skin – Oatmeal
Oatmeal is good for the human skin for a lot of reasons, whether it is straight out-of-the-box or as an ingredient in cosmetic products. This hypoallergenic ingredient is suitable for even the most sensitive skin without reactions [5].
Using oatmeal will help creates a protective barrier to your skin, soothe and moisturize your skin naturally, due to anti-inflammatory, healthy fats with moisturizing properties. Besides, oatmeal's texture is rather rough, making it a fantastic natural scrub.
You can consider the treatments below to get rid of rough, dry skin:
Method 1: Oatmeal bath
Take a cup of oats to grind into a find powder to have your colloidal oatmeal

Add it to your bathtub and soak for 15 minutes or more
Method 2: Home remedies for dry skin by using oatmeal mask
This mask will soothe and add moisture to your skin while providing exfoliation. Despite it is suitable for all types of skin, dry seems to benefit the most from this solution.
Take 2 tablespoons of oats to grind in a grinder

Mix the powder with 2-3 tablespoons of hot water

Wait for 5 minutes to let it cool down to a tepid powder

Apply it to your clean skin and massage in circular motions for 5 minutes

Wash it off with cool water and use a soft towel to wipe out

Apply a moisturizer to your skin
Method 3: Oatmeal and banana
You can also mix oatmeal with banana to have a mask which can not only moisturize and hydrate your skin but also prevent it from being dried. That is because banana has a large content of potassium, B-complex vitamin and vitamin E.
Mix 2 tablespoons of oatmeal with a proper amount of water to create a good paste

Mash a ripe banana by using a fork o mix with oatmeal

Apply the mixture over your clean skin for 15 minutes

Wash it off with cool water and repeat this routine 2-3 times a week.
Alternatively, you could also mix oatmeal with papaya, honey, lemon, aloe vera, sugar, or avocado to remove dry skin cells effectively.
Notes:
The oatmeal can dry out rapidly and stick to your skin, so to remove it, you can sprinkle some water onto the area and massage with your fingers.

Avoid applying oatmeal packs over your eye lids or the areas around the eyes, as it could dry out that dedicate and soft skin.

People with eczema should avoid this type of treatment

People with celiac diseases might be allergic to oatmeal, so do a small patch test prior to using it.
Also read: 47 Natural Home Remedies For Vitiligo Treatment On Face & Lips
9. Almond Oil
In regard to home remedies for dry skin, almond oil is worth-trying due to its excellent source of vitamin E. It is considered the best lubricator and emollient for dry, rough skin. Besides, thanks to antioxidant effect, it is good for your skin in general. This oil is non-greasy, so it can be easily absorbed into your skin [6].
Take some pure almond oil to warm up

Then, massage your skin with this solution and leave it there 30 minutes prior to having a bath

After showering, apply a light moisturizer. Do this once per day
To get better results from almond oil, you can drink a glass of warm milk mixed with 1 teaspoon of almond oil prior to hitting the hay. Repeat this habit nightly to have healthier skin and sound sleep as well.
Note: You should avoid these methods in case of being allergic to almonds.
10. Aloe Vera
The clear gel extracted from aloe vera leaves has been used for many years in the treatment of different skin illnesses and wounds. With antiseptic, soothing and antifungal effects, aloe vera can fight off irritated, dry skin, soothe skin, reduce soreness as well as discomfort while also preventing flaking. This remedy can moisturize your complexion and protect it from any type of impurities. You can use aloe vera as a natural moisturizer, skin brightener, natural cleanser, or daily scrub. To make use of aloe vera as one of the simplest home remedies for dry skin, you can take the steps below:
Cut a fresh aloe vera leaf to extract its gel

Apply the gel over your ski, wait for 15 minutes

Wash it off with tepid water

Do this twice per day
Note: The use of aloe vera gel externally for skin issues has not been associated with any secondary effects or contraindications. You had better consult your doctor prior to using it.
11. Home Remedies For Dry Skin – Besan
Among home remedies for dry skin, besan seems little-known. Besan can hydrate your dry, rough skin because of the availability of a humectant which could prevent the water loss from skin. Combining besan with some lime juice, milk and honey will give you a great solution for not only smoothening out skin, but also brightening it at the same time. Lime has vitamin C that has an ability to fight blemishes. Honey and milk have nourishing effects, which explains why this pack is a good tip to get soft and hydrated skin [7].
Mix 2 tablespoons of gram flour/besan with 1 teaspoon of turmeric, and 1 tablespoon of honey

Then add the mixture to a half cup of milk, followed by 1 teaspoon of lime juice

Apply the pack over your skin, wait till it dry out

Wash it off then with lukewarm water

Do this routine daily for the best results
12. Mango
Thanks to the rich content of vitamin A with an ability of hydrating and moisturizing dry skin, mango can heal flaky, dry skin while rejuvenating it naturally [8]. To have a treatment for dry skin using mango, you can add honey and olive oil for better results. Honey is known for nourishing properties and olive oil has moisturizing benefits, all of which are good for dry skin. Thus, it is an ideal mask for flaky, dry skin.
Separate the pulp of a ripe mango from the skin, then make a mush from it by using a mixer

Put 1 tablespoon of honey into this mush, followed by 3 teaspoons of olive oil

Apply the mixture over your skin and wait for 30 minutes to wash it off

Do this method 3-4 times per week to get glowing and moisturized skin
13. Ghee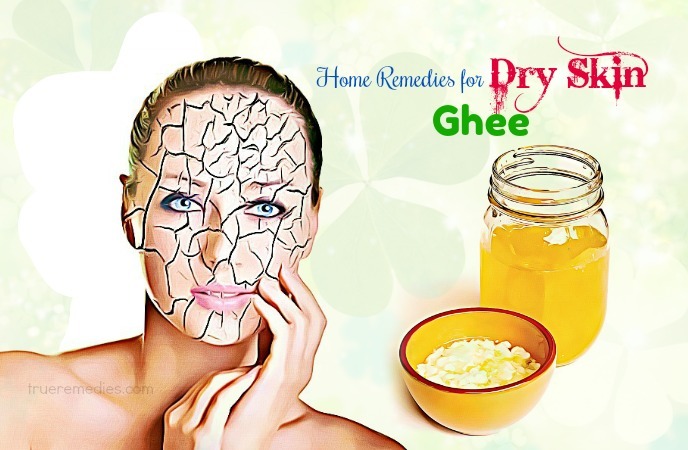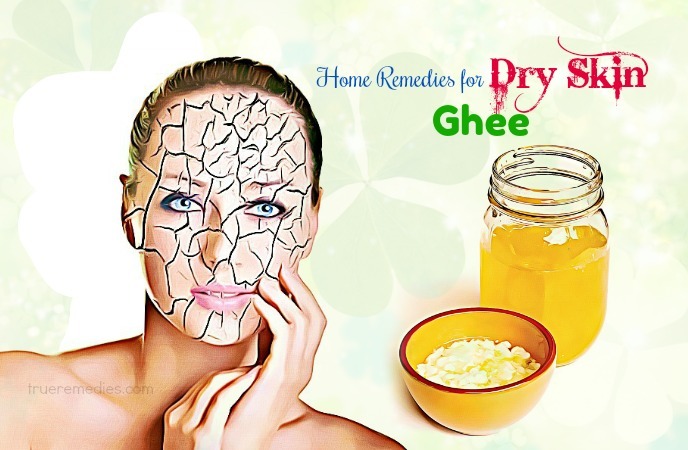 If you are looking for convenient but effective home remedies for dry skin, then don'ts skip ghee. This ingredient could be purchased in the pure form or made from butter. Ghee can activate sebum secretion and heal the dryness [9].
Rub some pure ghee onto your affected skin areas in circular, slow motions to let it be absorbed by your skin

Wait for several hours before having a bath

Do this daily for better results
14. Home Remedies For Dry Skin – Papaya
Papaya is ideal for dull skin. Not only does it add brightness and clarity to your skin, but it also repairs and moisturizes your dry skin.
Mix just 2 tablespoons of mashed papaya with 1 teaspoon of milk cream and 1 teaspoon of multani mitti (also known as Fuller's Earth). Then, apply this pack over your affected skin. Wash it off after about 15 minutes.
15. Glycerine
Glycerin can work wonders on both dry skin and chapped lips because it is a wonderful emollient and humectants [10]. What you need to do is:
Mix 1 teaspoon of glycerin with 1 tablespoon of rose water to have a good mixture

Apply the mixture on your dry skin patches

Leave this solution there for several hours before rinsing it off
In case you feel it is too tacky, you could wash it off after about one hour..
Home Remedies For Dry Skin – Lifestyle Tips
If you are suffering from flaky, dry skin, then remember that following the same skin care all year round might not work well when the humidity reduces. Without a modification in your skin care, the dry air could trigger wrinkles and fine lines and make them noticeable. Dry skin could crack, itch and even bleed. To get rid of dry skin, in addition to the mentioned-above home remedies for dry skin, you should apply the tips below:
Prevent showers and baths from making your dry skin worse. When your skin is dry, do not close the bathroom door, reduce the time of having a bath to 5-10 minutes, use warm water than hot one, wash with a fragrance-free, gentle cleanser, apply enough cleanser to eliminate the oil and dirt, slather on the moisturizer instantly after drying out your skin.

Use a good moisturizer. Creams, ointments, lotions work by trapping the available moisture in your complexion, thus you should apply a moisturizer within several minutes of washing your hands and face or drying off after a bath or shower.

Use a cream or ointment instead of a lotion. Creams and ointments are considered to be more effective and less irritating than lotions. Choose the products having jojoba oil or olive oil. Or, you can also choose shea butter. Other ingredients can also help soothe dry skin are urea, lactic acid, hyaluronic acid, glycerin, dimethicone, mineral oil, petrolatum, and lanolin.

Just use unscented, gentle skin care products. Some specific skin care products may be too harsh for sensitive, dry skin. Do not use deodorant soaps, or skin care products having alcohol, retinoids, fragrance, alpha-hydroxy acid (AHA) if you have dry skin [11]. This will help your skin retain its own natural oils.

Wear gloves. The hands are usually the first part that we notice dry, rough skin. You can decrease raw, dry skin by wearing gloves, particularly before going outdoors in the winter, performing tasks which require you to get the hands wet, or getting greases, chemicals, or other substances on the hands.

Add moisture to your home air by using a humidifier.

Shave smartly. Shaving could irritate your dry skin. When shaving unwanted hair, you are scraping off the natural oils. The best time to do it is after having a shower, in accordance with the American Academy of Dermatology. The hairs become softer and more pliable after having a bath, thereby making shaving much easier.
Use a shaving gel or cream, then shave in the direction that the hair is developing in order to protect the skin.
Warrant that your razor is sharp. The dull razor blade could lead to extra irritation. Thus, remember to change your razor blades usually. If you use a used blade, soak it in the rubbing alcohol in order to cleanse it.
Protect your skin from sun rays. Sun damage is considered one of the major causes behind the wrinkles, dry skin, and roughness. Prevent that damage by using a broad-spectrum SPF 30 sunscreen all year round and also dressing properly.
In the cool weather, you should dress in layers in order to prevent overheating as well as perspiring too much. Both of them can irritate your skin.
In order to prevent chapped, swollen, dry lips in winter, you should take advantage of a lip balm having SPF 15.
In summer, you should wear loose, light, and long-sleeved shirts when being outdoors. Also, wear a 2-inch wide-brimmed hat in order to shade your ears, neck and eyes as well.
In reality, dry skin is not a serious health issue, yet it could produce serious complications, like chronic eczema (red patches) or bleeding from fissures which have become deep adequate to disrupt the capillaries in the dermis. Besides, another possible complication is the secondary bacterial infection (pus, swelling, and redness) which might require antibiotics.
The above are natural home remedies for dry skin which will help you get smooth skin without using harmful cosmetics. However, see a dermatologist if these home remedies for dry skin do not work, or if your dry skin becomes very scaly or bleeds.
We will write more about natural beauty tips in our Home Remedies page. Keep reading! For any contributing ideas about this post, feel free to drop your words at the comment box below!