updated: 06/18/2019
Swollen lips, also known as lip oedema, happen when one or both lips distend or enlarge beyond their usual size [1]. Swollen lips could be a sign of anaphylaxis, which is a severe allergic reaction that requires instant medical attention. In those people with less serious cases, the condition of swelling might appear and disappear rapidly, for instance after sunburn or chapping. The swelling that progresses over time and lasts longer might be a signal of an infection or even a much more serious inflammation or condition. To know how to get rid of swollen lip symptoms naturally and fast at home, you should understand clearly about this condition. Read on the following parts of this article – on TrueRemedies!
What Are Common Symptoms Of Swollen Lips?
When you top lip is swollen, you will be likely to experience a few signs and symptoms. They could be mild or extreme. Some common symptoms of swollen lips include:
Numbness of the lip

Fat or enlarged lip

Tight or dry lip

Pain on the lip

Inflammation, itchiness and tingling feeling

Changes in skin color or redness

Chapped lips or blisters on the lip

Discharges on the lip

High temperature or chills

Runny nose
The above are not the only symptoms. There are some other symptoms depending on the cause. If you have symptoms like breathing difficulties, too much distress, hives, rash, tongue swelling, tight throat, or fingernails discoloration, you had better seek for instant medical attentions.
What Are Causes Of Swollen Lips?
Swollen lips might have a wide range of causes, from mild to severe, including allergy, infections, injuries, inflammation or an underlying medical condition. The followings are some causes people reclaim:
Allergic reactions: If you contact with a certain allergen, such as pet dander or specific foods or wrong lip care products, it might result in swollen lips.

Food allergies: some common swollen lip triggers include allergies and foods including shellfish, nuts, egg whites, sesame seeds, and egg whites. Other triggers might be latex, wasp / bee stings, pollens or other inhaled allergens, certain medicines and exercise.

Angioedema: This is a condition of swelling in deeper layers of skin which often impacts the lips and eyes. Angioedema is common that affects from 10 to 20 % of people in their lives. Similar to anaphylaxis, angioedema might be caused by a certain allergic reaction, such as food allergies.

Other health conditions: cold sores, cheilitis, cheilitis granulomatosa, lip cancer accompanied with excessive exposure to sunlight, inflammatory bowel disease like Crohn's disease, Melkersson-Rosenthal syndrome.

Environmental factors: certain weather conditions and temperature might also cause swollen lips.

Accident, injury or irritation: bruising / lacerations, burns, dental appliances, insect bites, spicy or hot food, lip surgery, enhancement or augmentation or enhancement could also cause swollen lips.
TrueRemedies Partner Solutions

Need a Help from the Leading Expert Online, Available 24/7?
They're all here and ready to answer your questions online or by phone. Keep asking questions until you get the answer you need.
How To Get Rid Of Swollen Lip Fast
1. Warm Compress
This might be the simplest tip on how to get rid of swollen lip at home. Warm compress could be instantly applied on your swollen lips to relieve swelling and pain. Warm water could provide a soothing sensation. Take the steps below:
Soak a cloth in warm water, drain water from it

Apply the cloth on the lips for 5-10 minutes

Repeat this method for 2-3 times per day
Note: If you have a cut in the skin, do not use a warm compress during the first few days of the problem.
2. Cold Compress
Rather similar to the first way mentioned above, cold compress or using ice cubes is another good solution for swollen lip removal. It also relieves the swelling resulted from oral herpes, lip piercing, or cuts.
Wrap a few ice cubes in a clean towel

Apply it over your swollen lip for 5 minutes

Remove it for about 1 minute before repeating.

Do this method a few times per day and repeat it regularly to get good results.
Caution: Do not apply ice cubes directly on your swollen lips because it might lead to frost bite. Also, if you have skin cuts, then avoid it.
3. Black Tea
Black tea bag is helpful for those with swollen lips, especially due to allergic reactions. Thanks to compounds like tannins with astringent properties, black tea could compress the soft lip tissues and alleviate swelling.
Follow the method below:
Soak a black tea bag in a glass of warm water for about 10 minutes

After taking it out from water, allow it to cool down

Soak a cotton ball into it and apply it over your swollen lips for 15 minutes

Repeat this process a few times per day to tread swollen lips at home
4. Aloe Vera
Aloe vera has medicinal properties which are good for many skin conditions and swollen lips as well. It is high in anti-inflammatory properties, thereby helping lessen inflammation of your lips. This ingredient is beneficial for all types of allergic reactions, including mosquito or insect bites [2].
Take a fresh aloe vera leaf to extract its gel

Apply it over your skin, massage and wait till it dries out

Repeat this routine a few times per day
5. Tea Tree Oil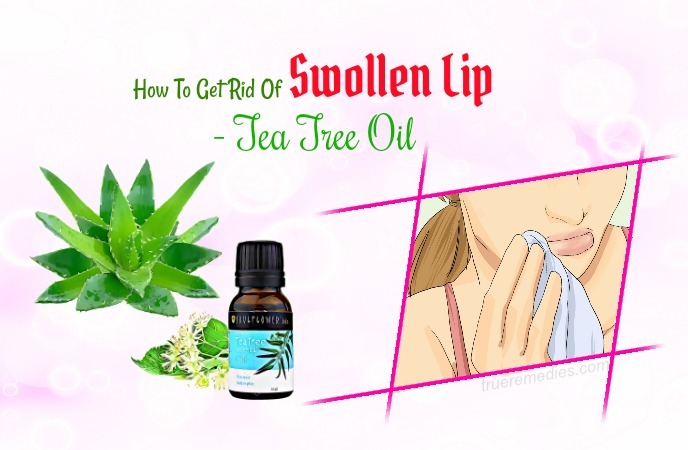 When it comes to learning how to get rid of swollen lip symptoms naturally, tea tree oil tends t o be so powerful, particularly in regard to smell [3].
Method 1:
Mix 1teapsoon of aloe vera gel with several drops of tea tree oil

Apply the mixture over your swollen lip
The aloe vera gel will not only soften your lips while reducing some harsher elements of tea tree oil.
Method 2:
Dilute tea tree oil with a carrier oil such as coconut oil or olive oil.

Apply it over your lips for 30 minutes to not only moisturize it but also keep it disinfected

Wash it off after that

Do this method several times per day
Caution: Do not use tea tree oil without diluting it with another ingredient. If you feel any irritation, instantly rinse it with cold water. Avoid using tea tree oil for children.
6. Witch Hazel
Nowadays, you could find witch hazel in most of local drugstores. People usually use it as an effective astringent, drawing tissue together and constricting blood vessels. Also, people use witch hazel on the skin for different problems like inflammation, itching, injury, insect bites, varicose veins, minor burns or bruises, hemorrhoids. Oftentimes, applying this ingredient onto the skin is the safest and most common method it is used. For swollen lips, witch hazel can work wonder in decreasing pain and inflammation. It is very useful in treating swollen lips that are caused by cuts.
Mix 1 tablespoon of witch hazel with 1 ½ tablespoon of salt

Apply this mixture over your infected lips using a cotton ball

Wait for 30 minutes before washing it off with cold water

Repeat this routine till you see good results
7. Salt
Salt, a super common ingredient the kitchen, is rather effective in relieving inflammation and pain caused by swollen lips. It has antiseptic and antibacterial properties which can kill bacteria that cause infections.
Take a tablespoon of salt to dilute in a cup of warm water

Use a cotton ball to dab it over your affected lip

Wait till it dries and wash it off with plain water

Repeat once or twice per day
Caution: Some slight burning sensation will be felt at first when using salt for swollen lip, but it will disappear over time.
8. Baking Soda
Among naturally ways on how to get rid of swollen lips, this is a highly recommended one. Baking soda is particularly good or swollen lip treatment caused by a fever blister, allergic reaction, or an insect / mosquito bite. It can reduce the inflammation as well as pain.
Take the steps here if you want to use baking soda to get rid of swollen lip:
Mix 3 teaspoons of baking soda with 1 teaspoon of water to have a thick paste

Apply the paste over your problematic lip

Wait for several minutes before washing it off with cold water

Repeat this routine several times per day till your problem subsides.
9. Apple Cider Vinegar
Being a common ingredient for skincare and hair care, apple cider vinegar is the answer for those who are looking for tips on how to get rid of swollen lip. Apple cider vinegar can alleviate swelling in the lips because of its ability to lessen inflammation. Follow these instructions:
Mix 1 teaspoon of each of apple cider vinegar with water

Take a cotton ball to dip into that mixture

Rub the cotton ball on your swollen area

Wait for a few minutes prior to washing it off with cold water

Repeat this routine twice per day for good result
10. Honey
Perhaps, honey is one of the oldest treatments for swollen lips known by humanity. The healing properties of honey could be taken advantage to fight against a lot of diseases, including swollen lips. What you need to do is:
Moist a cotton cloth in a small amount of honey

Apply it over your affected lip

Wait for 20 minutes before rinsing it off
But, you should not leave honey on your lips for over 20 minutes. For added benefits, you should add 1 teaspoon of honey in a cup of tepid water and have it.
Note: People who are allergic with honey should avoid this method.
11. Turmeric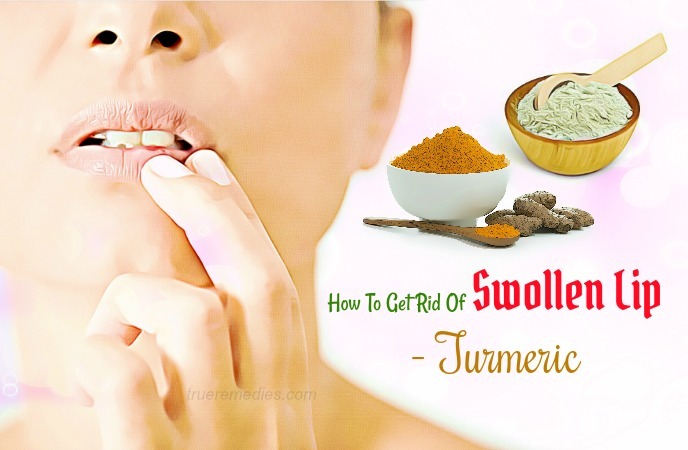 The next solution on how to get rid of swollen lip is turmeric, a folk medicine and popular spice in the kitchen. With good antiseptic and healing properties, turmeric could be an ingredient of a recipe for treating swollen lips [4].
Take a small amount of turmeric powder and mix with 1 tablespoon of fuller's earth

Pour a little cold water in the mixture to have a good paste

Apply the paste over your swollen lip and wait till it dries out

Keep the paste over your lips for a few minutes and rinse it off with cool water

Repeat this process twice per day for the best results
12. Coconut Oil
With anti-inflammatory properties, coconut oil can alleviate the swelling caused by an infection on your lips. Besides, applying it could give your lips a soothing effect.
All you need to do is:
Take 1 teaspoon of coconut oil to apply over your swollen lip for 3-4 times per day

It will alleviate the swelling and soothe your lips naturally
Also, this method can lessen your pain in no time.
13. Lip Balm
This might seem surprising, but using lip balm on your swollen lips is a good remedy. Applying a layer of lip balm on your inflamed lips could keep your lips moisturized and reduce the swelling.
14. Hydrogen Peroxide
Among tips on how to get rid of swollen lips, hydrogen peroxide gets its reputation due to its fast effects. It is best to use hydrogen peroxide after suffering from a cut on the lips. What you need to do is:
Combine hydrogen peroxide and plain water with the ratio of 1:1

Apply this mixture over your affected area to prevent any infection from thriving in the infected area

Wait for 10 minutes and wash off with water

Repeat this routine regularly
This method also cures swelling because the hydrogen peroxide will react with natural bacteria in your mouth. Thus, do not worry when this occurs.
15. Potato
Potatoes have cooling properties, which make this ingredient a great solution for swollen lips. Potatoes, in fact, have been used to handle many kinds of swelling for years.
Take a fresh medium potato to wash and cut into thin slices

Place them on your affected lip

Wait for several minutes before washing it off with water

Repeat this routine regularly
As an alternative, you could blend a potato to have a good paste and apply it over your infected lip.
16. Apple And Butter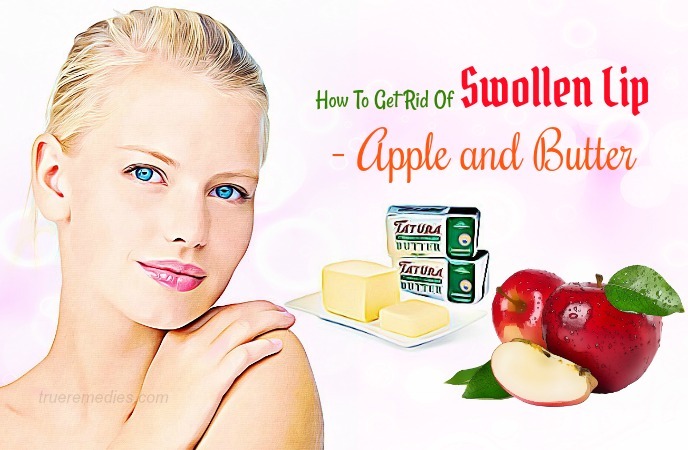 Despite it sounds strange, using this combination also helps you reduce the pain, inflammation irritation caused by swollen lips.
What you need to do is:
Combine some butter with apple pulp to create a thick paste

Apply it over your infected lip

Wait for 30 minutes before washing it thoroughly with water

Repeat this regularly
17. Vaseline
Also known as the king of skin health, Vaseline also helps treat swollen lips effectively. You could apply a thick layer of Vaseline over you problematic lip to see how it works on your infection. The petroleum jelly in Vaseline is also safe for your skin, unlike other dangerous chemicals. You could use it on daily intervals to help moisturize the lips and reduce swelling.
18. Antihistamines
This tip on how to get rid of swollen lip is useful for those having swollen lips due to allergies. The antihistamines like Benadryl will not decrease the swelling, but also decrease inflammation and soothe the infected area.
19. Vitamin C
A swollen lip might be the consequence of an imbalanced diet, not to mention external factors. When the human body experiences deficiencies of essential nutrients, swollen lips might be just one of various symptoms. Thus, in order to get rid swollen lips, you should take in more vitamin C. Lemon, orange, and kiwi are the most recommended sources of vitamin C and could be found almost everywhere [5] [6].
Precautions:
Make sure that you eat the right type of food, particularly vitamins B and C in order to keep the condition of nutrition deficiency at bay

Maintain a good balanced diet in general to have healthy life

Regularly apply a lip product containing vitamin E to nurture your lips

Drink adequate of water during the day to make sure that you are not dehydrated and your lips stay moisturized.
If after following some of 21 tips on how to get rid of swollen lips mentioned above, you do not get any improvement, then consult your doctor instantly.
For any contributing idea about this post, feel free to share it with us in the comment box below. For further references about other tips on "how to do something", visit our How To Page.