Updated: 11/23/2019
In order to maintain healthy and glowing skin, it is necessary for you to spend significant time (of course) and money (maybe) on skincare routines. You should have proper skin care habits that help you skin absorb essential nutrients effectively. One of those essential nutrients is antioxidant. Let's find out how necessary antioxidants for the human skin are as well as what their benefits are in general.
As you know, antioxidants are the substance which is responsible for preventing oxidation. They are also good at combating against free radicals which cause inflammation. Antioxidants contribute to fighting a number of health issues, namely heart disease, some kinds of cancer, bad eyesight, etc. Moreover, they play an important role in benefiting our skin [1]. Some of the most significant benefits of antioxidants for skin are:
Antioxidants help your skin to combat against inflammation because it contains alpha lipoic acid which is good at promoting your blood circulation and metabolizing the skin cells.
Once your skin lacks antioxidants, it might become less elastic. They help maintain your skin health as well as rejuvenate the skin.
Improve wrinkles, reduce acnes and slow down aging process
When it comes to benefits of antioxidants, the ability to slow down aging process is highly appreciated. Antioxidants also lend a hand in reducing the size of wrinkles, treating acnes and slowing down skin aging process. You can utilize antioxidants from many sources, namely fruits, vegetables, nuts, grains, herbs and some kinds of drinks.
TrueRemedies Partner Solutions

Need a Help from the Leading Expert Online, Available 24/7?
They're all here and ready to answer your questions online or by phone. Keep asking questions until you get the answer you need.
In this article, we will introduce to you the best antioxidants for skin as well as their great natural sources.
We are sure that after reading our entry, you can find some effective ways of using natural ingredients for improving your skin issue, step by step. Read through our article on TrueRemedies.com
Top 19 Effective Natural Antioxidants For Skin Health
1. Vitamin E
Vitamin E is one of the first antioxidants that you should use if you want your skin to be healthy. It can aid in boosting collagen production, thereby making your skin healthy as well as decreasing some symptoms of aging, namely wrinkles, fine lines, etc. You can use vitamin E to apply to your skin or provide your body with the foods and fruits containing a high level of vitamin E, such as vegetable oils, avocados, etc.
In addition, it can moisturize your skin and calm your affected skin. Furthermore, it contributes to fading away scars due to acnes and protecting your skin from sun damage.
There are 2 forms of vitamin E that you can use, including alpha-tocopherol acetate and alpha-tocopherol [2] [3].
Here is all what you need to do to take advantage of vitamin E for healthy skin:
Method 1:
Intake vitamin E based on a prescription of your doctor.
Method 2:
Apply some creams containing a high amount of vitamin E every day.
2. Lycopene

Lycopene is among natural antioxidants for skin that is available in fresh veggies and red fruits. The antioxidant is beneficial in encouraging collagen production. You can find it in watermelon, tomatoes, etc. It also acts as phytonutrient with a strong anti-inflammatory property [4]. Here are some of the fruits and foods that possess a high amount of lycopene that you can use.
Tomato: Tomato is one of lycopene-rich fruits. You can cook tomatoes or prepare the juice from fresh tomatoes and drink it twice a day.
Guavas: Guava is another choice for attaining lycopene. There are 2 types of guavas, including red and pink one. Both of them offer the same amount of lycopene to your skin. Plus, it is a powerhouse of omega-3 fatty acids and vitamin C, nourishing your skin. One of lycopene-rich fruits is guava. To take advantage of it, simply boil a small amount of guavas with a cup of clean water at a low temperature for 10 minutes, then strain the liquid and drink it twice a day.
Watermelon: Aside from lycopene, this kind of fruit is full of fiber. You can eat sliced watermelon or drink its juice twice per day.
Papaya: You can eat some species of ripe papaya and extract the juice from a ripe papaya.
Pink Grapefruit: It provides you with a high amount of lycopene and vitamin C. Besides, it owns a strong ability to absorb redundant cholesterol.
3. Green Tea
Green tea is another antioxidant which is beneficial for your skin. It contains the chemical named catechins which have an attribute of minimizing skin damage and speeding up the healing process [5]. In addition, it is effective in easing inflammation and relieving wounds thanks to the presence of polyphenols.
There are a number of ways of using green tea for your skin:
Method 1:
Mix a handful of fresh green tea leaves with a cup of water.

Boil the mixture at a low temperature for about 10 minutes.

Allow it to steep for 15 minutes.

Strain the tea and enjoy it.

Drink 2 cups of green tea every day for optimal results
Method 2:
Directly apply the cream containing extracts of green tea to your skin every day.
Method 3:
Dip 2 green tea bags in a cup of boiling water.

Let them steep for about 5 minutes.

Then, strain the tea.

Dip a clean towel in the tea and apply to your face for about 10 minutes.

Do the process 2 times a day.
4. Coffee berry
Coffeeberry is also considered one of powerful natural antioxidants for skin that you should put into your pocket. It acts as anti-aging agent, thereby slowing down aging process. Moreover, it also promotes production of collagen and decreases wrinkles. Owing to the strong anti-inflammatory power, coffeeberry has the ability to heal inflamed and affected skin in a short period of time.
It is simple to utilize coffeeberry as an excellent antioxidant for skin. Indeed, coffeeberry can be used as part of a comprehensive skin care regime. You just need to intake coffeeberry supplement or extract every day for optimal results.
5. Resveratrol
Resveratrol is another antioxidant found in the nature that you can take advantage of. This substance can be easily found in fruits, like red wine, grapes, etc. The antioxidant content is responsible for its powerful ability to combat against microbes as well as keep some types of cancer under control [6].
Just simply include resveratrol in your daily meals to provide the antioxidant for your skin. Some great sources of resveratrol are:
Blueberries: Blueberries are considered as one of the top fruits that you should eat to attain resveratrol. Eat fresh blueberries or drink its juice to harness its benefits.
Grapes: Grapes are packed with essential minerals, namely potassium and manganese, vitamin C, vitamin B1 and K. These are helpful nutrients for the human skin.
Peanut butter: The butter is full of resveratrol antioxidant as well as manganese and niacin.
Dark Chocolate: Just a bar of chocolate can offer you a large amount of resveratrol, essential minerals, namely copper, iron, etc. along with a high amount of fiber.
6. Grape Seeds
The next antioxidant that your skin needs is grape seeds. Being made from vitis vinifera, these seeds are plentiful in proanthocyanidins which are good at combating against free radicals. On the other hand, they are also a good powerhouse of vitamin C which is indispensable for slowing down aging process. You can choose a kind of cream which contains a high amount of grape seeds in its ingredients list.
7. Genistein
One of little known antioxidants for skin is genistein which can prevent the damage caused by oxidative agent. Actually, genistein is known as phytoestrogen found in soy with diverse biological activities [7]. It acts as a natural antioxidant and brings us a number of health and beauty benefits. Plus, it also works as a strong anti-inflammatory agent as well as a key stimulant for collagen production. Owning a wonderful healing property, it is of great importance to heal wounds as well as scars on the skin.
8. Niacinamide
Niacinamide is another antioxidant with anti-inflammatory power. As a result, it can ease your affected skin and prevent some skin aging signs, such as wrinkles, fine lines, etc. Another name for niacinamide is vitamin B3, which is able to improve the skin cells and brighten your skin.
Furthermore, it helps to decrease wrinkles and fine lines and contributes to boosting your skin immunity, which is a basic factor in warding off skin problems. Niacinamide also regulates the oil flow on the skin, thereby reducing excessive oil. As a result, it reduces acne formation [8].
Vitamin B3 also lends a hand in in improving your digestive system, brain function, etc. There are two ways of providing your skin with niacinamide: either externally or internally. For external use, you had better choose niacinamide-contained skin care creams; whereas for internal use, you can consume more foods containing a high amount of vitamin B3, like tuna, lean chicken breast, etc.
9. Vitamin C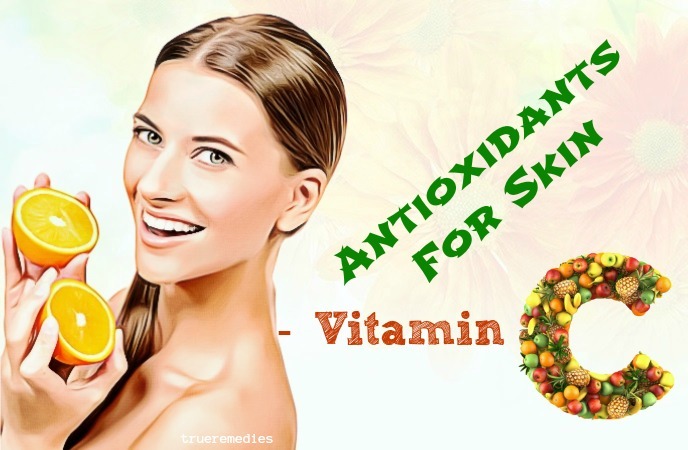 Vitamin C is an indispensable antioxidant for healthy skin. Some benefits of vitamin C are slowing down aging process, boosting collagen production and fading away dark areas on the skin. Most citric fruits are good sources of vitamin C, such as lemons, oranges, kiwi, etc. You can eat them or drink the juice extracted from these fresh fruits.
10. Allium Sulphur
You can put allium sulphur in the list of antioxidants for skin health. Some cooking ingredients, like garlic and onion, carry a high amount of this antioxidant.
You can follow the instructions below to obtain allium sulphur for nourishing your skin:
Method 1:
Add garlic or onion to your daily dishes.
Method 2:
Intake garlic supplement every day based on your doctor's advice.
11. Beta Carotene
Beta carotene is the next antioxidant offering great benefits to the skin. As you know, beta carotene compound is also known as "provitamin A". When digested, it will be turned into vitamin A, helping to nourish your skin. You can enjoy it from spinach, mangoes, carrots, etc. This antioxidant takes part into the process of skin repair, eases skin redness and reduces skin damage caused by sunlight.
A number of foods and fruits that you can eat to enjoy a high amount of beta carotene are sweet potatoes, carrots, dark leafy greens, butternut squash, broccoli, apricot, etc. It is simple to add them to your daily dishes.
Here's a simple recipe of cooking beta carotene-rich foods:
Wash several broccoli and sweet potatoes.

Steam them together for about 15 minutes.

Sprinkle with a teaspoon of virgin olive oil, a little salt and a teaspoon of chopped garlic.

Eat the mixture once a day.
12. Anthocyanins
Anthocyanins is good at repairing problematic skin cells and promoting the regeneration of new skin cells. It also possesses a strong anti-inflammatory action, easing affected skin areas. In addition, it is useful in protecting your skin from UV rays [9].
13. Vitamin A
Vitamin A is empowered with the ability to promote collagen production, heal the affected skin and reduce skin aging symptoms of aging skin. On the other hand, it can treat skin fine lines, combat against wrinkles, and whiten scars as well as dark areas, etc.
A simple way of using vitamin A for your skin is to apply a small amount of it once every week.
14. Coenzyme Q10
Coenzyme Q10 is of great importance in skin care. More specifically, it helps to promote the regeneration of new skin cells, combat against aging process as well as improve wrinkles and fine lines on your skin.
15. Alpha-lipoic Acid
One of commonly used antioxidants for skin is alpha-lipoic acid. It is a good way to protect your skin from sun rays.
You just need to apply the cream containing 3% to 5% alpha-lipoic acid on your skin every day to reap its benefits.
16. Retinoic Acid
This antioxidant is particularly beneficial for slowing down aging process. It acts as vitamin A, thereby removing wrinkles and dark spots and smooth out skin texture. It exists under the gel and cream form. It is a good idea to apply the 0.1% retinoic acid-contained creams or 0.01%% retinoic acid-contained gel.
Note: Don't overuse retinoic acid because it can make your skin red and too sensitive.
17. Vitamin B
Vitamin B is one of the best antioxidants for skin that you should not miss out. It can promote new skin cells to grow, prevent skin dryness and itchy skin. There are a number of sources of vitamin B that you can intake naturally, such as eggs, chicken, grain products, etc. Alternatively, you can purchase a cream containing vitamin B in its ingredient list.
18. Glutathione
Glutathione contributes to aiding the repair process of skin cells as well as protecting your skin from bad environmental factors [10]. In addition, it helps with skin detoxification as well as wrinkle removal. You can use it in the form of cream or intake glutathione extract every day.
19. Polyphenol
Polyphenol is able to fight aging skin, including reducing the size and appearance of wrinkles and fine lines and firming up skin, etc. Thus, it is worth mentioning in this list of natural antioxidants for skin health.
You can find polyphenol in a number of foods and fruits, such as pomegranate, blueberries, red apples, etc. Eating the foods containing this antioxidant or applying polyphenol-contained skincare products is an excellent way to attain polyphenol.
So, it is clear that the reading above shows you with the effective antioxidants for nourishing your skin. We are sure that you have gone through it. Now, it is time for you to choose one of the antioxidants for improving your skin condition in our list. Leave your comments below this post if you have any concerns about the information mentioned in our article of "19 Effective Natural Antioxidants For Skin Health"" presented in SkinCare Category. We will try to give the feedback to you as soon as possible.