Update: 05/08/2019
Japanese women are famous for their bright white skin. They always focus on skin care, so what are secrets for them to get youthful and beautiful skin? Actually, it is more than just using the right cleanser and moisturizer, it is regular masking and exfoliation. This article from TrueRemedies.com  describes 24 best kept Japanese skin care secrets and routines. Just simply scroll down to discover those secrets!
Top 24 Best Kept Japanese Skin Care Secrets And Routines
1. Take Bath
Bathing is very important to Japanese people because now they will have their own skin care secrets. In Japan, bathing is a ritual extending beyond just at-home dips. For instance, onsen bathhouses used to be a popular form of recreation involving scrubbing your whole body with heavy exfoliants and submerging yourself in the steaming hot bath which is enriched with essential oils. By having a steaming bath prior to going to bed, you will feel relaxed and ready for bedtime. If you infuse the bathwater with oils, your complexion will get replenished and moisturized. This habit also helps speed up the natural process of melatonin production, thereby making it easier to fall asleep. In case you have pains, arthritis, or muscle aches, then baths could give you a temporary relief. Taking bath with saltwater could assist you in reducing the inflammation associated with arthritis joints. For those who want to stave off the flu, just simply jumping in the tub and letting the steam relax their mind whilst clearing and moisturizing nasal passages can do a trick.
Taking bath with tepid water also helps to open up your skin pores for flushing out toxins, thereby cleansing your skin deeply.
Remember to take a cool bath after that (if possible) to help close the pores.
2. Vitamin C
Japanese loves to add vitamin C to their daily life. The daily diet of Japanese contains oranges which deoxidize as well as break up melanin. This secret gives Japanese women their even and fair complexion. Also, vitamin C can remove pigmented marks and even your skin tone naturally.
TrueRemedies Partner Solutions

Need a Help from the Leading Expert Online, Available 24/7?
They're all here and ready to answer your questions online or by phone. Keep asking questions until you get the answer you need.
3. Azuki
Azuki is a red bean which is a part of Japanese beauty regime.  Being a centuries old ingredient, Azuki is used to help give Japanese women blemish free and smooth skin by rubbing over the face.
4. Signature Oils
Women in Japan use signature oils to help cleanse and tone their facial skin. In the past, Geisha used natural Camellia Oil as an alternative to water to help cleanse their skin and remove makeup. It is reckoned one of the most renowned Japanese skin care secrets, helping fight off signs of aging and restore moisture. The Tale of Genji, one of the oldest books worldwide, even mentions to the use of Camellia oil used by Japanese women as a dressing for hair. You could use any herbal-based or natural oils for getting the same results.
Americans have been using this tip in recent years, yet if you want to do it like Japanese women, then you should use rice bran oil. It is rich in antioxidants and has been officially proven to be able to relieve unpleasant menopause hot flashes.
5. You Are What You Eat
The diet of Japanese is considered among the most beautifying diets in the world. Women in this country do not consume sugary or fatty foods, or lots of meat. Rather than, they add vitamin-packed "brassica" veggies such as broccoli, fish high in omega-3 fatty acids, which can reduce the production of inflammatory chemicals involved in premature aging.
6. Komenuka Rice Bran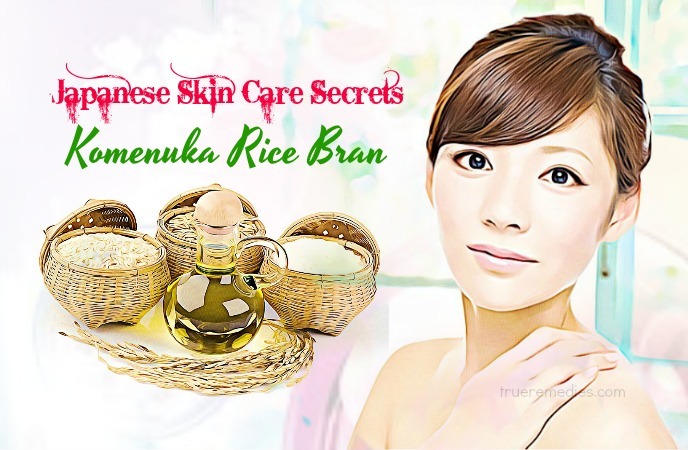 When it comes to symbol of Japanese beauty, Geisha cannot be skipped. Geisha used to resort rice bran to help soften their complexion and hair. They bath in the water left over from rinsing the uncooked rice to get supple and luminous skin. They are antioxidant and natural emollient, helping protect the human skin from UV damage, nourish skin and prevent premature wrinkles. If you want to have flawless skin, rice is obviously the key natural product.
Komenuka rice bran is beneficial in nourishing the human skin and preventing wrinkles and fine lines. Also, it is efficient in eliminating dark circles and also gives you a flawless skin.
7. Herbs
Oriental herbs can fight dryness and promote the beauty of skin. Japanese women use them as a weapon to fight against aging. You can make use of herbs in the form of herbal teas. Japanese herbal teas are naturally refreshing drinks which could be consumed as natural alternatives to those sugary beverages. Such healthy concoctions can provide a lot of benefits ranging from beautifying skin to weight loss to allergy relief or removing body toxins. Some examples of great herbal teas are:
Yomogi-cha: this is good for reducing blemishes, beautifying skin, alleviating sun damage and age-spots.

Yomogi is considered the wonder herb of Japanese and its

extract

is commonly used by many leading

cosmetics

producers. This refreshing tea gives pleasantly vegetal taste.

Biwa-cha: this tea is good for healing inflammatory skin issues, and boosting general immunity against different types of infections.

Hatomugi-cha: this is ideal for improving complexion and lightening skin while helping eliminate freckles as well as spots.
8. Green Tea
Clinically, green tea is proven to have a ton of anti-inflammatory, antibacterial and antioxidant properties that protects the skin from ultraviolet rays- one of the main reasons for wrinkles and pigmentation[1]. In fact, Japanese beauties traditionally drank lots of green tea and also applied green tea to acne. Nowadays, Japanese still drink a lot of this tea, and have created a potent green tea beverage named Matcha from the ground green tea leaves. Just a cup of Matcha has the same level of antioxidants as 10 cups of normal green tea. It could also be baked into cakes, blended into the milkshakes, and so on.
9. Avoid Sun Lights
Despite having fun in the sun always sounds like a good idea, keeping your skin safe from sun damage is a key factor when it comes to maintaining beautiful and youthful skin[2] [3]. Japanese culture is much more accepting of the importance of sun damage prevention. Limiting your sun exposure will also prevent wrinkles and fine lines from forming. You had better wear sunscreen daily all year round for healthful skin and prevent sunburn and sun tan.
10. Face Massages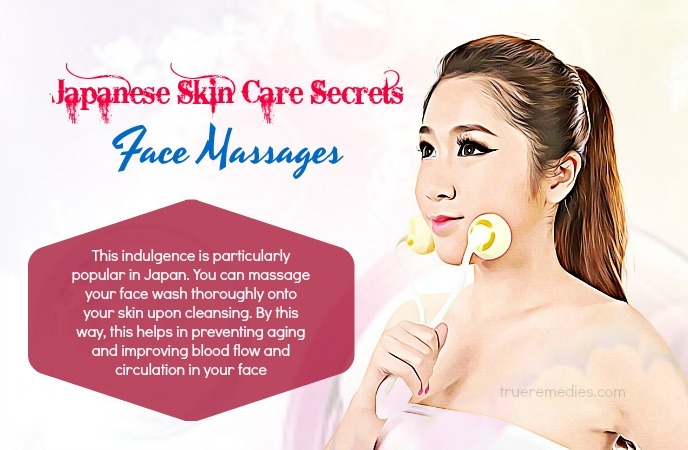 An alternative remedy is getting face massages. Regularly treating your body with massages, either at home or at spa – is very important for maintaining beautiful skin and healthy body. This indulgence is particularly popular in Japan. You can massage your face wash thoroughly onto your skin upon cleansing. By this way, this helps in preventing aging and improving blood flow and circulation in your face[4]. You can also use a face brush instead of your fingers to massage your skin. Also, you can also massage your scalp by using castor oil or coconut oil prior to washing the hair.
11. Seaweed
Seaweed[5] is a naturally powerful solution for toning and cleansing the human skin. Using it will help you get glowing skin while reducing the skin pores' size.
In fact, consuming too much fried foods will cause breakouts whilst skimping on fresh fruits and veggies will make your skin look dull and dry. Your own diet will make a big difference in the way you feel and look. Adding a little seaweed to your diet could improve your overall health in general[6].
Japanese women consume seaweed on their regular basis. It is not only because they understand it is an anti-aging superfood for the human skin, but it is also widely used in the cuisine of Japan.
You can make use of seaweed-based products in both product and food forms. A lot of grocery stores now provide packaged flavored dried seaweed snacks. Japanese food is now easily accessible more than ever before. Seaweed contains a wealth of vitamins and minerals which are hard to find in many other foods. Due to its anti-inflammatory properties, seaweed can alleviate the redness resulted from rosacea and swelling. Also, the iodine in seaweed could regulate our metabolism and help in rejuvenating the human skin. Besides, there are also omega-3 fatty acids and vitamin C included in this plant.
12. Keep Skin Care Routine Simple
Simplify your skincare routine. Japanese women typically do not use too many products in their skincare regime. Rather than, they have a structured skincare routine which layers just a highly streamlined array of products with the focus on the applying time spent correctly. According to the renowned skincare guru in Japan, Chizu Saeki, she divides a regular skincare routine into a morning cleanse, lotion, serum and moisturizer. What is the most important is that they are exactly done the same at all nights.
13. Lotion Mask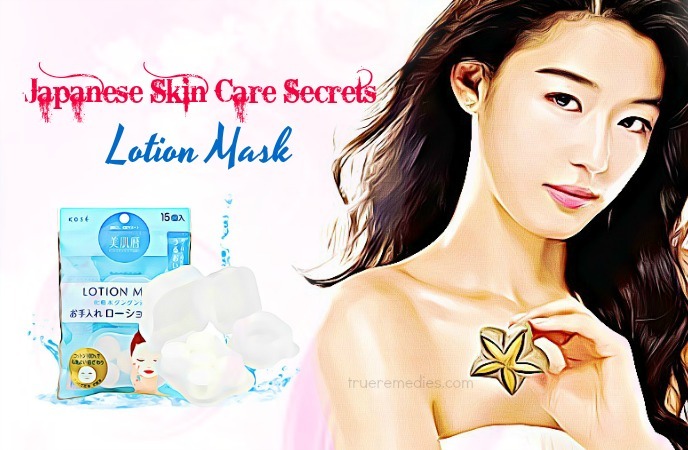 In the ancient times, Geisha in Japan used to dampen one piece of kimono silk in distilled flower water and place it over their face, creating a form of facial sheet mask. Nowadays, called as "lotion" mask, this becomes a trademark of the skincare of Japan, and achieved recognition all over the world, via the Japanese expert in skincare, Chizu Saeki. The method involves dampening a cotton wood with the lotion or toner and then putting it over the face for 5 to 10 minutes in order to deliver an immediate moisturize application.
14. Use Food As Face Wash
One of the most famous Japanese skin care secrets is using foods or natural ingredients in beauty routines. Although it is not new, women in Japan has gotten a lot of benefits from this tip up to now. You can use rice water to wash and cleanse your skin. Before brightening and lightening creams took over the beauty market in Japan, rice water helped ward off wrinkles and improve elasticity whilst lightening the skin naturally.
15. Cleanse Nightly
This is a very simple rule which every Japanese woman follows. Although most Japanese women do not resort a lot of makeup to start with, they are very committed to cleansing the face and maintaining clean and fresh skin, particularly, at night.
16. Slap. Not Rub
This little-known skin care secret is very surprising. You could invest in expensive and innovative beauty products available in the market now, but the secret of youthful skin is all about the technique. The majority of us are instructed to apply skincare products by using fingers in downward and light circular motions. However, for women in Japan, they slap it on. They do it by going upwards, starting from the chin, and gently pat the skin whilst applying the product. Apparently, this assists in stimulating the blood to flow to facial skin and boost energy levels for the rejuvenation of skin cells.
17. Nightingale Droppings
Another unusual tip to keep the skin beautiful is nightingale. Bird droppings have used as natural facial treatments since the 17th century, mainly by kabuki actors and geisha but now they are slowly known internationally. The secret lies in a compound named guanine that has powerful properties of lightning skin tone and reducing wrinkles, no matter they were caused by age or by the sun. Also, it cleanses skin pores and makes your skin glowing. This is definitely worth your trying.
18. If You Could Not Eat, Do Not Put In On Your Skin
Japanese beauty is natural, simple, and edible in tradition. It is because women in Japan do not put anything on their own skin if they cannot eat it. Skin is porous, so anything that you apply on your skin will end up in your blood steam, within a few minutes. Thus, if you put toxic chemicals on your face, keep in mind that it will end up in your own body.
19. Wakame Kelp
Wakame kelp is a type of sea algae which helps in protecting the skin from UV rays as well as pollution. Also, it protects the human skin from dark eye circles and fine lines.
20. Treating Acne Naturally
For Japanese, they treat acne as naturally as they could. They often use tea tree and turmeric, either by plant extracts or directly.
21. White Kaolin Clay
This may sound strange but using white kaolin[7] clay for skin, particularly sensitive skin, is a great treatment for skin problems. It can purify, vitalize, and enhance the skin cell generation on the skin. Also, it can cleanse the skin pore deeply while restructuring your skin in order to ward off pimples or blackheads[8]. It could be used for all types of skin and does not take too much time from you.
You can make use of kaolin clay as a face mask by following the recipe here:
Mix 2 tablespoons each of kaolin clay and water together

Spread the consistent paste on your skin, both on face and neck

Wait for 5 minutes if you have sensitive skin, and 15 minutes if you have oily skin

Rinse it off with water

Apply a moisturizer to your face after that
Or, you can also combine kaolin clay with essential oils, herbal tea, or yogurt to have a great face mask.
22. Regular Walks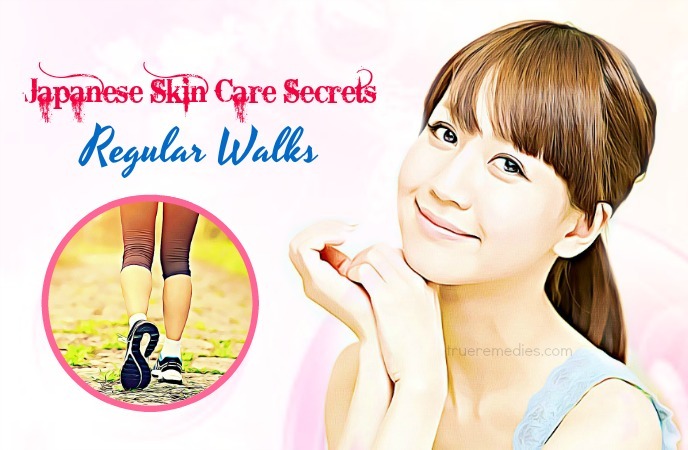 Japanese women, in particular, and Japanese people, in general, are highly health conscious people who believe in the goodness of exercise, particularly walks because it can help tighten the skin pores.
23. Subtlety
Japanese women are subtle. They would like to be appreciated more than being noticed. Thus, they do not overdo the makeup.
Japanese women eat right and care about keeping fit and trim constantly. Above all, they are very graceful, well-mannered, and polite. These are learnable skills making any woman look much more appealing from inside out.
24. Leave Your Skin Bare Once Per Month
Whilst it is great to take care for your skin, it is also great to allow it to breathe once in a while. There are too many products causing the human skin to suffocate causing in a loss of color and elasticity. If you are at home in the evening, you had better take off cosmetics prior to dinnertime and leave it bare till the morning. Then, stay away from all skincare products once per month. The next day, you apply some skin softener or a beauty mask to moisturize your skin.
The 24 best kept Japanese skin care secrets introduced above are what shared by beauty experts of Japan. Hope that with these tips you can apply them to your skin and get glowing and gorgeous skin as the Japanese's. For more information related to skin care, you can refer our main Skin Care page. Leave your comments below if you have any further questions about this post. We will reply as soon as possible.