updated: 11/23/2019
Pressure ulcers are serious complications that occur in more than 80% of patients with paralysis or trauma, the old, and plant-living patients. This disease causes a lot of physical and mental damage to the patient. In addition, relatives of the patient and the whole society are also affected, because the treatment of the disease is very difficult and expensive.
I know that the reason you are reading this article of 10 Home Remedies For Pressure Ulcers Treatment is to learn how to treat this problem at home, but before that, you had better understand some basic information about it.
What Are Pressure Ulcers?
Skin is the largest organ system in the body. The skin is tough and durable to protect the subcutaneous tissue against air, water, foreign matter, and bacteria. Our skin is sensitive to injury and this organ has special healing abilities. However, even with elasticity, skin cannot withstand the excessive pressure, stretching or scrubbing. Continuous pressure on the skin tightens the blood vessels, which are responsible for providing nutrients and oxygen to the skin. When the skin is too long anemic, tissue will die, causing the formation of pressure ulcers. Also known as bedsores or decubitus ulcers, pressure ulcers are a common skin condition people have to cope with.
More specifically, it is one of the major complications of a person with paralysis. For example, according to experts' estimates, about one third of patients with spinal cord injury will have pressure ulcers in the early days after injury, and about 50-80% of the remaining patients may develop this problem later. Most types of ulcers can be prevented but they may even occur in patients who are well cared for and are supported by appropriate equipment [1].
To heal these ulcers, the patient needs a lot of time, money and good care. Patients may have to lie down for up to a month because of a pressure ulcer, especially an ulcer due to surgery. All these conditions can cost you thousands of dollars and cause you to lose valuable time for work, school or family.
TrueRemedies Partner Solutions

Need a Help from the Leading Expert Online, Available 24/7?
They're all here and ready to answer your questions online or by phone. Keep asking questions until you get the answer you need.
What Are Common Causes Of Pressure Ulcers?
Pressure ulcer is a term for injury to a skin area exposed to excessive pressure. Literally, this pathology is a lesion of skin and various types of tissue under the skin. Skin damage due to pressure usually starts on the body where the bones close to the surface of the skin, such as the hips. These bones press a force on the skin from within the body. If the outside is also a hard surface, the blood vessels of the skin are tightened.
Since circulation levels are also diminished by paralysis, the oxygen transports to the skin less, leading to reduced skin strength. The body tries to compensate by sending more blood to that area. This offset causes the skin to squeeze, causing more pressure on the blood vessels and more damage to the skin's health, resulting in pressure ulcers.
The Loss Of A Large Amount Of Collagen
Paralysis is only part of the story. Paralysis is related to trauma or pathology that affects the bioavailability of the skin. For example, if the skin loses a large amount of collagen, which is responsible for ensuring skin elasticity, the skin will be weaker and the elasticity of the skin will decrease. The aging process also increases the risk of pressure ulcers. Often older people are at higher risk for this disease than others.
Failure To Use The Muscles
Failure to use the muscles around some of the body's bones (hips, heels, elbows, and groin) leads to muscle atrophy, increasing the risk of pressure ulcers.
Force Caused By Scrubbing Or Shifting
Movements dragging skin tissue on a surface, such as a slide on a bed or chair, can cause blood vessels to stretch or bend, causing pressure sores. The skin can be scratched when pulled over a flat surface. A strong collision or fall can make the skin hurt, but you cannot immediately see it. Clothing or hard objects can also cause injury, forming pressure ulcers.
Excessive humidity is another factor that increases the risk of pressure ulcers. This condition usually occurs in people who have severe perspiration and / or are unable to withstand urination and defecation.
Poor nutrition is not only a serious threat to the general health of the person, but it also causes the person with paralysis to have a higher risk of developing pressure ulcers. The body needs more nutrients such as protein and vitamins to help keep the skin healthy, heal any damage and fight any infection. A body that does not have adequate nutrients will have limited ability to resist complications such as pressure ulcers.
Overweight people are at higher risk for pressure ulcers. For overweight people, excess weight forces the body to increase pressure on vulnerable areas.
Other factors that increase the risk of this problem include poor health, dehydration, poor hygiene, smoking, anemia, and chronic diseases such as diabetes.
What Are Common Symptoms Of Pressure Ulcers?
Pressure ulcers have been divided into four stages depending on the depth, size, and severity of injury to the tissue layers. Stages include:
Stage I (The Earliest Signs)
Most of the pressure sores are always derived from a reddish skin. Patients may feel stiff and / or hot on the red skin. At this stage, the process of tissue structural change can be repelled, the skin will return to normal state when there is no pressure [2].
Pressure ulcer has formed a bulge. This means that the tissue under the skin has started to die. If the pressure is not exacerbated and the care of the affected area is not met in time, the pressure sores can progress rapidly to a dangerous level [3].
At this stage, a hole or ulcer develops where the tissue is dead. Tissue damage occurs to the lower layer of the skin and can invade the bone.
This is the worst stage of pressure ulcer. Injury has invaded muscles and bones. Affected areas are frequently watery.
What Increases The Risk Of Getting Pressure Ulcers?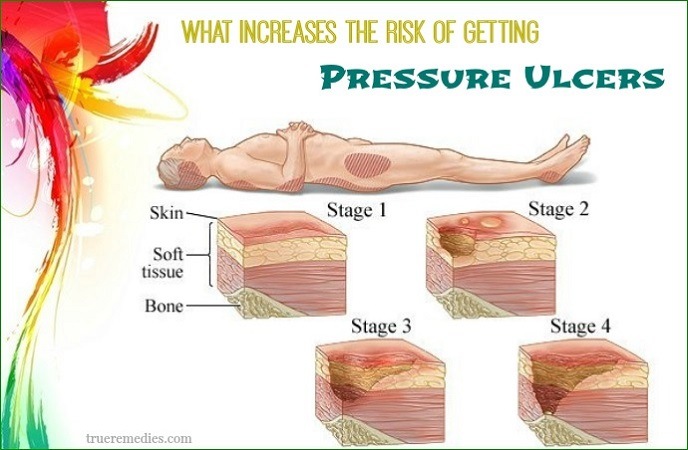 There are some risk factors of bed sores:
People having a chronic injury like paralysis, surgery or coma are prone to bed sores as they could not move for a long amount of time.

Aging: when people grow older, their skin will become drier, fragile, less elastic and thinner. The old produce new skin cells much more slowly, so it explains why they are at high risk.

Bowel incontinence: the infection because of fecal matter could be dangerous and lead a person to severe case of pressure ulcers.

Smoking: if you regularly smoke, your skin will become dry – one of the reasons of pressure ulcers.

Spinal cord injury: if you are suffering from spinal cord injury, then you are more likely to get bed sores because you cannot change your position.

A disease such as diabetes decreases the speed of healing time and boosts the risks of getting bed sores.

Poor diet: lack of calories, fluids, vitamins and minerals, protein in the daily diet could trigger the breakdown of tissues.
When To See A Doctor?
When you notice any signs of this condition, you should see a doctor as soon as possible. As we mentioned above, this is a very dangerous and difficult to treat condition. Therefore, the early detection and treatment is very necessary. Patients may be hospitalized or lying on bed for a few weeks. With complicated situations, the patient may undergo surgeries.
You have just learned about the basic information about pressure ulcers. Make sure you've probably got the most out of this situation. In fact, pressure ulcers are more dangerous than we thought, so treatment for this problem should be done as soon as possible. It is time to find out what the best natural home remedies for pressure ulcers relief are. Take a look at TrueRemedies.com!
Top 10 Home Remedies For Pressure Ulcer Relief
1. Wash The Ulcer Thoroughly
You can heal an ulcer if you are properly cared for without the need for surgery or a doctor's intervention. Bacteria kill cells, leading to ulcers. The process of slow wound is due to super infection. This can also lead to necrosis. So the first thing to do is wash the ulcer thoroughly.
To apply this remedy, please follow these steps below:
Use aseptic gauze to gently wipe the ulcers to remove tissue fluidand pus in the ulcer. This step must be done because these tissue fluid and pus interfere with the healing process. Perform lightly to clean the ulcers without hurting them.

Use physiological saline 0.9% to wash the ulcers thoroughly (absolutely do not use antibacterial solutions because it can destroy other normal cells).

Then, tighten and protect the sores. Nowadays, you can use wound dressings to protect your ulcers. Wound dressings with biodegradable polyesteramide membrane technology has the ability to prevent water, prevent bacteria, and heal the wound quickly 3-5 times faster than normal tape. When using a normal tape, removing it can cause you pain, which also causes the ulcer to hurt. When using wound dressings, you do not need to remove it because the biofilm can decompose itself. You only need to spray the new film after 4-5 hours. The treatment for ulcers will progressively improve if you notice signs of dryness and healing.

Don't forget massage around the ulcer to improve blood circulation in the affected area.
These steps can be performed when the patient has pressure ulcers stage I or II. At the last two stages, when deep and necrotic lesions are present, surgical intervention is necessary. The necrotic tissue need to be removed.This requires the intervention of a doctor.After doing this, you need to bandage and protect the exposed cell area. Wound dressing is an effective solution to protect the wound area from bacterial invasion and promote healing.
An accurate assessment of ulcer stage, size, and skin conditions around the ulcer should be made. Please re-evaluate of skin ulcers status daily or at least once a week. If the condition of the patient is not improved, treatment should be changed soon. Any potential complication of the patient's health needs to be treated to support the healing process.
2. Diet
Among home remedies for pressure ulcers treatment, diet is one of the most effective. Vitamins and minerals rich diets are very important in preventing any complications from pressure ulcers. A healthy diet will bring healthy skin systems. Healthy skin systems are more resistant to the pressures that affect them daily.
At the same time, if you suffer from skin injuries, providing adequate blood nutrients will help the recovery process happen much faster. Proteins and amino acids are essential for the body to ensure healthy skin, muscles and bones. In addition, vitamins such as vitamins C and E support the skin's own regenerative function.
Here are some foods that you should add to your daily diet to speed up the process of pressure ulcers:
Seafood is the best source of protein for you. Salmon, cod, tuna and shellfish are really healthy foods. They also contain omega 3 and 6, which are beneficial for your skin and hair.
Enjoy your favorite meat because they contain a lot of protein. White meat is better than red meat because it contains lean protein. Accordingly, chicken, pork and turkey are better because they contain less fat.
Cauliflower contains a lot of protein. This vegetable contains very little fat. A cup of green cauliflower is equivalent to 4 grams of protein. Every 100g of cauliflower contains about 89mg of vitamin C. It is also a rich source of vitamin E. One cup of this vegetable will provide 4% of your daily vitamin E intake. Cauliflowers can be processed in a variety of ways depending on your preference: making salad, boiling, grilling, or frying.
This tropical fruit contains many proteins that make it being an essential part of the daily diet. For every 100g banana will have 4g protein.
Every 100g of sweet corn contains about 3g of protein. You can eat boiled or steamedsweet corn, or you can also add sweet corn to the noodles, salad and soup.
One cup of this vegetable contains about 5g of protein needed for the body. It is also a rich source of vitamin E.
Unlike many protein foods, avocados are easy to digest. Avocado can be made into delicious and nutritious dishes. Avocados are considered as one of the foods that contains Vitamin E. Half of a avocado has more than 2 mg of natural Vitamin E.
Apple is the most healthy gift you can bring to your body every day. It contains a large amount of protein. Apples boost immunity to the body against many diseases, including pressure ulcers.
Orange fruit along with other citrus fruits are known to be rich sources of vitamin C.
Guava is a sub-tropical fruit. It contains four times more vitamin C than orange.
3. Drink A Lot Of Water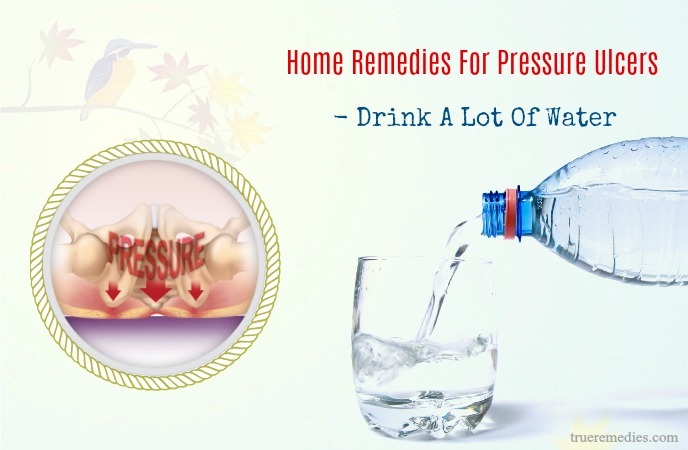 This remedy is one of little – known home remedies for pressure ulcers. Water is vital to life, transporting nutrients to all parts of the body. It plays many important roles in the body. Water is also helpful for treating and preventing many diseases, including pressure ulcers.
Here are some statistics about the benefits of water for our bodies:
Maintain the body's average temperature, like the water in the radiator of the car, the airplane.

Transport nutrients and oxygen to all cells.

Helps to convert food into energy which is essential for body functions.

Helps the body absorb nutrients.

Removal of waste from the body through the urinary system, skin, intestines, and breathing.

Covering vital organs in the body, avoiding damage caused by rubbing.

Protect joints, avoid inflammation and pain because water is a lubricant to make joints smooth movement.

Prevention of blood clots in the arteries of the heart and brain
Now you have probably noticed that water helps support the treatment of pressure ulcers in all stages. In addition, you can completely prevent this condition by drinking plenty of water. It is recommended drinking 8-12 cups of water a day is the best.
4. Turmeric
The next treatment in this list of home remedies for pressure ulcers is using turmeric. According to the American Chemical Society's Journal of Chemistry, turmeric is antioxidant, antiviral, and anti-inflammatory. It provides you with many healthful nutrients such as protein, fiber, niacin, vitamin C, vitamin E, vitamin K, sodium, potassium, calcium, copper, iron, magnesium and zinc. As a result, turmeric is often used to aid in the treatment of health-related problems.
Turmeric is a natural antiseptic and antibacterial agent and can be used as an effective antiseptic. Thus, it accelerates the healing process of pressure ulcers.
To apply this remedy, follow these steps below:
Clean the pressure ulcers with saline solution

Apply enough turmeric powder to cover them

Use a clean bandage to cover them
You can apply this remedy 2-3 times per day to get the best effects. In addition, you can also add turmeric powder to warm water or warm milk to drink every day. This helps speed up the treatment.
5. Honey
This sounds strange when it comes to home remedies for pressure ulcers, but it works. Honey is considered a natural antiseptic and antiseptic. These attributes of honey can help to clean the ulcers, reduce pus, relieve pain and speed up healing.
Honey has very effective bactericidal effect without the presence of resistance. The antibacterial properties of honey will prevent bacteria from growing and prevent infection. Therefore, you can rest assured about the effectiveness and safety of this remedy.
To apply this remedy, please follow these steps below:
Clean the affected area with saline solution

Apply enough honey to cover them

Use a clean bandage to cover them
You can apply this remedy 2-3 times per day to get the best effects.
6. Aloe Vera
This is one of the little-known home remedies for pressure ulcers treatment. In accordance with the University of Maryland Medical Center, whilst aloe vera plant is 99% water, it also contains 2 powerful chemicals that boost wound healing, which are polysaccharides and glycoproteins.
Recent research has shown that aloe vera gel has antiseptic and anesthetic properties. Their gel also stimulates the synthesis of collagen and elastin fibers, helping to prevent the destruction of the skin when aging. Because of its healing and soothing properties, it can also promote the healing [4] [5] process.
To apply this remedy, please follow these steps below:
Clean the affected area with saline solution

Apply enough aloe vera gel to cover them

Use a clean bandage to cover them
You can apply this remedy 2-3 times per day to get the best effects.
7. Coconut Oil
The next one in this of home remedies for pressure ulcers treatment is using coconut oil. You can use coconut oil to massage skin areas prone to pressure ulcers. Coconut oil is rich in medium-chain fatty acids, so it can enhance skin health, help the skin fight some diseases, including pressure ulcers.
To apply this remedy, take these steps below:
Clean the affected area with saline solution

Apply enough coconut oil to cover them

Massage gently for about 5 minutes
You can apply this remedy 2-3 times per day to get the best effects.
8. Talcum Powder
To get a fast relief, use talcum powder on bedsores. It will stop the affected area to multiply and prevent the infection. You just need to apply talcum powder on the areas or wounds which are more at risk of pressure ulcers like knee or elbow, etc.
9. Goldenseal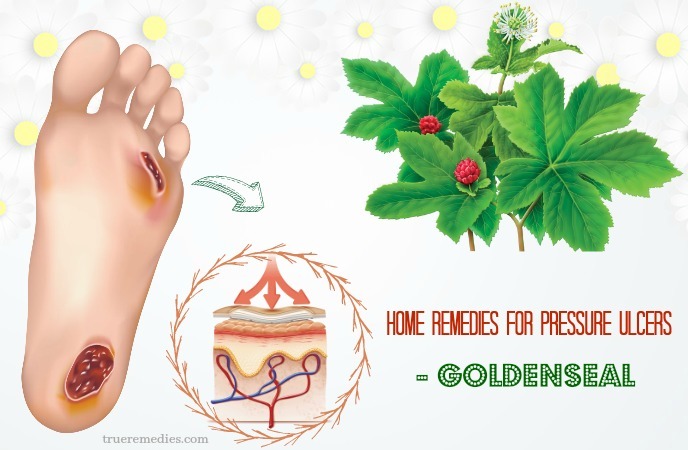 This herb has been used since centuries to deal with a variety of skin-related issues, such as bed sores. Goldenseal is high in chemicals called berberine and hydrastine, helping fight off various microbial, bacterial, viral and fungal infections.
Moreover, it can reduce skin membranes' inflammation and give a soothing and calming effect.
You can make use of goldenseal both internally and externally to remove bed sores.
Make a herbal tea using this herb to help dry up the pressure ulcers. Or, you can also apply it tropically to the affected area in the form of cream, ointment, etc.
10. Calendula
Being the most widely used herbal treatment for pressure ulcers, calendula is very effective in soothing and cooling down the irritated and inflamed skin around pressure ulcers.
Calendula has antiseptic properties, thereby helping to kill off the infection associated with this condition. Besides, the flavonoids content of calendula is great in reducing skin inflammation and improve the immunity of the body. Specifically, it is used to cure some skin disorders such as irritation, itching, puffiness and redness. Also, it is very excellent in treating other skin infections like sunburns, wounds, cuts, and so on [6].
You can use it in the form of cream, ointment, lotion, etc.
11. Myrrh
Among home remedies for pressure ulcers, myrrh has been used popularly. It helps to decrease the inflammation associated with bed sores and accelerates the healing time.
Furthermore, this ingredient can help to clean and purify the blood by eliminating toxins from your body. As a result, it decreases the re-occurrence of pressure ulcers. Using myrrh also increases the blood flow in your body, which is highly beneficial for treating bed sores [7] [8].
On the other hand, with its antiseptic property, myrrh can fight against different fungal, bacterial and viral infections. You can apply it externally in the form of ointments, salves, gels, creams or take it internally in the form of herbal tea. Alternatively, you can also clean the sores with a mixture made from myrrh and witch hazel for 2-4 times per day to help them heal fast and prevent further infection.
12. Comfrey
Another must-try option in this list of home remedies for pressure ulcers is comfrey. Despite it is not well-known, it really works for most kinds of skin infections, cuts, wounds, bruises, and bed sores as well thanks to its medicinal properties.
Additionally, comfrey is high in tannins, which can stimulate the healing process by creating a protective covering layer over the pressure ulcers.
Another important compound in comfrey making it a good solution for bed sores is allantoin. This component can regenerate cell tissues externally and internally, thereby boosting the healing time of pressure ulcers [9] [10].
You can consume comfrey by making a tea, decoction, tonics from it or apply it externally in the form of compress, creams, poultice, ointments, etc.
13. Echinacea
Echinacea has been used successfully as an herbal treatment for pressure ulcers thanks to its anti-fungal, anti-viral properties. These effects help to fight against the infections causing pressure ulcers.
In addition, this herb can decrease the inflammation, give a soothing and cooling effect to the sores, and elevate the pain and itching associated with this condition.
If you combine echinacea with goldenseal, it will give you a wonderful combination. The root of echinacea is a source of medicine properties and could be taken in the form of tea, tonic, tincture, capsules, and so on. Alternatively, you can apply echinacea to your affected areas in the form of skin was, compress, salve, ointments, and so on.
14. Vitamin E
Among effective home remedies for pressure ulcers, this seems the most easy-to-find. Experts recommend using vitamin E oil externally to the affected areas to gain relief. In addition to relieving itchiness and pain, it also makes the skin supple and smooth.
Combine goldenseal powder with vitamin E oil to get the best results:
Mix 1 teaspoon of goldenseal powder with the oil of 2 vitamin E capsules

Add a few drops of olive oil into if you want

Apply it to your sores 3-4 times per day
15. Petroleum Jelly

Being an old-age treatment for bed sores, petroleum jelly is great in keeping the skin moist and nice while healing the sores.
You just need to apply a proper amount of petroleum jelly to a sterile bandage, then cover it. It will make the tissues around the sores regenerate rapidly.
16. Massages
Just a simple but relaxing massage could bring excellent effects on your bed sores. It can not only improve blood circulation, prevent the sores from multiplying, but also accelerate the healing process.
Massage gently daily is highly recommended. You can make use of mustard oil, coconut oil, olive oil, etc for the best results. Do not apply pressure to the sores.
17. Saline Water
Pressure ulcers could heal faster with the use of saline water. It is able to reduce excess fluids in the bed sores and eradicates dead skin cells, not to mention the ability of preventing infection and inflammation.
What you need to do is:
Boil 2 teaspoons of salt in a cup of water

Allow it to cool down

Apply it to the affected areas gently

Let it dry naturally and use a bandage to cover it

Do it a few times per day to get faster results
18. No Smoking
This is another must-try treatment in this list of home remedies for pressure ulcers that we want to mention. As smoking narrows the blood vessels and reduces the process of getting nutrients to the skin.
Scientific research has shown that smokers are more at risk of developing skin diseases. Smoking causes blood vessel damage, slowing the circulation to the skin, reducing the amount of collagen and causing changes in the elastic fibers of the skin. In addition, cigarettes cause damage to vitamin C in the body. Tobacco also slows wound healing, including skin trauma or surgical wounds. This bad habit increases the risk of wound infection. This causes the failure of transplants, blood clots and dead tissue. Consequently, getting rid of this bad habit is what pressure ulcers patients need.
19. Daily Routine
The skin system is healthy if it is cared for and cleaned carefully because these can reduce the pressure frequently. This has great significance in limiting the skin ulcers. To do this, you need to do:
Keep skin clean and dry. This is especially needed for people who usually have a lot of sweat.

Change the position of lying or sitting after every 30 minutes to 1 hour to reduce pressure on the skin.

Check your skin at least once a day, paying particular attention to sensitive skin areas.

Check the support surfaces and equipment regularly to see if they are worn or not.

Daily exercise can improve the health and vitality of the skin.

Frequently changing blankets, pillows and clothes.

Use warm water and soap to wash the skin. Do not use hot water.

Maintaining autonomy ability and reducing humidity.

Try to avoid direct pressure on sensitive skin areas such as the skin on the hips.

Using cushions or pillows can help reduce pressure.

Avoid fast weight gain or loss. Be sure to make any necessary adjustments to your equipment if you need to make a major change in body weight or shape.

Continue to improve knowledge about pressure ulcers and how to prevent it.

When the first lesions appear, you need to treat them immediately with appropriate methods.

Allows thenecrotic skin to be nourished by sun exposure in the morning to help heal wounds.
20. Avoid Some Mistakes
Here are some mistakes that you should avoid:
In some cases, due to patients are too subjective, they do not clean the wound before dressing. Do not rinse and sterilize these ulcers can lead to infection, which may lead to longer treatment process.
Daily Use Of Hydrogen Peroxide
Many patients make this mistake.It can remove substances such as sand, dust, pus, and necrotic tissue from the ulcers. Hydrogen peroxide has strong oxidation, so if used daily will make ulcersworse.
Bandage The Wound Too Tightly
Some people are too careful and fear of infection so they bandage the wound too tightly, making the blood circulation difficult.
These are home remedies for pressure ulcers treatment that we want to introduce to you. They are very useful and safe. You should apply them early to treat your condition. However, if after trying them and see no positive effects, you need to consult your doctor. And remember that proper medical supervision is highly recommended for this condition.
If you have any contributing ideas about our article of "Top 20 Natural Home Remedies For Pressure Ulcers Treatment" introduced in Home Remedies Category, do not hesitate to drop your words below this post. We will answer as soon as we could.