Breast pain, also known as mastalgia, is a common condition in women. There are many causes for this condition, such as menstruation, pregnancy, menopause, and cancer. The pain may vary in varying degrees, but usually does not involve serious medical conditions. Depending on the symptoms and medical diagnosis, there are different treatments that you can apply to minimize breast pain. This article will give you tips on how to treat breast pain naturally at home without medications. But first, get some more information about breast pain.
What Is Breast Pain?
Breast pain is a condition in which the breast and lower arms are painful. Many women with breast pain often feel extremely anxious. Essentially, breast pain is not a sign of breast cancer and does not increase the risk of breast cancer. This condition does not spread to other areas of the body and does not pass through generations in the family. In fact, many people often experience this pain, the pain may disappear in a short time, or when you do not pay attention to it.
Breast tenderness is usually divided into two types: cyclic breast pain and noncyclic breast pain. They differ in their causes, signs, symptoms and treatments. Cyclic breast pain does not make many people feel anxious because this condition usually occurs every month and quickly disappears. However, noncyclic breast pain is not the same. Many people tend to suspect that they have breast cancer when they experience this abnormality. Fortunately, this condition does not mean that you will have breast cancer. All conclusions are accurate only when there are specific examinations and tests. However, early detection of breast cancer will increase the ability to treat up to 80%. Therefore, if you suffer from noncyclic breast pain, you should see a doctor for a direct examination. It is estimated that about 50-70% of women in the US are suffering from breast pain [1] [2]
What Are Common Causes Of Breast Pain?
It is sometimes impossible to pinpoint the exact cause of breast pain. Factors that can cause this condition include [3]:
Cyclic breast pain can occur during your menstrual cycle. This condition usually decreases or disappears during pregnancy or menopause.
Noncyclic breast pain is usually caused by the structure of the breast, such as breast cysts, breast trauma or breast surgery. Breast pain can also start from the outside of the breast – for example in the chest, muscle, joint or heart – and spread to the breasts.
TrueRemedies Partner Solutions

Need a Help from the Leading Expert Online, Available 24/7?
They're all here and ready to answer your questions online or by phone. Keep asking questions until you get the answer you need.
The imbalance of fatty acids in the cells can affect the sensitivity of the breast tissue.
The Use Of Certain Medications
Some hormonal medications, including some infertility medications and oral contraceptives, may be associated with breast pain. In addition, breast pain may be due to side effects of estrogen hormone therapy. This condition can be associated with certain antidepressants, including selective serotonin reuptake inhibitors (SSRIs), fluoxetine (Prozac, Prozac Weekly, Sarafem), and sertraline (Zoloft).
Women with large breasts may experience noncyclic breast pain. Neck, shoulders and back pain may accompany breast pain due to large breasts. Your breasts will become bigger during pregnancy. This changes the joints and the breast muscles, making pregnant women often feel breast pain and discomfort.
Breast pain can occur after breast surgery, and may last until the wound has healed.
Thromboembolism is a condition in which blood clots (blood clots) in the veins in the body. Sometimes, the blood clots in the leg veins, either above or below the knee. This is a serious disease that you need to be careful. Blood clots in the legs can move to the lungs, cause breast pain, obstructive pulmonary disease or even death. You are more likely to get this disease if you smoke regularly.
Breast infection is one of the main causes of breast pain. This is mainly due to diseases that are related to the respiratory tract.
Stress is a common symptom when you are pregnant or during your menstrual cycle. Unfortunately, the stress makes your breast pain worse.
What Are Common Symptoms Of Breast Pain?
Signs and symptoms of breast pain depend a lot on the type of chest pain that you are experiencing. There are two types of breast pain:
Cyclic breast pain usually occurs in both breasts, often accompanied by severe pain or pain that spreads to the armpits and arms. The pain is most severe before the menstrual cycle and is reduced when the menstrual cycle ends.
Noncyclic breast pain usually occurs only on one side of the breast, with the most prominent symptom of severe pain in one area of the breast.
You may experience other symptoms not mentioned. If you have any questions about the signs of the disease, please consult your doctor.
Who Are Risk Factors?
Mastitis is a very common condition in women of all ages, religions and living conditions. Women who have menstruation often suffer from cyclic breast pain, while women who have reached menopause are more likely to develop noncyclic breast pain. You can control this problem by minimizing risk factors. Please see your doctor for more information.
When To See A Doctor?
You should see a doctor if:
There is a tumor on the breast

Nipple fluid

The breast or nipple appears an abnormal depression

Chest pain persists without signs of remission
If you have any of these signs or symptoms or have any questions, please consult your doctor. Each person's condition is different, so please consult your doctor to select the most suitable option.
Above are some basic information about breast pain. Hopefully with this information, you may have the most comprehensive view of this condition. Now is the time to find out the best tip in this list of how to treat breast pain (mastalgia) naturally at home. Please take a look at TrueRemedies.com!
Top 23 Tips On How To Treat Breast Pain (Mastalgia) Naturally At Home
1. Wear A Suitable Bra
This tip on how to treat breast pain naturally is choosing a suitable bra which fits well and has the ability to lift your breasts. Choosing the type of bras to wear will affect the feeling of your breasts. Wearing a comfortable bra that can lift your breasts firmly helps reduce pain and helps protect you from the effects of gravity. You should ask a lingerie specialist to help you choose the bra that suits you best. A bra that does not fit the breast will make you feel pain. You can ask a lingerie specialist at a lingerie shop to advise you on the type of bra that suits you.
You should wear a camisole bra or sports bra to provide gentle support to your breasts. If possible, you should not wear bras when sleeping. If you need support for your breasts, you can wear a sports bra made of breathable fabric.
2. Ice Pack

Applying ice packs to the painful areas of breasts will help reduce swelling and soothe the pain. You can apply ice packs to your breast as often as you like. You can wrap a towel around ice cubes, and then apply it over your breasts for 10 minutes or so.
Alternatively, you can also freeze a paper cup filled with water to gently massage the affected area. If it is too cold or it numbs your skin, you should insert a towel between your ice pack and your skin to prevent cold burn.
You can also use a bag of frozen vegetables wrapped in a soft towel. The shape of this bag will fit the shape of your breasts and will create a more comfortable feel than the ice pack.
Repeat this method several times per day. Due to the cold temperature, it numbs the nerves, thereby decreasing discomfort.
3. Essential Oils
Essential oils can penetrate deeply in to the blood vessels and tissues of the breasts. Therefore, they have healing effects on painful breast tissues to relieve discomfort and pain. Moreover, the antimicrobial and anti-inflammatory effects of essential oils empower them the ability to inhibit infection and inflammation of all kinds.
Due to analgesic compounds, the oils could numb pain receptors while easing breast tenderness [4]. Furthermore, you can also flush out toxins and excess water from your body thanks to its diuretic properties. You can consider using some essential oils below for breast pain removal:
Primrose oil:
When it comes to natural ways on how to treat breast pain, using essential oils like evening primrose oil works well. This essential oil is consist of an active ingredient called gamolenic acid (GLA), a fatty acid which can helps the human body respond effectively to any changes related to hormones. As a result, it will relieve breast pain as well as pain, especially prior to your periods.
Make use of evening primrose oil for breast pain relief by following these instructions:
Applying this oil over your breast and keep massaging for several minutes

Take 240-500 mg of evening primrose oil standardized extract every day for 3 months with the doctor's consultation.
Note: Avoid using this oil if you are pregnant or have epilepsy.
Castor Oil
Owing to recinoleic acid, castor oil has anti-inflammatory and analgesic effects, which help relieve pain in the chest. It accelerates blood circulation, helping the nutrients reach the cells. At the same time, it helps remove inflammatory factors and waste products from the body.
What you need to do is:
Mix castor oil with olive oil or any other lighter oil as the ratio of 1:2

Massage the mixture over your breasts

Repeat this routine daily before your period
Frankincense oil:
This essential oil is much more famous as a natural aromatic resin and also one of the most studied essential oils. According to researchers, the anti-cancer and anti-inflammatory properties of frankincense oil were noticeable that could help with numerous health issues, including breast pain.
The boswellic acids found in this oil are essential molecules to help relieve tenderness and pain of breasts [5]. You can apply this oil over your breasts or add it to your bathwater to care for your breasts [6].
Clary sage oil:
Also known as salvia sclarea, clary sage oil is among the potent natural agents with hormone balancing effects. This oil was proved to help lower cortisol, balance thyroid hormone, and balance strong hormone effectively. Therefore, it is used commonly among postmenopausal women to alleviate their insomnia, hot flashes, anxiety, etc.
Moreover, this oil is empowered with sedative, anticonvulsive, anti-inflammatory, antispasmodic, analgesic, and antimicrobial effects, which make it a great solution for breast pain and related symptoms.
If used externally, clary sage acts as a great nerve tonic, which relaxes both muscle and mind tensions. It improves circulation system, and eases cramps, tenderness of breasts and insomnia.
Geranium essential oil:
Fragrant, sweet geranium essential oil is basically steam distilled from the leaves and stems of geranium plants. This oil is used for balancing hormonal levels in females. There are some therapeutic chemical compounds in geranium oil, namely limonene, linalool, alpha-pinene, menthone, etc.
Its holistic healing properties help with both our mind and body. Some researches confirm that this essential oil is effective in regulating hormones, relieving menopausal hot flashes, premenstrual syndromes, insomnia, anxiety, and breast tenderness and pain.
Geranium oil can enhance blood circulation and help cleanse the human body off toxins. Therefore, it helps inhibit the infections and inflammations of breast tissues.
Peppermint essential oil:
Peppermint has been commonly used in cosmetic and pharmaceutical industries thanks to its active phytochemicals and omega-3 fatty acids with a variety of health benefits.
It is a storehouse of menthol with cooling effect that is responsible for its analgesic properties.
Furthermore, the antimicrobial and anti-inflammatory properties of peppermint oil can soothe the soreness and pain of breasts. A lot of studies have proved the hormonal balancing property of peppermint essential oil [7]. To take advantage of peppermint oil for breast pain relief, you can use it to massage your painful areas or add it to your aromatic bath for pain relief.
4. Only Wear Sports Bras When Exercising
This is another must-try treatment in this list of tips on how to treat breast pain naturally. If you are dynamic and you exercise regularly, you should wear sports bras that can support your breasts. They are specially designed to support the chest against the effects of sport and can reduce chest discomfort.
Sports bras have a variety of styles, sizes, and types of support. You should consult a lingerie specialist to find the type that suits your breasts size and needs. People with big breasts should choose a sport bra capable of supporting their breasts effectively. If you own small breasts, you will need less support.
5. Try Relaxation Therapy
No wonder, this is definitely one that should be mentioned in this list of tips on how to treat breast pain naturally. If breast pain is causing you tension, you should think about doing a relaxing therapy. Although, there is no definitive conclusion to this tip, some evidence suggests that relaxation therapy can help reduce chest pain by controlling the serious anxiety associated with it.
6. Use Thermotherapy For Painful Breasts
This remedy is one of little – known tips on how to treat breast pain naturally. Thermotherapy is often used to treat hardened muscles. It helps your body relax and lessen the pain. From the use of warm packs to hot tubs, there are plenty of heat treatments that can help with breast pain. Here are some suggestions for you:
Bathing or soaking in a hot tub will help you relax and relieve breast pain.

Pour hot water into a bottle or use a heat pack and place it on your breasts.

Non-prescription hot massages cream also helps relieve breast pain, however, you should be careful when using these creams on your chest. You should not use them if you are breast-feeding.
7. Drink Plenty Of Water
The next treatment in this list of tips on how to treat breast pain naturally is drinking plenty of water. Water is always a necessity in life. When you experience breast pain, drink plenty of fluids. Water is very effective for pain relief, and it also helps to calm you down. As a result, you will no longer feel uncomfortable with what you are suffering from. When the body is dehydrated, it tends to retain more water, resulting in swelling and pain in the breast. Therefore, drink at least 2 liters of water a day and reduce your consumption of salt.
Many studies have concluded that drinking enough water will help reduce or even completely treat breast pain before / during the menstrual cycle. If you pay more attention to the supply of water for the body, you will no longer face the terrible breast pain. This tip is very simple and you should apply it as soon as possible. Water is also good for your overall health.
8. Limit Or Stay Away From Caffeine
This sounds strange when it comes to tips on how to treat breast pain naturally, but it works. Studies on the relationship between caffeine and breast pain are controversial, but some doctors believe that you should reduce or stay away from caffeine. This will help reduce the pain in the breast. Not just coffee, drinks like carbonated beverages and teas also contain caffeine. Foods including chocolate and some coffee creams may also contain caffeine.
If you need caffeine-containing drugs to keep yourself awake, you should avoid using them at the time your breast is aching.
9. Take Natural Diuretics
To relieve breast pain, especially during your menstruation cycle, you need to decrease fluid retention.
In such case, you should make a tea made from dandelion powder and enjoy it twice or thrice per day. Just simply put 1 tablespoon of dandelion powder into a glass of plain water and let it simmer for 15 minutes.
10. Chasteberry
For centuries, chasteberry has been widely used to deal with a number of hormone-related gynecologic disorders. This plant can help relieve breast discomfort as well as premenstrual syndrome. New moms use chasteberry to increase breast milk production. In accordance with the University of Maryland Medical Center, this plant works effectively against endometriosis and PMS symptoms.
Those women who take chasteberry on a regular basis said that it made their period much easier to manage. It regulates their menstrual cycle, decreases and relieves menstrual cramps, and clears acne.
You can take 20 mg of dry chasteberry extract once to thrice per day. Also, use chasteberry as a natural liquid extract by adding about 40 drops of its extract to a glass of plain water and have it daily morning. It is recommended to take advantage of this herb for 3 months or more with the supervision of your doctor.
Note:
Despite chasteberry is a safe herb, it may also cause upset stomach, nausea, dizziness, insomnia, hair loss, heavy menstrual periods, diarrhea, weight gain, or headaches. When taking chasteberry, people also notice some skin problems like rashes, itching and acne.

Avoid using chasteberry for children and pregnant women or people using anti-psychotic and dopamine-agonist medications.
11. Fennel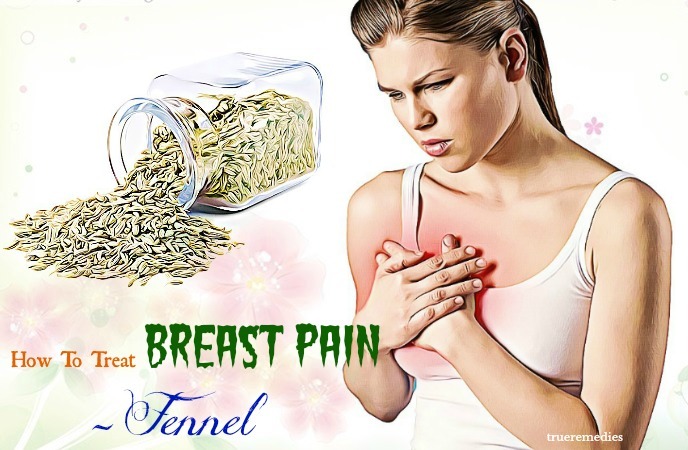 Breast pain and tenderness could be relieved with the help of fennel seeds. This type of seeds is effective for pain accompanied by menstruation and PMS. It rebalances the female hormones while preventing water retention and the buildup of toxins within the human body.
Take the steps below:
Put 1 teaspoon of fennel seeds to a cup of hot water

After covering, let it steep for about 10 minutes

Strain, then enjoy the liquid several times per day
Also, you can chew roasted fennel seeds several times every day to help prevent PMS symptoms like breast pain.
12. Adjust The Nutrition
You have to reduce the amount of fat in your diet and increase your carbohydrate intake. Some evidence has suggested that changing diets will help to reduce breast pain. Eat lean meat like chicken and fish to provide protein and stay away from greasy foods like fried foods and fast food. Complex carbohydrates are found in fruits, vegetables and whole grains. You should regularly add them to the menu to improve your breast condition.
13. Use Food Supplements
The next one in this list of tips on how to treat breast pain naturally is using food supplements. Many studies have shown that dietary supplements can help with breast pain. Adding vitamins and minerals like vitamin E and iodine will reduce any pain you are having, including breast pain.
You should take 600 IU of vitamin E, 50 mg of vitamin B6, and 300 mg of magnesium per day. Iodine is in salt or you can take salt water with a dose of 3-6mg of salt per day. Primrose essential oil contains linoleic acid so it will help the breasts become less sensitive to hormonal changes. You should use 3 grams of primrose essential oil each day. You can buy nutritional supplements and vitamins at most pharmacies and nutritional stores.
14. Make A Massage For Your Breasts
Gently massage the breast and tissues around the breast to help minimize pain and help you relax. Some studies have shown that the massage will remove stress and stretch the muscles that are strained.
Remember to massage your breasts gently. You will not want to hurt your delicate breast tissue. Massaging the face or even the ears will also help relieve stress.
15. Minimize The Use Of Hormone Supplements
No wonder, this is definitely one that should be mentioned in this list of tips on how to treat breast pain naturally. If you are taking hormone supplements for menopause or for other conditions, you should consult your doctor about minimizing or stopping taking the medication. This method can help relieve breast pain, but can also have side effects. Talk to your doctor about minimizing the medications you are taking, stop using them, or try alternative hormone treatments.
16. Avoid Excessive Exercise
Avoiding excessive exercise is another must-try treatment in this list of tips on how to treat breast pain naturally. Regular exercise helps improve your health and helps treat breast pain. If you maintain this healthy habit for a long time, you will rarely experience these pains. However, you should avoid excessive exercise when you have breast pain so the breasts are not subjected to strong impacts. Excessive exercise will only make your condition worse. Please exercise lightly during menstruation.
17. Do Not Lie Down Immediately After Eating
This remedy is one of little – known tips on how to treat breast pain naturally. We all know that lying down after eating makes it easy for you to have a stomach ache. During your menstrual cycle or pregnancy, you always feel very tired. Things get really messy and you just want to quickly lay down to rest. This thought became more intense after each meal.
However, the advice is to sit down and rest for at least 30 minutes after eating. Do not lie down immediately. This will help you to not exacerbate your breast pain. No matter how tired you are, do not lie down after eating. Besides, do not walk. Walking immediately after meals will cause the stomach to be affected, causing belching and make breast pain worse.
18. Do Not Smoke
The next treatment in this list of tips on how to treat breast pain naturally is not to smoke. Tobacco causes a lot of harm to your body. It may not be the main cause of breast pain, but it can aggravate the condition. In addition, if you are pregnant, tobacco can harm both you and the baby. Therefore, it is best to quit smoking as soon as possible.
19. Keep Your Breasts Clean
Keeping your breasts clean is one of little – known tips on how to treat breast pain naturally. One of the causes of breast pain is breast infection. If you are experiencing this condition, you should see a doctor for a checkup and treatment. During treatment, you need to keep your breasts clean. Wash your hands with antiseptic soap before you touch the breast, especially before applying creams to the breast.
20. Take Painkillers
You can take painkillers when you feel too uncomfortable and / or when you need it. These medications will help relieve breast pain and reduce swelling. You can take over-the-counter pain relievers such as aspirin, ibuprofen, naproxen sodium or acetaminophen. Ibuprofen and naproxen sodium can also reduce breast swelling.
21. Use An Anti-Inflammatory Cream
The next treatment in this list of tips on how to treat breast pain naturally is using an anti-inflammatory cream. You can ask your doctor to prescribe an anti-inflammatory cream that does not contain steroids or buy other over-the-counter anti-inflammatory creams at the pharmacy. They can help relieve pain and swelling associated with breast pain. Next, gently apply the cream directly to the affected area.
22. Change The Way You Take Birth Control Pills
The next one in this list of tips on how to treat breast pain naturally is changing the way you take birth control pills. Because birth control pills contain hormones, they can contribute to breast pain. You should consult your doctor about adjusting the type or the dose of birth control pills you take, as this can help relieve breast pain.
If possible, stop taking birth control pills for 1-2 weeks. This will help to improve your breast condition. You can still use non-medicated contraceptives. Be sure to consult your doctor before stopping taking birth control pills or changing them.
23. Consider Taking Tamoxifen And Danazol
Taking Tamoxifen and Danazol is the last one in this list of tips on how to treat breast pain that we want to mention in this article. It is a short-term solution to severe pain and may be the last resort for women who do not respond to other treatments. You should talk to your doctor and consider taking one of these medications to help manage your chest pain. You will need to have a doctor's prescription for Danazol and Tamoxifen. Be careful because both drugs have significant side effects, including weight gain, acne, and voice changes.
Above are tips to help you treat breast pain. As you can see, they are very safe and effective. Therefore, quickly apply them to no longer feel uncomfortable. If you have any contributing ideas about our article of "Top 23Tips On How To Treat Breast Pain Naturally At Home" introduced in How To Category, do not hesitate to drop your words below this post. We will answer as soon as we could.