updated: 06/19/2019
With the marks left on the skin of the lover, hickeys are a new kiss trend of youth in recent years. This is a very strong kiss. This type of kiss can cause hemorrhaging under the skin. Despite the warning, a lot of people still want to try to make a hickey. And then, of course, they try to find a way to get rid of it because it makes them shameless.
If you are also one of them, this article is for you. Here we give you basic information about hickeys as well as remedies so you can get rid of them quickly. Many people have succeeded in getting rid of their hickeys by applying these remedies. So, let's find out now!
What Are Hickeys?
Hickeys is a new kiss trend of youth in recent years because they are widely regarded as a way of "marking territory" with the love, expressing romance. Besides, you can also make hickeys when you kiss a baby. Their skin is very thin and delicate so it is very vulnerable. A hickey is also called a kiss mark or love bite.
In fact, it is a form of bruise. This is a very strong kiss. You may feel a little painful when your lover does this. When kissing, your lover will affect your skin for a long time, causing the skin to become red. Commonly affected skin areas are the neck or arms because these skin areas are very soft and they have many capillaries. This makes your lover easy to make hickeys. These bruises may disappear by themselves within 2-3 weeks.
However, few people know that in some case, this problem is quite dangerous. Hickeys can cause death. Recently, a guy died suddenly just because his girlfriend kissed his neck hard to make a hickey. The reason is because a blood clot from the "love bite" has moved to the brain, causing the blood vessels in the brain to break. In 2011, a 35-year-old woman suffered a stroke for the same reason. This is too dangerous! Besides, hickey kiss also leaves bruises on the skin, making you feel embarrassed. They make people think you just fell or you've been hit by someone.
TrueRemedies Partner Solutions

Need a Help from the Leading Expert Online, Available 24/7?
They're all here and ready to answer your questions online or by phone. Keep asking questions until you get the answer you need.
Maybe you do not know that if your partner is having oral herpes, getting him to bite you can put you at risk of getting the virus through the lesions on the skin. Oral herpes can also spread when he kisses you, causing pain and blisters in your mouth.
What Are Common Causes Of Hickeys?
As we said above, hickey is a form of bruise. Bruise is a common skin injury. This is the result of the breakdown of tissues and other organs by injury or weakness, or by red blood cells escaping from the walls of the blood vessels. Blood from damaged vessels will be concentrated near the skin surface. Then, red blood cells and blood components cause discoloration of the skin. Therefore, the affected skin areas become red, purple or blue. This condition is also called subcutaneous haemorrhage.
If you are easily bruised by a slight "love bite", this is a sign of iron and zinc deficiency. One of the symptoms of anemia is skin prone to bruising. The hickey exists for too long is a sign that you are severely iron deficient, because iron is a very essential mineral for wound healing. Because of iron deficiency, the amount of oxygen circulating in the body is deficient, leading to fatigue and faint. In addition, because iron affects enzymes, including digestive enzymes, dyspepsia is unavoidable. Therefore, you should perform blood tests as well as improve your diet to detect and treat iron deficiency.
If someone is very easy to make hickeys on your body then the reason may also be due to your lack of vitamin C. This is a very necessary vitamin. Vitamin C deficiency causes skin aging and weakened resistance. If you have a shortage of vitamin C for a long time, your body will probably be infected. That is also the reason why hickeys exist on your skin longer than usual.
What Are Common Symptoms Of Hickeys?
From its inception until its disappearance, a hickey usually lasts for 2-3 weeks. In some cases, a hickey may last more than 3 weeks. Hickey's arm may need more time to disappear than hickeys in other positions on the body.
Hickeys can leave scars. Although this is rare, it can still happen. This also depends on the brightness of your skin. Maybe the other person will not see this scar because it is quite blurry. Because you know where it is, you always recognize it.
You can make hickeys everywhere on your body, but hickeys in the neck and hands will be most noticeable because the skin in those areas is very thin and delicate.
The color of the hickey really depends on how fast your body is bleeding. Hickeys may be red, purple or blue.
You may experience other symptoms not mentioned. If you have any questions about the signs of the disease, please consult your doctor.
Who Is At High Risk Of This Problem?
Hickeys is a condition that can occur in people of all ages. Even young children may experience this problem. However, people with anemia are very vulnerable to this condition. In addition, women are more likely to encounter this problem than men. You can control this problem by minimizing risk factors. Please see your doctor for more information.
When To See A Doctor?
Hickeys are not a dangerous condition. Under normal conditions, they will disappear in 2-3 weeks. However, if after 3 weeks they have not gone away, you should see a doctor to do the necessary blood tests. You may have already suffered from some related diseases. In addition, if the application of home remedies for a while does not work, you should also see a doctor to be tested directly. As such, you will determine exactly what your problem is. Each person's condition is different, so please consult your doctor to select the most suitable option.
There, you have discovered some information about hickeys. As we said at the beginning, they can disappear by themselves but this takes a lot of time. However, in some cases, you want to remove them quickly. That is when you need the remedies that we introduce below. These remedies are really safe and effective. It is time to find out the tricks on how to get rid of hickeys fast overnight. Take a look at TrueRemedies.com!
Top 28 Tricks On How To Get Rid Of Hickeys Fast Overnight
1. Cold Compress

This method is best used immediately after the hickey has just appeared. A lot of people, especially those who regularly play sports, often apply this remedy to remove the bruises. To heal hickey, blood clots need to be removed so that blood can flow normally. This can be assisted by applying a cold compress on the affected skin.
When blood clots appear under the skin, the cold method helps to reduce the size of the blood clot while decreasing the speed and pressure of blood circulating through the area of the bite. As a result, the capillaries are less vulnerable. Cold compress also inhibits the activity of neurons and nerves in hickey. Any kind of cold compress will also shrink the broken capillaries and reduce bleeding.
To apply this remedy, please follow these steps below:
Use a towel to wrap the ice cubes. You should not put ice directly on the skin. Use a cloth bag, cloth towel or something that separates your skin from ice.

Apply the ice pack around your hickey. Keep it or move it around the hickey spot continuously for 30 minutes.
If the hickey is too obvious and too big, you should apply this remedy several times during the first day to get the best results. Cold ice also helps reduce swelling and relieves pain for hickey.
In addition to use cold ice, you can put a metal spoon in the refrigerator for about 10 minutes, then use it to apply evenly around the hickey. Please do so many times. Low temperature helps reduce blood flow through the affected area and disrupt blood clots. This will help the hickeys disappear faster.
Note: This remedy should only be used with young people, healthy people and people who are not easily hypothermia.
2. Warm Compress
Among tricks on how to get rid of hickeys overnight, warm compress is one of the most effective. This method is recommended when a hickey is formed at least 48 hours or longer. At this point, the capillaries have started to heal, what is left is the blood clot under the skin. They will gradually spread throughout the body. Heating this skin area will increase blood circulation, increase blood uptake and eliminate hickeys.
To apply this remedy, please follow these steps below:
Dip a clean towel into warm water and squeeze it

Apply it around your hickey. Keep it or move it around the hickey spot continuously
Whenever it cools, repeat the first step. Please apply this remedy 2-3 times per day, 15-20 minutes each time until the hickey disappears. You can also use a warm water bottle to make this remedy. Too hot water should not be used.
Note: Do not use this remedy when hickey lesions are formed less than 48 hours because the capillaries have not completely healed. Warm compress increases blood flow, which in turn causes more damage to the capillaries.
3. Use A Toothbrush
This is another must-try treatment in this list of tricks on how to get rid of hickeys fast. You can use a toothbrush to dissolve blood clots under the skin. Rubbing a toothbrush on a hickey is very effective in this situation. Maybe you will find this strange and suspicious, but it brings more surprises than you think.
To apply this remedy, please follow these steps below:
Use a toothbrush to gently rub around the hickey to slowly break the blood clots under the skin

After rubbing for about 10 minutes, apply the cold compress method

Repeat more if needed
Please apply this remedy as soon as possible. Note that you need to do it gently. If you feel pain in hickey, stop doing this remedy. Continuing can make the affected area more vulnerable.
4. Aloe Vera
This remedy is one of little – known tricks on how to get rid of hickeys overnight. Aloe vera contains 75 effective nutrients including amino acids and essential amino acids that are indispensable to the human body. In addition, it also contains some enzymes that are effective for health. These are substances that increase the resistance and increase the immunity of the body. Many people know that aloe vera is effective in treating bruises. Hickeys are a form of bruise; therefore, you can use aloe vera to remove unwanted hickeys.
Aloe vera is a natural moisturizer, so it helps to reduce the sensitivity of the affected skin. The ingredients of aloe vera also help the broken capillaries under your skin heal faster. Recent research has shown that aloe vera gel is antiseptic. Substances in aloe vera such as Salicylic Acid, Saponin and Sterol are the main constituents of painkillers, anti-inflammatory and antiseptic. As a result, aloe vera helps hickeys avoid getting infected.
To apply this remedy, please follow these steps below:
Cleanse the affected skin areas

Apply a little aloe vera gel on these areas

Massage gently for 5 minutes

After 15-20 minutes, rinse these areas with water
You can leave the aloe vera gel on the skin overnight and rinse it off the next morning. Please apply this remedy every day until the hickeys disappear. In addition, you can drink aloe vera juice daily. This helps to speed up the treatment.
Note: Pregnant women and breast-feeding women should not apply this remedy. In addition, people with irritable bowel syndrome and digestive problems should not drink aloe vera juice.
5. Coconut Oil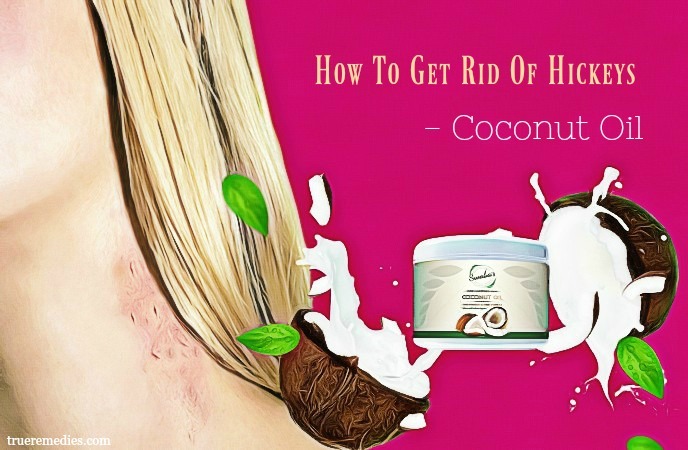 The next treatment in this list of tricks on how to get rid of hickeys fast is using coconut oil. Coconut oil is very effective in treating bruises as well as hickeys. According to scientific research, the ingredients in coconut oil have a beneficial effect on skin renewal. Coconut oil has the ability to maintain high moisture, increase the resistance of the skin, prevent the action of free radicals and protect the skin as much as possible. This helps to prevent infections as well as some skin diseases caused by hickeys. In particular, coconut oil contains toc-trienol E vitamin (which is more potent than regular vitamin E), so it is possible to remove the hickeys quickly.
To apply this remedy, please follow these steps below:
Cleanse the affected skin areas

Apply a little coconut oil on these areas

Massage gently for 5 minutes

After 15-20 minutes, rinse these areas with water
Like aloe vera gel, you can leave the coconut oil on the skin overnight and rinse it off the next morning. Please apply this remedy every day. Coconut oil is a very benign natural oil so you do not have to worry about allergies when applying this remedy.
6. Pineapple
Pineapple can be added to your daily diet to relieve hickeys quickly. It has bromelain, which is an anti-inflammatory and anti-clotting agent that could heal new scars. If you apply pineapple to your skin directly, it will reduce the pain and break down your blood proteins which clot to build up love bites.
To make use of pineapple as one of tricks on how to get rid of hickeys, follow these guidelines:
Take some pineapple pieces to rub them over your hickeys

Keep repeating this process to relieve hickeys and decrease the intensity of skin discoloration
Alternatively, you can dip a cotton pad into a bowl of pineapple juice, then apply it over your affected skin. Let it dry and repeat this routine a few times per day.
7. Peppermint Oil
Using peppermint oil can give you a soothing sensation and calming effects on your affected skin. Even, peppermint oil can relieve sore muscles through massaging or bathing [1].
Mix equal amounts of peppermint, sweet almond, lavender oil together

Apply the mixture directly to your affected areas

Use a bandage to wrap the areas to promote blood circulation, reducing swelling and hickeys

Repeat this routien 2 times per day to get good results
Note: Do not apply peppermint oil instantly on broken skin or open wound. In case you feel a stinging sensation, do not worry because it will go away soon.
8. Warm Almond Oil
Almond oil is high in vitamin E, potassium, zinc, monounsaturated fatty acids, etc. It acts as an antin-inflammatory agent which can dilute blood clot and boost circulation to help heal the affected area.
Put some almond oil into a bowl and put it into microwave

Apply the warm oil over your impacted area

Use your finger to massage gently to promote the blood clot dilution

Wait for 10 minutes before washing it off with tepid water
9. Apple Cider Vinegar
A number of people say that apple cider vinegar is one of their favorite tips on how to get rid of hickeys. It is true because this ingreident is hihg in vitmains and minerals, acids, enzymes, which are beneficial for a lot of things, from silky hair, glowing skin to removing bruises. It can use in either organic, raw, or unpasteurized form. The acids in vinegar can balance pH levels of your skin. Thanks to its anti-inflammatory properties, it soothes the hickeys while acetic acid can help boost circulation and enhance healing process.
Put ½ cup of apple cider vinegar into 4 cups of water

Dip a clean towel into the mixture and apply it over your affected area

Wait for several minutes to remove it off

Repeat this routine for 2-3 times per day for good results
Or, you can also use a cotton pad to dab over the affected area for similar effects.
This mixture will help to decrease the intensity of your skin discoloration. Some people suggest alternating this method with ice compress techinque to heal bruises.
10. Orange
Both the peel and juice of orange can be used to treat hickeys, not to mention to other uses for skin care. Oranges have a high content of vitamin C which is accompanied by healing properties. This is an essential nutrient that could strengthen your capillaries and stabilize the collagen while repairing your skin.
Just simply drinking 1-2 glasses of orange juice daily to harness its benefits. It also repairs your skin fast.
Alternatively, you can also use papaya, guava, or any other citrust fruits to get the same effects.
Besides, take about 500mg of vitamin C supplements for about 1 week to help prevent hickeys and rebuild your collagen.
11. Cocoa Butter
When it comes to benefits of cocoa butter, they ranges from health to beauty. It not only moisturizes your skin, but also heals your scars, strengthens damaged hair. It is also a powerhouse of antioxidants, helping to battle love bites. Cocoa butter have oleic, stearic, and palmitic acids which can fight off free radicals, makes your skin supple and soft naturally. Dry skin do not heal quickly in normal. Thus, using cocoa butter is a good solution to accelerae the healing process.
You just need to take some cocoa butter to apply directly to your affected area. Wait untill it melts down and wipe the area off. But do not apply too much cocoa butter because it may attract insects to you.
Instead of raw buttter, slather cocoa butter in the form of cream, oil or lotion.
12. Tuna Oil
This is a natural source of vitamin E as well as omega-3 fatty acids. These vitamins and minerals are good for regenerating your skin.
Dip your clean fingertip into tuna oil and apply it over your affected area

After a few minutes, rinse it off with tepid water

Repeat this routine 3-4 times per day for good results
13. Banana Peel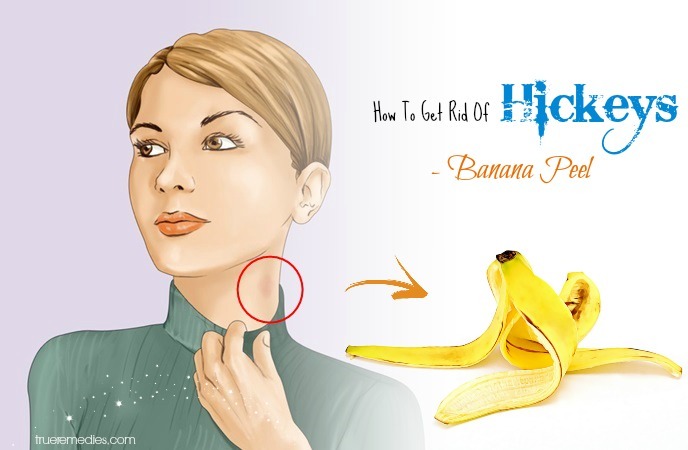 Not only is banana good for the overall health, but its peel also helps you remove a hickey. With soothing and cooling effects, banana peel is very beneficial to reduce the swelling associated with hickeys.
Take a ripe banana to cut its peel in the hickey's size

Put it over your hickeys and leave it there for 30 minutes

Repeat this routine 2-3 times per day
14. Tea Bag
In regard to tricks on how to get rid of hickeys overnight, people suggest using tea bags. This sounds weird, but it worked for a lot of people out there. We all know about benefits of tea, including repairing cullular damage, reducing stroke and heart diseases, etc. However, not many people know that warm tea bags can work wonder for removing love bites.
Simply soak a tea bag in boiling water for several minutes

Put it onto your kiss marks

Do this for a few minutes till the bags cool down

Repeat this routine 4-5 times

Clean the area using a towel
You can alternate this method with icing. This remedy also helps with bruises.
15. Toothpaste
An incredible and simple remedy for hickey is using toothpaste. It fades and minimizes your scars. You had better opt for a mint- or peppermint-based toothpaste because it has menthol with cooling and soothing effects. Besides, most brands of toothpaste have baking soda which is used to dry up the problematic spots.
You can use toothpaste in a few ways to eliminate hickeys:
Dab toothpaste over your love bites and gently massage for several minutes

After stinging sensations stop, use a clean towel to clean the area with tepid water

Then, repeat this routine after several hours
16. Arnica Salve
This herb has been traditionally used to deal with sprains, sore muscles, bruises, and so on. It could help with hickeys too. Arnica is a popular herb for homeopathic gel and cream used for topical pain relief, it could remove a hickey through boosting blood circulation. Actually, it can stimulate the function of white blood cells. As a result, it accelerates healing process and relieves inflammation. But, it is recommended to use salve right after getting hickeys [2] [3] [4].
What you have to do is:
Add ¾ cup of dried arnica motana flowers in 2 cups of coconut oil

Put this mixture into the double boiler

Keep the stove on the lowest level

Allow the herb infuse in the oil on the low heat for 12 to 24 hours

After that, switch off the heat and allow the infused oil to cool down for about 1 hour.

Warrant that coconut oil will not become solidified when cooling

Next, use cheesecloth to strain the oil before pouring it into a bowl or jar

Place the oil filtered into a double boiler, turn on the low heat

Add ½ cup of beeswax granules into this oil, then whisk until it melts down

Switch off the heat and let the mixture cool down for 30 minutes

Add ¼ teaspoon each of peppermint oil and lavender oil into the mixture

Stir well and pour them in a container

Apply this solution on your affected areas for 2-3 times per day
17. Witch Hazel
Witch hazel is featured by a lot of helpful properties, making it a good solution for hickeys. This herb has tannins that can tighten the skin proteins, thereby creating a protecting layer to fasten healing process and stop bleeding. Besides, thanks to its anti-inflammatory properties, your love bites will disappear soon.
Soak a clean cloth in witch hazel tea

Apply it over your affected areas
Alternatively, mix arnica salve with witch hazel before applying the mixture over your hickeys. Or, you can also mix witch hazel with rubbing alcohol to get similar effects.
18. Parsley
Among tricks on how to get rid of hickeys, parsley is worth trying for many reasons. It is packed with a variety of vitamins and minerals that could assist in healing your love bites. This herb has volatile oils like limonene, myristicin, eugenol, and alpha-thujene. In addition, parsley also contains flavonoids such as crisoeriol, luteolin, and apiin. All of these components can relieve swelling and prevent damage towards the blood vessels. The vitamin C in parsley also decreases blood clotting.
What you have to do is:
Crush some parsley leaves to create a consistent paste

Apply this paste over your affected area and cover by an adhesive bandage

After 1 hour, replace the paste

Do this method until you see good results
19. Chilled Spoon
Among tricks on how to get rid of hickeys, this is similar to cold compress. Chilled spoon could relieve swelling and pain associated with love bites. Just simply take 1-2 spoons and keep them in the fridge. After they get chilled, apply them on your hickeys.
20. Rubbing Alcohol
Alcohol possesses cooling, soothing, and disinfectant properties, so you can use it to relieve kiss marks.
Take some rubbing alcohol to rub over your hickeys using a cotton ball. Then, use a moisturizer afterwards to avoid drying out your skin. Do this method twice per day.
21. Comb
You can make use of a comb to relieve hickeys. Rub a comb over your skin. Despite it may cause pain when rubbing, it still helps you a lot.
22. Coin
This may be the strangest and most painful trick on how to get rid of hickeys. The method requires you to stretch your affected skin. Take a coin and rub its ridge over your skin. Imagine as if your skin is a toast and you need to spear butter on it using a coin. Avoid pressing your skin too fiercely because it might lead to bleeding, but you still need to make it strong enough.
This method can help eliminate blood from capillaries. Despite rubbing results in redness, it will go away sooner than a hickey. Remember to cleanse the coin well before using.
23. Iodine
Weak iodine tincture is considered a great solution for bruises, including hickeys. It helps to hide hickeys, and make it vanish more quickly.
Draw a net using iodine on the hickeys. Do not choose pure iodine because its concentrated solutions are relatively poisons for the human organisms. Thus, you should choose the weak iodine solutions.
24. Vitamin C Supplementation
As you know, the lack of vitamin C makes the hickeys disappear longer than usual. Even the lack of vitamin C makes you more likely to get bruises than others. Consequently, taking vitamin C supplements is essential. Vitamin C plays a role in influencing many immune functions by enhancing the function and activity of white blood cells, increasing the levels of interferon and increasing thymus secretion. As a result, the body's immune system improves, causing pathogens to be eliminated and the wounds get better.
Here are some foods rich in vitamin C that you should add to your diet:
Guava is considered a fruit rich in minerals, especially vitamin C. A guava can provide 125.57 mg of vitamin, equivalent to 200% of the vitamin C your body needs each day.
There are 50 grams of Vitamin C per 100 grams of orange.
A bell pepper can provide 342 mg, equivalent to 570% of the amount of vitamin C your body needs every day.
A cauliflower diet can provide up to 46.5 milligrams of vitamin C, which is about three quarters of the vitamin C your body needs each day.
There are 90 grams of vitamin C per 100 grams of kiwi.
There are 60 grams of Vitamin C per 100 grams of strawberries.
A broccoli diet can provide 81.17 milligrams of vitamin C, which is adequate for the amount of vitamin C that your body needs each day.
25. Iron Supplementation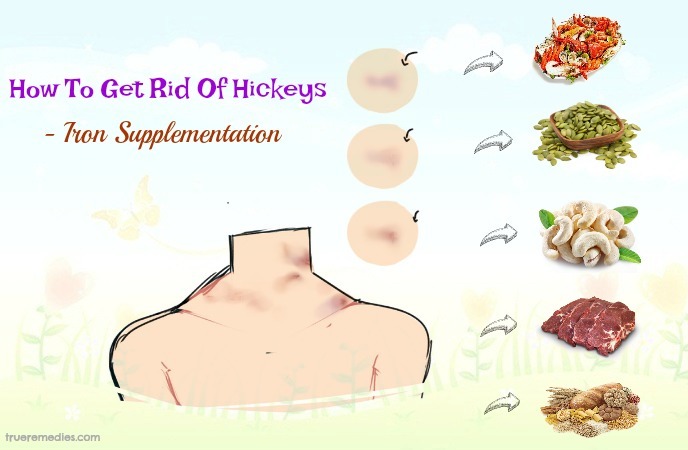 Iron is one of the most important minerals in the human body. Up to 70% of iron in the body is found in hemoglobin, which is present in red blood cells. This makes blood cells red. It has the role of transporting oxygen in the blood to the tissues of the body. As we mentioned above, iron deficiency is also one of the causes that hickeys on your body need more time to disappear than normal. Therefore, iron supplementation for the body is what you need to do in this case [5].
Here are some foods rich in iron that you should add to your diet:
Many types of seafood such as oysters and octopus are rich in iron. Twenty small oysters can provide 53 mg of iron, equivalent to 295% of the iron your body needs daily.
Pumpkin seeds are also a typical representative of iron-rich products. They can provide about 34 mg of iron, equivalent to 188% of the iron your body needs daily.
An ounce of cashew can carry up to 7.8 mg of iron, equivalent to 43% of the iron your body needs every day.
Beef and lamb are very rich sources of iron. 100 grams of lean beef meat will be able to supply 3.1 mg of iron, equivalent to 21% of iron needed. Similarly, with 3 oz lamb can bring you 13% of iron needed.
Whole grains are extremely good sources of iron for dieters. Among grains, quinoa is a kind of nut that can provide up to 2.8 mg or 15% iron in a serving. Oatmeal is an excellent sources of iron as they can bring 4.7 mg of iron in a 100 gram diet.
26. Zinc Supplementation
The next one in this list of tricks on how to get rid of hickeys fast is zinc supplementation. For the body, zinc plays a very important role. Thanks to zinc, the immune system is guaranteed. As a result, the body can prevent some diseases. According to medical experts, zinc is a micro-mineral that the body requires to generate countless reactions and aids in the proper growth. The World Health Organization has identified zinc deficiency as one of the leading causes of disease in underdeveloped countries. As you know, zinc deficiency is one of the causes that make you more susceptible to hickeys. Even so, this makes your treatment process longer than usual.So, do not forget to add zinc to your body. The simplest and safest way to do this is through foods.
Here are some foods rich in zinc that you should add to your diet:
A medium sized oyster contains 5.3 mg of zinc.
85 g chicken breast will give you 0.9 mg of zinc.
A large egg contains 0.6 mg of this important nutrient.
Beans provide zinc to the body and provide many other health benefits.
100 grams of cereal provides 52mg of zinc.
Wheat germ is also a very rich source of zinc. 100 grams of wheat germ can provide 17 mg of zinc equivalent to 111% of the amount of zinc needed for the body every day.
27. Turmeric
This is one of the little-known tricks on how to get rid of hickeys fast. Turmeric contains natural antimicrobial and natural antiseptic. It can be used as an effective anti-inflammatory. If you have an open wound or burns like a hickey, you can apply some turmeric powder to the affected area to accelerate the healing process. Turmeric also helps restore damaged skin and is used to treat psoriasis, hornbills and other skin diseases. Curcumin has a powerful effect on melanin, which removes hickeys on the skin quickly. Especially when you use curcumin before penetration into the inhibitory effect of melanin production, then it prevents the formation of hickey after every kiss.
To use turmeric to get rid of hickeys, you can apply one of the following methods:
Method 1: Only Turmeric
To implement this method, please follow these steps below:
Prepare fresh turmeric.

Rinse the turmeric, remove the shell then crush it.

Wash your skin with the hickey by cold water then apply the turmeric to the affected skin.

Leave for 30 minutes then wash your affected skin again.
Method 2: Turmeric And Honey
To implement this method, please follow these steps below:
Prepare 4 teaspoons of honey and 2 teaspoons of turmeric powder.

Mix honey and turmeric powder together then stir well.

Wash your skin with hickey by cold water and let it dry.

Apply the mixture of turmeric powder and honey to your affected skin.

Leave for 20 minutes then wash your skin with warm water.
Method 3: Turmeric And Yogurt
To implement this method, please follow these steps below:
Prepare 2 teaspoons of turmeric powder and 4 teaspoons of yogurt and mix them together then stir well until it forms a thick mixture.

Apply the mixture above to your affected skin.

Leave for 15 minutes then rinse your affected skin again with warm water.
28. Chicken Egg
This sounds strange when it comes to tricks on how to get rid of hickeys fast, but it works. Although often eating chicken egg, you may not know all the effects of chicken eggs. Many people have successfully eliminated hickeys by using chicken eggs. All you need to do is rolling a boiled egg onto the hickeys and the surrounding skin areas until it cools. This tip helps you to relieve the pain quickly, and also makes the hickeys disappear quickly. This is the way you should try at least once.
How To Get Rid Of Hickeys – Do's And Don'ts
Do's:
Cover the hickey with makeup

Cover it by wearing a scarf, turtleneck top or hair

Add more veggies and fruits rich in vitamin K to relieve love bites fast

Be patient during the treating process because it may take 2-3 days to deal with it

Consume strawberries because they have salicylic acid acting as a natural blood thinner

Add more vitamin C-rich fruits to your daily diet for faster recovery
Don'ts:
Avoid applying cold objects such as meat because it might be not hygienic.

Do not scrape or rub your hickey too fiercely to avoid leaving the kiss marks for longer.
Here are the tips to help you remove hickeys quickly and effectively. Although they are very simple, you will definitely be amazed at the effects they bring. Therefore, choose some of them and alternate them in your treating to see how effective they are. If you have any contributing ideas about our article of "Top 28 Tricks On How To Get Rid Of Hickeys Fast" introduced in Home Remedies Category, do not hesitate to drop your words below this post. We will answer as soon as we could.