updated: 05/28/2019
If you have recently lost a significant amount of excess weight, or if you have given birth, then you may have loose abdominal skin. In such cases, the skin that used to be stretched might not adapt as rapidly to your new body. Consequently, you might have sagging, loose skin hiding abdominal muscles. The human skin can slowly adapt to your new body shape with an exercise program and nutrient-rich diet, but it is still safe in the long term. So how to get your tummy back in shape and get rid of the loose skin where you belly used to be? From TrueRemedies.com, we are going to help you figure out how to tighten belly skin fast and naturally at home without surgeries. Just check them out!
How To Tighten Belly Skin Fast And Naturally At Home – 41 Must-Try Ways
I. Must-Try Tips
1. Massage At Least 4-5 Times Per Week
Massage is an effective and popular remedy for reducing overall body and preventing loose, sagging skin [1]. Thus, getting a massage at least 4-5 times per week is considered one of the proven ways to tighten belly skin after giving birth or weight loss [2]. A lot of people claim that massage therapy has helped them tone up their body skin, whilst others claim that it did not show positive results to them. However, it does not cost you a penny to try this method. Massage has many health benefits, so even when you will not tighten your belly skin, you will still improve your health and beauty as well.
2. Eat Protein-Rich Foods
By increasing your intake of protein-rich foods, you will steadily tighten your skin. It is because protein can promote the production of new muscles and boost skin firmness and strength [3]. You can add some protein-rich foods such as chicken, eggs, turkey, nuts, fish, low-fat milk, and whey protein to your daily diet.
3. Exercises
The belly toning exercises will help strengthen the muscles under your skin while firming up the entire area [4]. You can practice some popular exercises, such as sit-ups, crunches, pelvic thrusts. Once you can build firm muscles in the abdomen area, you will notice a reduction in the appearance of loose, sagging skin. Some instructions for common belly toning exercises are:
Exercise 1: Legs Up Straight Arm Crunch
TrueRemedies Partner Solutions

Need a Help from the Leading Expert Online, Available 24/7?
They're all here and ready to answer your questions online or by phone. Keep asking questions until you get the answer you need.
This exercise will tone your upper abs effectively. You can perform it by using a dumbbell to make it much more challenging.
Lie flat on your back, legs up at a 90-degree angle

Arms straight, then curl the shoulders along with upper back off the floor by using your abs

At the same time, pull the arms up straight ahead

Maintain this pose for a second before lowering the shoulders and back down the floor
Remember to keep your legs up and arms straight while practicing this exercise.
Exercise 2: Lying leg raise
This exercise will tighten and tone the skin around lower abdominal muscles.
Lie flat on the floor with your chest up, legs straight and raise up at an angle of 90 degree from the floor

Maintain legs straight, lower them slowly down till they are nearly touching the floor

Repeat this routine a few times again
Exercise 3: Pelvic thrusts
The exercise will tone your lower abs.
Lie on your back with your legs raised up in the air of 90 degree from the ground

Keep your legs up and lift your pelvis off the ground and raise upwards by using your lower abdominal muscles

Lower the body back down to the ground

Repeat this routine a few times again
4. Weight Resistance Training
Strength training may strengthen the muscles because it creates a layer of firm muscle underneath the skin [5]. That case, your skin will get tighter. It is highly recommended performing strength training a few times per week every other day to reap its benefits for your skin and muscles. Weight training is particularly important if you have just reduced your caloric intake significantly. It is because when you lose fat, you usually lose muscles as well.  By rebuilding your muscles, it also helps tighten your skin [6].
5. Limit Your Sun Expose
Overexposure to the sun will have negative effects on your skin, especially its elasticity [7]. Thus, you should limit your time of sunbathing. Besides, reduce your time of swimming in chlorinated water because this substance may dry out and damage your skin cells. Make sure that you shower after sunbathing or swimming and apply a good-quality moisturizer afterward.
6. Drink More Water
Increasing your intake of water is very important for tightening belly skin [8] [9]. Drink plenty of water every day to keep your skin hydrated. If you are dehydrated, your skin will be affected directly, which is shown through loose, sagging skin, and even premature aging skin.
7. Exfoliate Your Skin Regularly
Exfoliation will remove your dead skin cells, thereby leaving a new skin layer which is radiant and smooth [10]. Also, it helps tighten sagging, loose skin after weight loss. You can take advantage of mineral scrubs three times per week to increase your blood circulation, revealing elastic and healthy skin.
8. Add Protein To Your Diet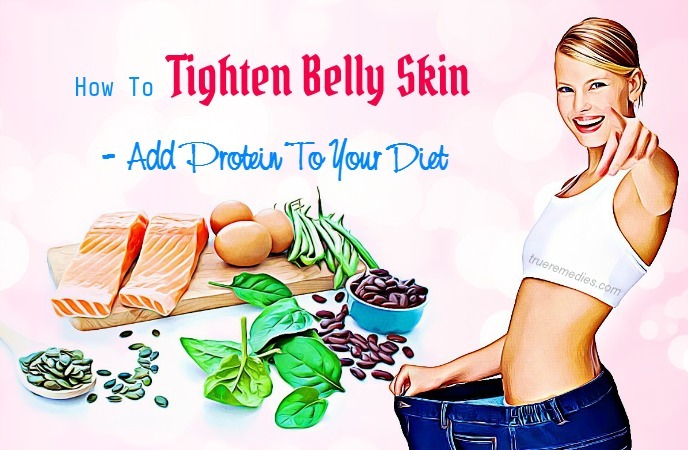 Lean protein may keep your weight under control and improve skin after giving birth or weight loss, too. Lean protein is a great source of essential vitamins and minerals, and collagen that your skin requires to stay elastic and healthy. If combined properly with exercise, a lean protein-rich diet may help you build lean muscles, helping you look more toned [11] [12]. If you want to build lean muscle fast, then take lean protein after workouts. Some good sources of lean protein are beans, cottage cheese, legumes, chicken, and eggs.
9. Avoid Smoking
Smoking is known as a major irritant affecting the development of skin cells [13] [14]. It also inhibits the collagen production in your body. Thus, stop smoking to improve your overall health, including your beauty issues. It also helps you prevent some problems such as metabolic, neoplastic, and other medical disorders.
10. Changes In Diet Plan And Lifestyle
Having a healthy diet plan and lifestyle is an excellent way on how to tighten belly skin. Some changes you can make towards your current diet and lifestyle are:
Make a diet plan that contains omega fatty acids

[15]

, amino acids, essential proteins for remodeling or rejuvenating your skin.

Eat more fruits and vegetables to take vitamins, minerals, and antioxidants for bright and younger skin

Eat raw foods like veggies and fruits, as they are good for your skin health. Also, make fruit and vegetable smoothies for breakfast.

Massage regularly on your stomach

Avoid harsh soaps

Practice yoga and calisthenics regularly, and follow a weight training
II. Natural Remedies
11. Coconut Oil
Among tips on how to tighten belly skin, coconut oil works amazingly thanks to its antibacterial property that soothes your skin. Apart from that, the antioxidants housed in the oil may help eliminate damage of free radicals and speed up the aging process [16]. The oil also acts as a natural moisturizer. Despite it takes time for you to see the results, it will pay off in the end. Massaging your belly skin with coconut oil will moisturize it and increase the production of new collagen. It additionally improves blood circulation in the skin area where your skin is loose. As a result, the muscles and tissues underneath your skin will tighten.
12. Almond Oil
Almond oil acts as a natural moisturizer and is rich in vitamin E, which may help your skin stay moist. It visibly may lower skin sagging and tighten the skin naturally [17] [18]. Also, moisturizing your skin may help minimize wrinkles.
What you need to do is:
Rub a small amount of almond oil onto your belly skin before your bedtime

After waking up, rinse it off with warm water

Follow this method frequently to have silky smooth skin.
13. Lemon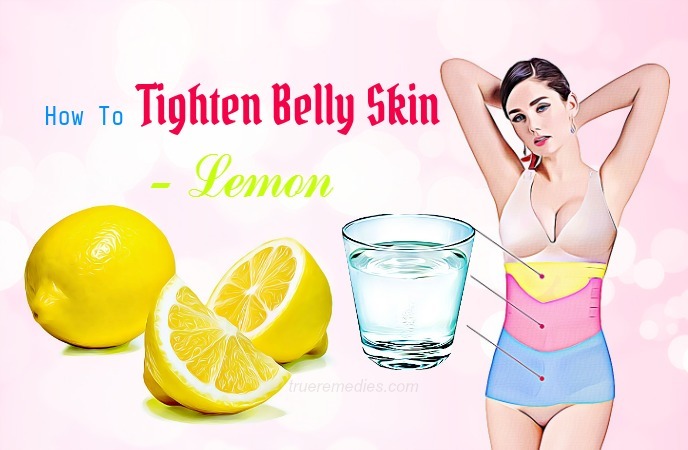 Thanks to its vitamin C in lemon, it helps boost natural collagen production [19], thus restoring your skin elasticity. Moreover, it possesses astringent properties, which may tighten your skin and reduce wrinkles and other signs of premature aging [20].
Method 1:
Extract fresh lemon juice and gently rub it over your affected skin

Wait for 10 minutes to rinse it with water

Apply a good moisturizer

Repeat this routine 2-3 times per day
Method 2:
Add the juice of ½ a lemon juice to 1 cup of water

Apply this mixture to your belly skin and wait till it dries out naturally

Do this method 1-2 times per day for the best results
14. Aloe Vera
Aloe vera is the best in regard to tightening and firming loose skin. It is because of the malic acid available in aloe vera gel that may improve your skin's elasticity [21]. It is also a natural moisturizer for your skin [22].
Method 1:
Extract aloe vera gel to smear it over your belly skin

Wait for 15 minutes before rinsing it off with tepid water

Apply this method a few times per week
Method 2:
Mix 1 teaspoon each of aloe vera gel, honey, and mayonnaise

Apply it to your skin and rinse it off with warm water after 15 minutes

Do this method once per week
15. Cucumber
Cucumber is among the best natural skin tightening ingredients which may refresh and rejuvenate your skin effectively [23] [24] [25]. With its 95% content of fiber and water, cucumber may help to release toxins from the body and boost metabolism. It further helps to eliminate conditions such as bloating, constipation, and water retention. It is also storehouses of vitamin A, K, and C and has no fat content.
Method 1:
Take a cucumber to cut into halves

Squeeze half of it to extract the juice by using a strainer

Apply the juice to your skin and let it dry naturally

Wash it with cold water

Do this remedy once per day
Method 2:
Combine grate cucumber and plain yogurt with the ratio of 1:1

Apply it to your face, wait for 15 minutes to let it dry naturally

Wash it off with tepid water

Repeat this routine a few times per week
Method 3:
Mix 2 tablespoons of cucumber juice, 3-5 drops of vitamin E oil, and an egg white together

Apply the paste to your belly skin

Wash it off after 15 minutes with cool water

Use this method once per week
16. Honey
Thanks to its antioxidant, hydrating, and anti-aging properties, honey is one of the best solutions for tightening belly skin [26] [27].
What you need to do is:
Method 1:
Mix 2-3 teaspoons of raw organic honey with several drops of lemon juice and olive oil

Apply it to your belly skin

Wait till it dries and wash off with warm water

Repeat this routine 1-2 times per day for noticeable results
Method 2:
Mix honey and sour cream together with the ratio of 1:1

Add a little turmeric powder to the mixture to create a good paste
Apply the paste to your belly skin and rinse it off after 15 minutes

Follow by some cold water

Use this face mask once per week
17. Fuller's Earth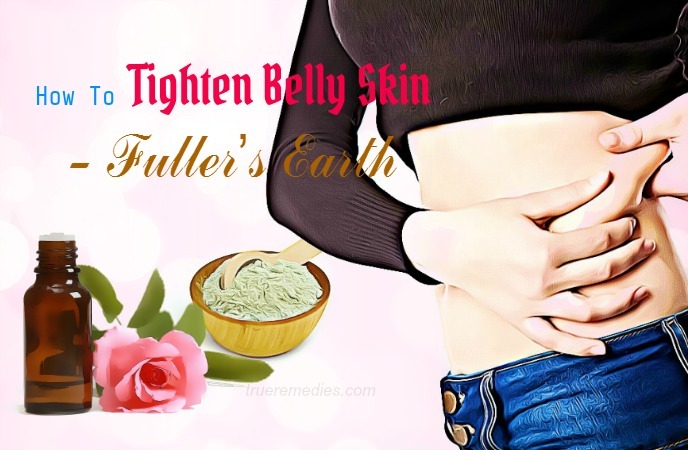 Also known as Multani mitti, Fuller's earth may animate blood course and boost skin elasticity.  It helps to absorb all impurities while improving blood circulation to your skin. Plus, it leaves the skin fresh and toned [28] [29].
Method 1:
Mix 1 tablespoon of fuller's earth powder with a proper amount of rose water or plain water

Apply the paste to your skin and let it dry naturally

Rinse it off with lukewarm water
Method 2:
Blend glycerin, fuller's earth, and honey together with the ratio of 1:1:1

Mix them with a beaten egg white

Apply the paste to your skin and let it dry

Follow this routine once per week to get energetic and firm skin
18. Strawberry
Working like astringents on the human skin, strawberries are a decent solution for those with loose, sagging skin. Due to vitamin C content, which is an intense antioxidant, this fruit may support the creation of collagen fibers. As a result, it keeps the skin firm and smooth. Besides, its alpha hydroxy acids may limit the presence of aging skin [30].  This fruit also has antioxidant agents and may be useful for preventing free radical-induced skin damage [31] [32].
Follow these instructions:
Squash 2-3 strawberries

Blend them with 2 teaspoons each of honey and yogurt

Apply the paste to your belly skin

Let it work on for 5 minutes before rinsing it off with lukewarm water

Do this once per day
To get better results, you should add strawberries to your daily diet.
19. Green Tea
Having just 4 cups of this tea has helped a lot of people lose over 6 pounds in 8 weeks, according to the American Journal of Clinical Nutrition [33]. It is because green tea contains a kind of catechin called epigallocatechin-3-gallate (EGCG) – a natural antioxidant with different therapeutic applications. EGCG may improve your metabolism when you take it [34]. It further aids in detoxification of your skin. It is enriched with antioxidants that stimulate collagen production naturally, thus giving a tighter, wrinkle-free skin [35].
Follow these instructions:
Add a tea bag and 4-5 basil or mint leaves into 1 cup of hot water

After covering it, let it steep for 5 to 10 minutes

Strain and add ½-1 teaspoon of lemon juice along with 1-2 teaspoons of honey for taste

Have from 3 to 4 cups of green tea daily, after meals
20. Ginger
Not to mention being good for digestion, ginger is a thermogenic agent which may increase your own body temperature, thereby helping burn the fat easily in a short period of time [36] [37]. Oftentimes, stress, overeating, and lack of regular exercise are common reasons for belly fat. Thus, using ginger could solve these issues somehow. After weight loss or pregnancy, to get tight belly skin, you had better take ginger tea daily.
Method 1:
Pour 4 cups of water in a teapot and boil it up for a few minutes

Add 1-2 inches of ginger to the water and let it simmer for 5-10 minutes

After taking out that teapot off the stove, add the juice of a lemon and 1 tablespoon of honey to it

Stir well and take the tea daily in the morning

For stimulating your digestion, you should drink this tea from 2-3 cups daily during the day.
Method 2:
Wash 500g of ginger and blend it smoothly

Roast the ginger with 500g of salt

Put them in a bag

Use the bag to compress around your belly skin till the mixture gets cool down

Massage your belly skin gently

Repeat this process daily to get tight abdominal skin
Method 3:
Wash 1kg of ginger thoroughly and do not peel its skin

Blend smoothly and mix them with a proper amount of wine

Put them in a glass bottle and leave it there for 2-3 months

Massage your belly skin with this solution daily
21. Cranberry Juice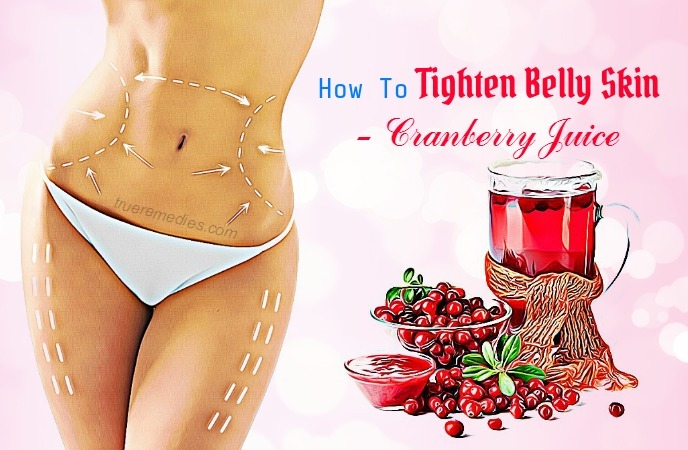 With the rich content of organic acids such as malic acid, citric acid, and quinic acid which naturally work as digestive enzymes, cranberries may defeat stubborn fat in your belly effectively [38] [39]. These acids operate as emulsifying agents which could deposit in the lymphatic system. There are some types of waste products that the liver could not process will be effectively transported by this system. Furthermore, the juice may help digest the lymphatic waste and lose fat, and tighten belly skin. But, to get the best results, you should use pour,  unsweetened cranberry juice.
Take 1 8 ounces of pure cranberry juice to mix with 5-6 ounces of water

Have 1 cup of this mixture in the morning and throughout the day for better results

You can also take fresh cranberry water by mixing 2 tbsp of cranberry juice with about 7 ounces of plain water
22. Dandelion Tea
Dandelion may improve the functioning capacity of the human liver [40]. It also helps flush out the retained water and other toxins from your body, particularly abdominal bloating. You can also combine it with other spices to decrease the belly fat caused by water retention [41]. Besides, dandelion root is loaded with chlorogenic and chicoric acid, which have been indicated to improve insulin secretion and increase the absorption of glucose in your body. A study in 2010 showed that chlorogenic acid reduced levels of fat-storage hormones and body weight in mice significantly [42].
Follow the steps as below
Mix 1 tbsp of dandelion root, ½ piece of minced fresh ginger, ½ piece of cinnamon bark, 1 cardamom seeds, and 4-6 mint leaves together

Put them in a saucepan and boil it up

After 5-10 minutes of boiling, strain the tea and add 2 tbsp of honey into

Drink this tea 2-4 times per day to get better results
Caution: Avoid this tea if you are suffering from blocked bile ducts or other problems related to the gallbladder. Consult your doctor before using this tea.
23. Hot Peppers
Because it contains capsaicin, which have thermogenic properties, hot peppers are another effective tip on how to tighten belly skin [43]. It could boost the heat production of your body, thereby consuming more calories and energy. If you take capsinoids every day, you will reduce abdominal fat and improve fat oxidation [44]. You can take advantage of dried, raw, cooked, and powdered forms of peppers by adding it to your soups, gravies, eggs, and meats. Include cayenne pepper, red pepper, or habanero pepper to your diet to increase fat burning.
24. Mustard Oil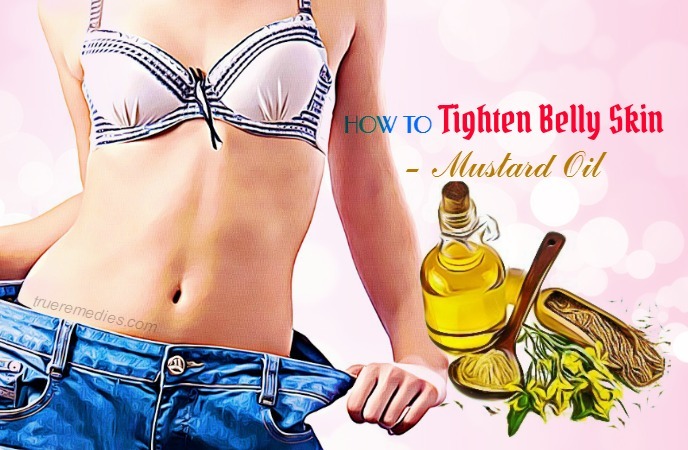 With mustard oil, you will not only get healthy skin but also develop muscles and get tight belly skin naturally. It is beneficial for tightening skin and making your skin glow. Your skin is rejuvenated because blood circulation is enhanced thanks to the mustard oil massage [45]. Its high levels of vitamin E may help prevent aging and wrinkles
Put a little mustard oil onto your hand

Use it to massage thoroughly your belly skin

Follow this regularly to get best results
25. Eggs
Eggs are considered a special food that may help people restore and regenerate the collagen for cracked skin. Eating a protein-rich breakfast may help to increase a person's satiety [46]. Dietary protein may treat metabolic syndrome and obesity, in part because it makes you feel more full [47].
Method 1:
Take a proper amount of egg white to apply directly to your belly skin

Leave it there for 15 minutes and wash it off with cool water

Follow this method daily to get youthful belly skin
Method 2: 
Take an egg to get its white and mix with 2 tbsp of lemon juice

Apply the mixture to your belly skin for 20 minutes and rinse it off with water

Repeat this method 4 times per week for good results
Method 3:
Mix an egg white with 1 tablespoon of yogurt and ½ teaspoon of sugar

Apply the paste to your belly skin and leave it there till it dries

Rinse it off with plain water

Re-apply this method daily to get rid of loose skin steadily

Combining egg white and coffee powder also gives you a solution for sagging skin.
26. Alum Powder
Alum is a chemical compound made from the combination of many elements such as ammonium or potassium with other metals such as chromium and aluminum. Alum is often used in anti-aging products because it is a wonderful crystal with regard to skin tightening. In India, women often use this ingredient for facial skin tightening and lifting for many ages before the western world went into the Indian market with cosmetics [48].
Method 1:
Wash your face with clean water

Take a big piece of alum and wet it with water

Rub it over your belly skin gently

Let it dry and leave it there for as long as possible

Wash it off with cool water
Method 2:
Take a small amount of alum powder to put in a container with a lid

Pour water in the container to create a smooth paste

Wet a clean cotton ball with this mixture and apply it to your belly skin

Let it dry and leave it there before washing it off
Method 3:
Mix 4 egg whites, 100g of each of rose water, alum powder, and almond oil, and 50g of lemon water together

Put the mixture in a pot and place it on the low flame till it gets thick

After letting the mixture cool down, apply it to your belly skin before your bedtime and wash it off in the next morning
27. Pumpkin Seed Oil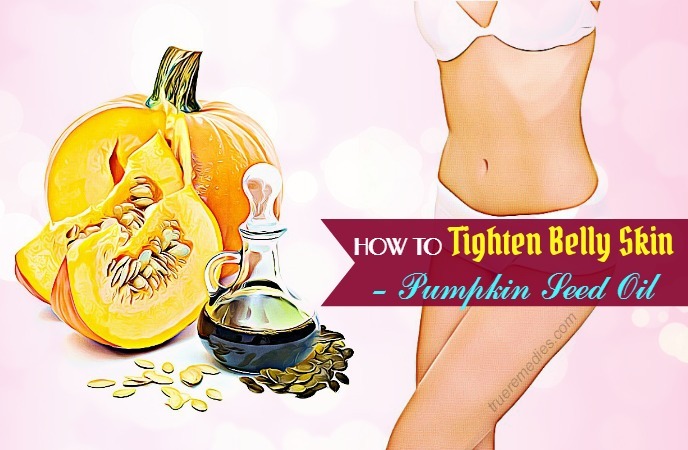 Pumpkin seed oil is a little known remedy for sagging, loose skin. It also works effectively to lift your abdominal skin. Both pumpkin seeds and pumpkin paste may assist you in handling this issue. It also may defend against oxidative stress and infections in skin cells and lower the appearance of blemishes and wrinkles related to age [49].
Cut a pumpkin into many slices

Boil 3-4 small pieces of pumpkin with 1 glass water for 8-10 minutes

Let it cool down and mix it with 1-2 teaspoons of honey and 1 glass of milk

Have it twice per day to get the best results
The mentioned-above tips and tricks on how to tighten belly skin aim to help you make a suitable diet and lifestyle plan to achieve toner, firm skin without having to undergo surgeries. But, above all, you need to understand that elasticity reacts differently at different stages and ages. For younger people, it might just take a little bit of attempt to tighten up the skin and maintaining it. For older ones, it might take a bit longer for achieving the same goals. It is important to acknowledge this and accept it unconditionally. Leave your comments below this post if you have any contributing ideas about this article.