Updated: 08/09/2019
It is natural that hair grows under the skin. However, if you do not pay attention to this, these stubborn hairs may cause rough skin, rashes, or dermatitis. To remove ingrown hairs is not simple. You need to find out the reasons before deciding on removal remedies because improper hair removal may also cause ingrown hair cyst.
Are you worried about this disease? Does ingrown hairs cyst make your life more difficult? Don't worry; the following article will provide you with some simple and effective home remedies for ingrown hairs cyst, which can be done right at your home. However, before that, let's learn some necessary information about this disease to get the best view on it.
What Is Ingrown Hair Cyst?
Ingrown hair[1] is an opposite phenomenon of healthy hair growth. This phenomenon occurs mainly when you are shaving or using incorrect hair removal remedies or cosmetics. The hair strands will then sharpen, break down the surrounding epidermis, and form small red holes under the skin. In women with curly hair, the hair strands may grow out of the epidermis, then come back to the skin and cause ingrown hair cyst.
What Are The Effects Of Ingrown Hairs?
The ingrown hair may cause many health and beauty issues, including:
The pores become broader and the skin becomes rough, which seriously affect the appearance of people.

Removing ingrown hairs wrongly will cause severe damage to the skin, leaving bruises and scars.

Ingrown hairs are the right environment for bacteria to develop. If not treated promptly, the bacteria will cause inflammation, leading to infected pores, pimples, and itchy skin.
What Are Common Causes Of Ingrown Hairs?
There are many causes for ingrown hairs, such as:
TrueRemedies Partner Solutions

Need a Help from the Leading Expert Online, Available 24/7?
They're all here and ready to answer your questions online or by phone. Keep asking questions until you get the answer you need.
Curly or coarse hair.

Improper hygiene habits. If your skin is not cleaned carefully, the dirt and dead skin cells will accumulate on the skin surface, clogging pores and preventing the hair from growing healthily.

Wearing clothes that are too tight.  This makes it impossible for the skin to work correctly, causing rubbing the skin.

Habits such as waxing, shaving, or plucking hair. They are the main reason for ingrown hairs as you may leave a piece of hair below the skin surface. This allows the hair to go back into the skin and cause hair cyst.

High levels of sex hormones. People with high levels of sex hormones may overburden their hair growth, causing them to grow inside the skin, especially after shaving[2].
What Are Common Symptoms Of Ingrown Hairs?
Ingrown hair in men is more popular than that in women. It primarily happens with beard in the chin, cheeks, and even neck. It may appear on the scalp of men with shaved heads. In females, the most common area is the armpit, near the genitals and legs. These following symptoms of ingrown hairs will help you recognize it at an early stage:
Small and round spots on the surface of the skin.

Small lesions in the form of blisters which are filled with pus.

Increased skin pigmentation.

Feeling pain and itching in the area with ingrown hairs.

Loss of aesthetics.
Who Is At High Risk Of Ingrown Hairs Cyst?
Curly hair is the leading risk factor for ingrown hairs. People with a high density of hairs or curly hair are more prone to ingrown hairs. This is a widespread health condition that may affect people of all ages.
When To See A Doctor?
You should see a doctor when you suffer from chronic ingrown hairs. Also, women with ingrown hair as a result of excessive hair growth should see the doctor to know whether it is due to abnormalities in the hormone, such as polycystic ovary syndrome, or not. In addition, consult your doctor immediately for medical advice if you suffer from serious symptoms, apart from the above mentioned ones.
There, you have discovered some information about ingrown hairs. To overcome this condition, many people may come to see a doctor. However, if your situation is not too severe, you can fully apply the natural remedies we mention below. Let's find out what the best home remedies for ingrown hairs are.
Top 16 Proven Home Remedies For Ingrown Hairs Cyst
1. Rational Living Habits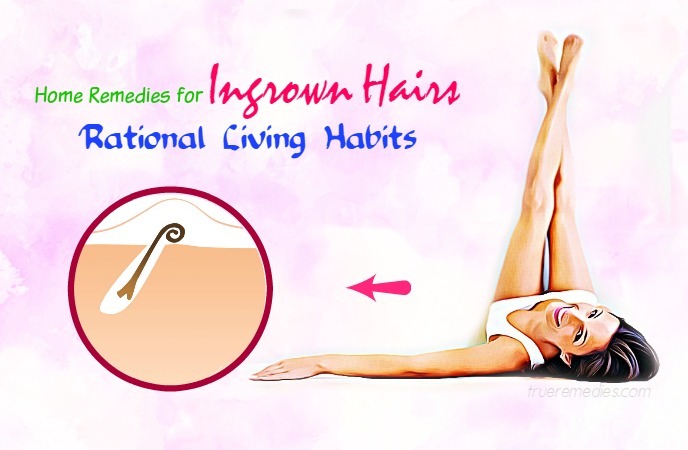 You can control the ingrown hair situation if you practise these living habits:
Bathe and soak in warm water. This will help soften the skin and expand the pores, contributing to the elimination of ingrown hairs. If you want to speed up the process, you only need to wash the affected area using a towel or a fine bristle brush dipped in warm water. Perform it before shaving or going to bed.

Remove dead skin cells. It has a significant effect on the removal of ingrown hairs. However, it should also be done gently.

Use antiseptic tweezers to remove the ingrown hairs[3]. Remember to clean the skin surface carefully after ingrown hairs are removed.
Note that:
To keep your skin smooth and free of ingrown hairs, you should follow these guidelines:
Always exfoliate before shaving or waxing.

After shaving or waxing, do not steam.

Exfoliate every 48 hours.

Use salicylic acid products to help prevent this condition (you can use a shower gel containing this ingredient often to prevent this).

Use clean tweezers or specialized tool with disinfectants if you want to remove ingrown hairs.

Choose sweat-proof, comfortable clothing. If using a razor, you should change it frequently.

Do not shave in the morning and with warm water.

Shave in the same direction with hair strands.

Do not wax hair frequently.
2. Steaming
Steaming is an effective treatment for ingrown hairs as it helps to open up the pores. It improves skin airier so that the hairs will soften and go outward. Be patient for a few days if you have not seen the result yet.
Method 1: Steaming With Orange And Grapefruit Peel
Orange and grapefruit peel are potent antioxidants[4] that help protect your skin from the inside. Moreover, they help to reduce acne and skin-related diseases[5].
You need to prepare fresh orange peel, fresh grapefruit peel, and then wash them thoroughly.

Boil 200-300 grams of orange peel and grapefruit peel with water.

After boiling, put a scarf over the skin area with ingrown hairs and keep it on the steam flow. Wait for 15-20 minutes for orange and grapefruit essence to penetrate into the skin and then rinse with fresh water.
As orange and grapefruit are strong oxidants, you should combine with applying some lotion to increase the skin's elasticity. After doing this 5-7 times, ingrown hairs will decrease significantly.
Method 2: Steaming With Lemongrass
Lemongrass essential oils may help to cleanse the skin naturally thanks to its anti-inflammatory and antifungal properties[6]. Steaming with lemongrass oil will help remove ingrown hair fast without any side effects.
Prepare a sufficient amount of lemongrass and crush it.

Put the crushed lemongrass in a pot and boil them with some water.

Use a towel to cover the ingrown hair area and keep it on the steam flow.

After about 10-15 minutes, remove the towel and rinse with cold water.
Method 3: Streaming With Origanum, Melissa, Wormwood Leaves And Lemon
Leaves of origanum contain essential oils which may help to cleanse inflamed skin pores thanks to its antibacterial, antifungal, and anti-inflammatory properties[7]. Melissa leaves help to eliminate toxins from the body, while wormwood is effective at treating itchy skin rashes and restraining oil on the skin.
Prepare a sufficient amount of origanum, melissa, and wormwood leaves

Wash them thoroughly and boil them with clean water.

When the water is boiling, pour it into a small pot, add a little white salt and squeeze the juice from a lemon into it.

Wash the affected areas and put them near the steam flow; cover them with a clean towel to keep the heat for longer. However, to avoid skin burns, you should keep your skin at a moderate distance.
3. Aloe Vera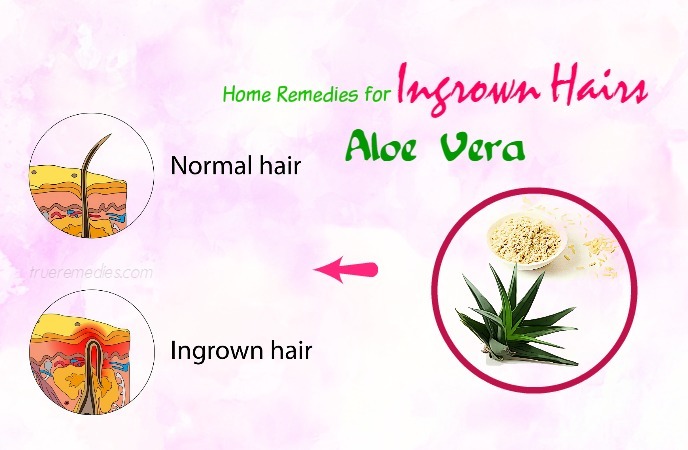 This is another must-try remedy in the list of proven home remedies for ingrown hair. Aloe vera contains a lot of antioxidants[8] such as beta-carotene, vitamin C, and vitamin E that help to improve the natural elasticity of the skin. This ingredient also helps prevent the skin from drying, thereby minimizing the appearance of wrinkles[9].
Due to its natural moisturizing properties, the gel of aloe vera helps hydrate your skin[10] and provide oxygen to maintain healthy skin cells. Besides, it eliminates mucus and liberates natural vitamins and enzymes to keep the skin moist and balanced in terms of pH levels.
Method 1: Aloe Vera
Prepare 100 grams of aloe vera leaf.

Peel the aloe vera leaf to take the gel  and rub it on the ingrown hair area.

Leave it on for 7 hours before washing the skin with clean water.

You should repeat this method daily.
Method 2: Aloe Vera And Water Rice
Rice water is rich in vitamins, making the skin more flexible and elastic.
You put the rice water in a bowl and leave it to settle down. Then you remove the upper part of the water.

Peel an aloe vera leaf to take the gel inside and puree it.

Mix rice water and aloe vera gel with the ratio of 1:1.

Apply the mixture to skin areas with ingrown hairs and gently massage to help it absorb into the skin.

Let it stay for about 30 minutes, then rinse with warm water.
4. Aspirin Medicine
Among home remedies for ingrown hairs, using aspirin is one of the most effective. Aspirin acts as an antiseptic and anti-inflammatory agent and an exfoliator[11], which help to remove dead skin cells and clean up the pores with ingrown hairs. Therefore, it helps speed up the ingrown hair removal process.
Prepare 1 aspirin tablet.

Grind it and mix it with clean water to form a paste.

Apply the paste to ingrown hairs for 15 minutes and rinse it off with water.
5. Olive Oil
When it comes to home remedies for ingrown hairs, olive oil is a highly recommended one. It is rich in antioxidants[12] and healthy fatty acids that are good for the skin. Olive oil may soothe dry skin and form a protective layer on the skin surface to minimize the damage from the environment. Treating ingrown hairs with olive oil will help increase skin moisture and make ingrown hairs grow out faster.
Method 1: Olive Oil And Moisture Cream
Apply a thin layer of extra virgin olive oil to your skin before applying moisturizing cream.

Olive oil acts as a lining, creating a robust protective film that prevents moisture from escaping.

Not only does it enhance the moisturizing effect of commercial cosmetics, but it also protects the skin and minimizes the damage caused by cosmetics.
Method 2: Olive Oil
About half an hour before showering, rub olive oil on your hands, feet, and other dry areas and massage gently to help active ingredients and natural nutrients in olive oil to penetrate deeply into skin cells to get softer and healthier skin.
Method 3: Olive Oil And Brown Sugar
Brown sugar contains two essential ingredients, glycolic acid and alpha hydroxy acid (AHA), which help maintain a perfectly balanced oil level in the skin. They also help protect your skin from harmful external factors such as cosmetics and UV rays[13].
Mix olive oil with brown sugar in an equal proportion.

Rub this mixture on the skin areas with ingrown hairs and massage gently in circular motions for a few minutes. Bathe and then apply some natural moisturizer.
6. Honey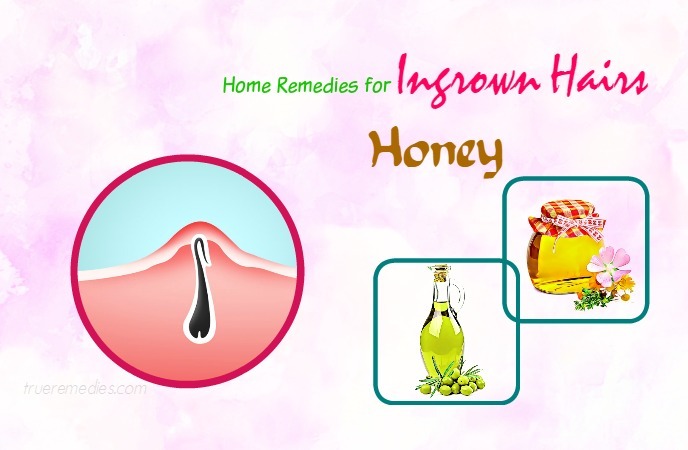 The one among the best home remedies for ingrown hairs is honey. Honey is considered one of the best natural moisturizer thanks to its antioxidant, antimicrobial, and moisturizing properties[14]. Honey helps keep the skin moisturized, soft and smooth. Moreover, honey also has many vitamins and minerals that help improve skin health[15].
Method 1: Honey
You take about 5-10 drops of honey and mix them with a little water.

Apply this mixture to the skin with ingrown hairs and then gently massage for 30 minutes.

Then wash off the mixture with clean water.

You should repeat this method at least twice a day to get the best results.
Method 2: Honey And Olive Oil
Prepare pure honey, beeswax, and olive oil with an equal volume (1: 1: 1 ratio)

Boil the beeswax in a pan under low heat. Let it cool and mix it with honey and olive oil.

Apply the mixture to the entire body, especially the ingrown hairs. Hold on for about 10 minutes then bathe with warm water.

Apply this method once a day for the first two weeks. In the next few weeks, apply it thrice per week.
Method 3: Honey And Lemon
Mix 2 tablespoons honey with 1/2 tablespoon fresh lemon.

Apply this solution to ingrown hairs.

Combine with massaging in circular motions so that nutrients may penetrate deeply into the skin.

Leave it on for 20 minutes before rinsing with warm water.
Note that:
You should not apply honey to the area of varicose veins. For the fragile skin, you should spread a skinny layer of honey only.

When combining honey with other ingredients such as egg whites, lemonade, wheat flour, etc., you should avoid applying it to your eyes and its surrounding areas.

Honey exfoliates the skin. Therefore, after cleansing, massaging, or masking with honey, you need to protect your skin from direct sunlight, or else, it will be blackened.
7. Cucumber
Cucumber is very beneficial in the treatment of ingrown hairs. It provides your skin with many vitamins. Cucumber also moisturizes the skin and makes the skin glow evenly thanks to the rich water content[16]. Using cucumber will alleviate the ingrown hair condition as it helps reduce excess oil production in the skin, which may consequently clog the pores and prevent hair strands from growing healthily.
Cleanse the ingrown hair area.

Cut a cucumber into thin slices using a knife, and then apply to the affected skin.

Let it stay for 30 minutes and then remove.

Repeat this process in several days, you will notice significant changes in the skin.
8. Oatmeal
Oatmeal is good at reducing swelling and itchiness caused by ingrown hair cysts and other kinds of skin disorders thanks to its antioxidant and anti-inflammatory properties[17]. Besides, this ingredient helps maintain the natural moisture of the skin..
Pour 1 tablespoon of oatmeal into a bathtub full of warm water.

Soak your body in the bathtub for about 30 minutes.

Then, bathe with clean water and dry your skin with a soft cloth.

Apply moisturizer to the whole body.
Repeat this process daily before going to sleep until symptoms of ingrown hairs are gone.
9. Mint Leaves
Mint is an excellent ingredient to treat ingrown hairs. This herb works excellently to treat skin problems and moisturize the skin. Remarkably, this herb is useful in promoting healthy hair growth[18] and preventing hair loss and ingrown hairs.
Prepare 10-15 mint leaves and wash them thoroughly.

Crush them using a grinder to take the pure mint oil.

Apply the oil to the ingrown hair area.

Leave it on for 5-6 hours before rinsing it off with warm water.

Apply a mild moisturizer for the final step.

You should do this process 2-3 times a week.
The above-mentioned natural home remedies for ingrown hairs are claimed to be able to reduce its symptoms quickly and effectively. Although they are quite time consuming and slow-acting, their results will satisfy all practitioners. Choose some of them and alternate them in your treatment to see their efficacy. If you have any contributing ideas to our article, do not hesitate to drop your words below this post. We will answer as soon as possible.