13. Basil And Onion
When being combined with basil, one becomes an effective treatment on how to remove facial hair[21]. This method is suitable for all skin types.
Cut 2 onions and pull out thin transparent membranes between onion layers.

Crush a handful of basil leaves.

Mix them well and grind to make a paste.

Apply the paste your face and wait for 20 minutes.

Rinse it off with water.

Repeat this procedure 3-4 times per week for a few months.
14. Gelatin And Milk
Gelatin and milk work excellently to treat blackheads[22]. This sticky and icky mixture is also useful for removing facial hair. Due to its stickiness, when you peel off, the unwanted hair will be eliminated.
Mix 1 tablespoon of unflavored gelatin with 2-3 tablespoons of milk.

Add 1-2 drops of lemon juice or lavender essential oil.

Heat the paste a little bit and apply it to your face.

Let it dry and peel it off.
Note:
This method is not suitable for acne-prone and sensitive skin.

Keep it away from your eyebrows. If this situation happens, use a wet cotton ball to wipe it off.
15. Saw Palmetto
Also known as Serenoa repens, saw palmetto is a small palm-like plant having fan-shaped leaves and sharply toothed stalks. This plant is native to Southeastern US and has anti-androgenic effects[23]. Thanks to this property, saw palmetto may lower the level of androgen in the body; thereby, reducing the excessive body hair growth.
You can buy saw palmetto in forms of dried berries, powdered capsules, powder, liquid tinctures, and liposterolic extracts. Warrant that the product is standardized and a fat-soluble extract which consists of 85-95% of sterols and fatty acids.
TrueRemedies Partner Solutions

Need a Help from the Leading Expert Online, Available 24/7?
They're all here and ready to answer your questions online or by phone. Keep asking questions until you get the answer you need.
According to some studies conducted in Europe, the saw palmetto berries' extract if taken twice per day with a dosage of 160mg may help to remove facial and body hair[24]. Nonetheless, it might take up to 2 months to get noticeable results.
Notes:
Saw palmetto is not suitable for children.

It may increase the risk of bleeding.

Consult your doctor before using this herb if you are taking hormone medications like blood thinners such as clopidogrel (Plavix), aspirin or warfarin (Coumadin); birth control pills; or suffering from hormone-sensitive ailments.
16. Chaste Tree
Chaste tree is also known as Chasteberry. This flowering plant is native to the Mediterranean region and has been widely used for hormone balancing purposes. The standardized extract of this plant possesses anti-androgenic properties[25]. It is often used as a treatment for Polycystic Ovarian Syndrome (PCOS) – one of the leading causes of hirsutism.
Thus, if you have excessive hair growth due to PCOS, then chasteberry extract can do the trick for you. It acts on your hypothalamus and pituitary glands, thereby facilitating the production of luteinizing hormone. The result is a mildly inhibited release of follicle-stimulating hormone.
That is why consuming chaste tree extract may balance essential hormones in women and treat menstrual issues related to PCOS. As an indirect result, your excessive hair growth will be reduced.
People with PCOS are recommended using 40 drops or 175 mg (about 0.6% aucubin standardized extract) each day. Nevertheless, you need to consult your doctor to have the right dosage.
Notes:
People taking hormone medications like birth control pills or suffering from hormone-sensitive ailments should consult their doctor before using chaste tree.

Sometimes, this herb interferes with Parkinson medicines and antipsychotic
17. Black Cohosh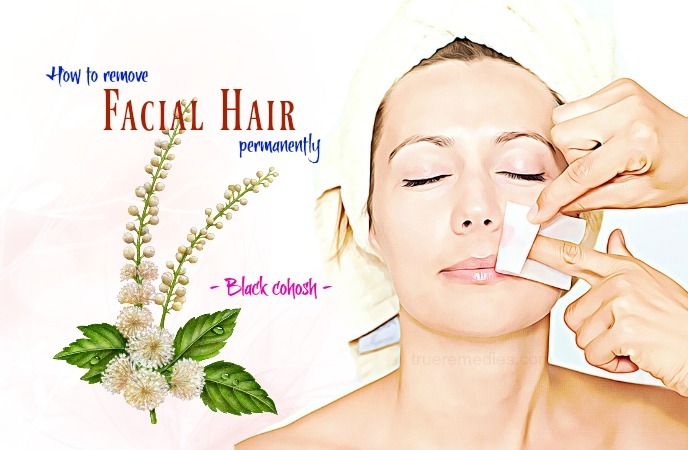 Aka Actaea racemosa, black cohosh is a plant of the buttercup family. This plant is native to eastern North America and has anti-androgenic properties, not to mention other health benefits. Therefore, it has been used as an effective solution for hirsutism for a long time[26].
Mix 20 grams or 1½ tablespoons of dried black cohosh root with ¼ cup of water.

Stir well and place it on the stove

Boil and allow it to simmer for 30 minutes till it reduces to 1/3 of its initial amounts.

Switch the oven off and strain the solution.

Add 1 teaspoon of honey  and leave it to cool down.

Drink a cup of this tea thrice per day.

Put the left amount in your fridge to use later.
Note:
Do not consume too much black cohosh because it may cause abdominal discomfort, nausea, headaches, dizziness, and other problems.

Consult your doctor before using black cohosh if you suffer from liver disease, clotting disorder, hormone-sensitive ailments, or are taking hormone medications.
How To Remove Facial Hair Permanently – Extra Tips
The more frequently you apply these methods, the less pain you will feel.

Maintain a healthy diet to balance your hormones.

Drink plenty of water to keep your skin healthy and hydrated.

Do not over-use these methods; consult health professionals for better results.

Consult your doctor if your hair growth is associated with other masculine features such as reduced breast size, deepening voice, increased muscle mass, and so on.

Consume phytoestrogens-rich foods such as licorice, fennel, flaxseeds, gotu, and kola, which possess a high content of phytoestrogens to decrease the hair growth on face.

Although there are some magical potions and herbs for epilation, always consult your doctor before practicing any herbal treatments that may impact your hormones.

Do not take these supplements if you are pregnant, preparing for pregnancy, breastfeeding, having a history of uterine, breast, or ovarian cancer, and having other conditions related to hormones.
Generally, there are many ways to remove pesky facial hair, such as tweezing, shaving, electrolysis, and laser treatment[27]. Nevertheless, except for electrolysis, other solutions are often temporary. Hope that with these methods on how to remove facial hair permanently, you will get smooth and bright facial skin. For any contributing ideas to our article, feel free to drop your words in the comment box below.