7. Oatmeal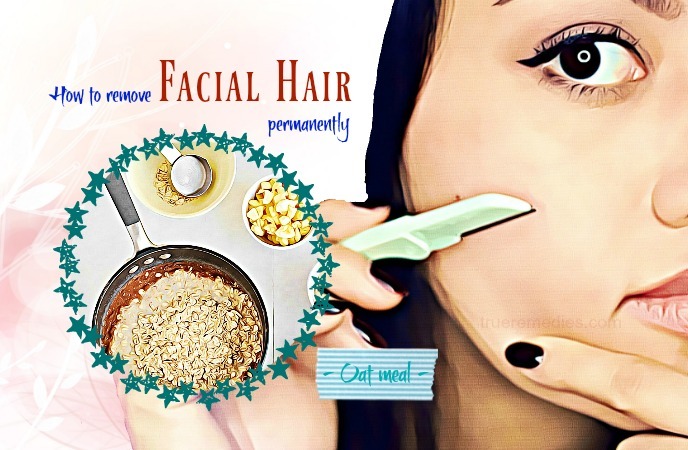 Being a gently exfoliating agent, oatmeal may scrub away fine hair growing on your face. Commercial scrubs might leave your skin itchy, red, and dry, while oatmeal is a natural scrub having antioxidant and anti-inflammatory properties[12] which may contribute to reducing the redness and protecting your skin from UV sun damage. If combined with other ingredients such as lemon and honey, it will make your skin hydrated and soft[13] [14].
Just mix 1/2 teaspoon of coarsely ground oatmeal with 1 tablespoon of honey.

Add 6-8 drops of lemon juice and mix them well.

Apply the paste to your skin and wait for 15-20 minutes.

Scrub it in a circular motion for several minutes before washing it off.

Apply a moisturizer afterwards.
8. Wheat Bran
This is a nutrient-rich outer layer of wheat grain. Not only is it healthy[15], but it is also an excellent natural cosmetic product for making a variety of masks as well as scrubs. It may remove unwanted facial hair and eliminate wrinkles and fine lines effectively.
Method 1: Wheat bran and milk
Mix 1-2 tablespoons of wheat bran with 1 tablespoon of milk and 1 teaspoon of rose water.

Apply the paste to your face, rub gently in circular motions.

Scrub until the paste dries out completely.

Rinse it off with water.

Repeat this routine every day for several days, then do it 2-3 times per week.
Method 2: Wheat bran, gram flour, milk cream, and turmeric
TrueRemedies Partner Solutions

Need a Help from the Leading Expert Online, Available 24/7?
They're all here and ready to answer your questions online or by phone. Keep asking questions until you get the answer you need.
Mix 1 tablespoon each of gram flour, wheat bran, and fresh milk cream together.

Add ¼ teaspoon of turmeric to have a good paste.

Do similarly as the methods above.

Repeat this routine 2-4 times per week.

This process may help you to clear dead skin cells, remove facial hair, and make your skin glowing, smooth, and soft.
9. Potato
Potato is excellent in lightening the skin tone[16] and making your skin supple and soft. You can also try potato mask to remove facial hair and enhance skin health.
Take a potato and cut it into halves.

After applying some water to each half, rub it on your facial skin.

Repeat this routine 2-3 times per day for about 1-2 weeks.
10. Lavender And Tea Tree Oil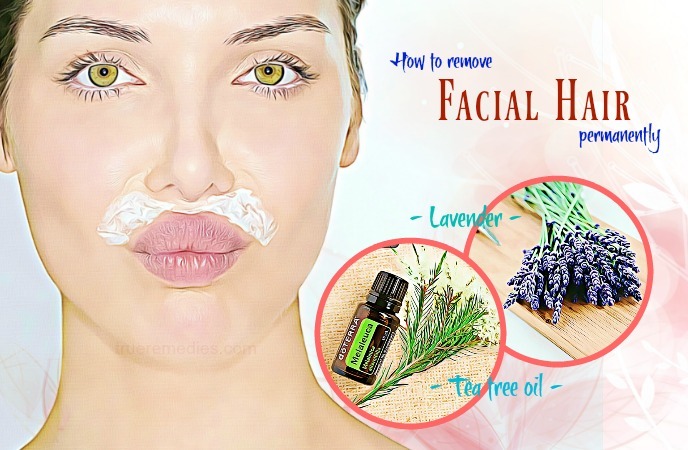 A 2013 study found that lavender along with tea tree oil may potentially be efficient in decreasing mild cases of "hirsutism," which is a condition of unwanted male-patterned hair growth in females[17].
Researchers of this study sprayed these oils on the affected skin area twice per day for 3 continuous months in a specific group of women while the other took a placebo. The results showed that there was a significant reduction in the hair growth of the controlled group. Thus, lavender and tea tree oil are considered wonderful treatments for unwanted hair on face.
Mix 1 teaspoon of lavender essential oil with 4-6 drops of tea tree oil.

Apply it to the affected areas twice or thrice per day.

Repeat this routine for a few months.
Note:
Tea tree oil may lead to skin swelling, irritation, dryness, stinging, itching, redness, and burning in people with acne-prone skin.

Avoid consuming and be patient with this method.
11. Alum And Rose Water
Traditionally, alum has been used by Asian women to help remove body hair[18]. This ingredient may be used as an after-wax product because it may soothe the skin. Remarkably, people with all skin types can use this method.
Mix 2-3 tablespoons of rose water with ½ teaspoon of alum powder to have a good paste.

Dip a clean cotton ball into the paste and apply it to your face.

Let it dry naturally

Rinse it off with water afterwards.

Apply a natural moisturizer.

Repeat this routine 5-6 times per day for healthy skin and 3-4 times per day for sensitive skin.
Note: Sometimes, alum may result in skin irritation and mucous membranes.
12. Indian Nettle And Turmeric
Indian nettle, if combined with turmeric, will penetrate your skin and thin the hair over time. The anti-inflammatory and antibacterial properties of turmeric[19] [20] make it a natural safeguard against skin allergies and infections.
Wash a handful of Indian nettle leaves and grind them to have a paste.

Add ½ teaspoon of turmeric powder and mix them well.

Apply that paste to your facial skin and rinse it off after a few hours.

Do this method once per day, preferably before going to bed and leave it there overnight

Keep doing this method daily for 4-6 weeks to remove unwanted hair.
Note: If you are allergic to any of these ingredients, temporary skin itching and irritation can happen.