6. Tea
Fungi spores are tiny that you do not notice when inhaling them or when they land on the skin. However, once they start to reproduce and show themselves as yeast infections, skin rash or athlete's foot, you are aware that your body hosts a fungal infection. Herbal teas may help you relieve skin fungus naturally because of its antioxidant properties[6]. Choose green tea for such effects. It may ease swelling, one of the common symptoms of skin fungus associated with inflammation. According to the University of Maryland Medical Center, each cup of tea may deliver from 50 to 150mg of antioxidants.
You may make use of black tea, oolong teas, or green tea because they have antioxidant compounds called catechins which are associated with the antifungal use. Using tea may help get rid of the symptoms of a fungal infection, such as swelling, sensation, and skin irritation.
Follow the steps below:
Method 1:
Soak several tea bags in warm water for 10 minutes. Remove and put them in the fridge for 30 minutes

Apply the cold tea bags on the infected areas. Repeat this treatment thrice per day until the problem
Method 2:
TrueRemedies Partner Solutions

Need a Help from the Leading Expert Online, Available 24/7?
They're all here and ready to answer your questions online or by phone. Keep asking questions until you get the answer you need.
For those with athlete's foot and toenail fungus, add 5 cups of black tea bags to 4 cups of boiling water for 5 minutes

Let the water cool down before soaking your affected areas in for 30 minutes.

Repeat this routine twice per day for about 5 weeks.
7. Chamomile
Chamomile is an effective natural herb that could be used to treat a lot of diseases from an upset stomach to eczema. According to some studies, chamomile has been shown as effective as 0.25% hydrocortisone cream for treating skin illnesses. Whilst not many studies have been conducted on the antifungal properties, many people use chamomile to treat external and internal fungal infection via methods like creams, teas, and poultices. In chamomile, there are some efficacious antifungal  compounds which give this herb the ability  to kill off yeast infections[7] [7']. Some chemicals include beta-sitosterol, alpha-bisabolol, geraniol, and perillyl alcohol.
When it comes to using chamomile as one of the home remedies for skin fungus, a great way is to make tea with dried herbs. What you need to do is:
Take a few scoops of dried chamomile, boil it in 3-4 cups of water

Strain it and drink it a few times per day to help allay intestinal yeast infections.
For vaginal infections, you could also use this tea as a douche to target vaginal infections. Or, simply place dried chamomile in the sitz bath and soak yourself in the solution to relieve skin fungus naturally.
Cautions: Here are some dosage notifications when using chamomile for fungal infections:
Tea form: take 3 cups of chamomile tea per day.

Tincture: just use ½ to 1 teaspoon of tincture

Capsule: follow exactly the directions on the package.

Regular bath: add a small number of flowers in your bathtub.

Douche: use tea if you are not pregnant.
8. Oregano Oil
This is a powerful treatment among home remedies for skin fungus you may apply at home. Oregano essential oil is steam-distilled from oregano plant's leaves. The aromatic, earthy liquid has highly concentrated properties of the oregano herb. Oregano oil is effective in treating fungal infection, but you had better check with your doctor before using it.
It is estimated that oregano oil has 71% of the antiseptic compounds which are known as phenols, including carvacrol and thymol, according to Drugs.com. Also, its antimicrobial property could be good for preventing fungal infections[8]. What  you have to do is:
Method 1:
Mix oregano oil with extra-virgin olive oil with a ratio of 1:1.

Apply the mixture over your affected area and wait for several hours before rinsing it off
Method 2:
Add 3 drops of oregano oil to 1 glass of water

Drink the solution twice per day
Method 3:
Take 1-2 capsules of this oil twice per day after having meals.
Cautions:
Because oregano oil is associated with promoting menstruation, pregnant women should not use this oil in any form.

Because the oil is potent, so ask your doctor before using this oil on your skin, particularly near the genital area for problems like yeast infections, jock itch, or diaper rash.

People with iron deficiencies should be careful when using oregano oil because it may temporarily impair the ability of the body to absorb iron.

Some people notice a small allergic reaction to oregano oil, in the form of rasheson the skin.
9. Olive Leaf
This is a powerful herbal remedy with effective antifungal, not to mention anti-parasitic, anti-viral properties[9]. Olive leaf contains antioxidant properties that are more powerful than vitamin C, E, green tea or grape seed extract. Olive leaf may stimulate the response of our immune system to unwelcome invaders such as candida. It may give our body a natural energy boost as well.
Take the steps below:
Method 1:
Take a few olive leaves to grind into a paste.

Apply the paste over your infected skin and wait for 30 minutes to rinse it off

Follow this treatment 1-2 times per day until the infection disappears.
Method 2:
Steep 1-2 teaspoons of dried or crushed olive leaves in a cup of boiling water for 15 minutes.

Strain the tea and drink 2-3 cups every day to improve your healing process
Cautions:
Olive leaf is powerful enough to make skin fungus subside quickly. It means that you should take a smaller dose at first. Also, drink plenty of water.

The effects of olive leaf on your body might cause some discomfort, but it is good news because it signals that the treatment is working.

Women who are pregnant or nursing, or taking medicine for high blood pressure or diabetes should not take olive leaves. If you doubt, consult your doctor first.
10. Turmeric
The identity of turmeric is beyond that of a regular spice. It is proven to be clinically proven pharmacological agent for a number of diseases and conditions. Curcumin is one of the most powerful compounds of turmeric which gives this ingredient the ability to cure many ailments. Curcumin has proven antimicrobial and antifungal agents[10]. A mixture of turmeric and honey is proven to act against some infections, including fungal infections. Moreover, its healing effects may facilitate fast recovery and prevent the fungal infection from recurring. Follow the guidelines below:
Method 1:
Extract the juice of raw turmeric root to apply over your infected skin area

Wait for 2-3 hours before washing it off with tepid water

Do this treatment twice a day for good results.
Method 2:
Boil 1 cup of milk added with 1 teaspoon of turmeric

Add a small amount of honey into and drink it till it is warm

Do this every day to improve your immune system and prevent further infections.
11. Cranberry Juice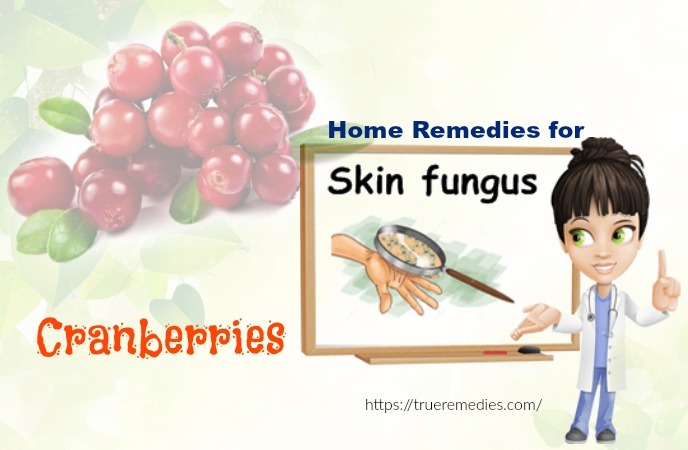 Although cranberry juice is known to be able to eradicate urinary tract infection s[11], it could also be used to reduce antibiotic use that causes yeast infections[11']. Cranberry juice has a substance helping prevent bacteria from clinging to mucous membranes in the urinary tract, mouth, and intestines. Also, cranberry juice may correct the pH levels of urine, thereby preventing the development of fungi. If you drink fresh cranberry juice, yeast will be flushed out of your body. But, select unsweetened cranberry juice because sugar may cause the infection to worsen as sugar breastfeed the yeast.
For those who do not like cranberry juice taste, choose cranberry pills as an alternative. These have similar effects as the juice. Take cranberry tablets 2-3 times per day. You may find these tablets at most natural health stores.
12. Hydrogen Peroxide
Hydrogen peroxide is a simple chemical compound, which is used to treat many ailments. One of the alleged uses of hydrogen peroxide is killing fungal infection.
Soaking your affected skin in hydrogen peroxide is good for your skin infection[12]. However, hydrogen peroxide might sometimes cause skin irritation. Thus, you need to dilute it before soaking your body in. What you have to do is:
Add 1 cup of hydrogen peroxide to 1 gallon of water

Soak your infected areas in the solution for 20 minutes each day

Do this method 2-3 times per day for 1 week till your skin fungus disappears.
13. Lavender Oil
The lavender essential oil is strong oil that may be used to combat the increasing incidence of antifungal-resistant infection[13]. The essential oil shows a potent antifungal effect against fungi responsible for common skin infections, according to a study published in the Journal of Medical Microbiology.
However, you should be careful when buying lavender oil because it is a commonly synthesized aroma, and many types of lavender oil sold out there have been adulterated with chemicals. Some even contain unwanted byproducts from the plants not grown organically. They could be toxic and might worsen fungal infections. You had better buy an only therapeutic grade, pure lavender essential oil, and avoid those cheaper ones, which might smell similar but do not have the same effects on health.
To make use of lavender oil as one of the home remedies for skin fungus, you may follow these guidelines:
Apply a few drops of lavender oil on your affected area twice per day

Wait for 20 minutes to rinse it off with tepid water.
Caution:
Be careful when using lavender oil because it is not just scent oil but having pure medicinal properties.
14. Margosa Leaves
Margosa, commonly known as neem, has attracted prominence for its wide array of medicinal properties. It is a medicated tree having innumerable benefits of health and skin[14]. Neem has been used extensively in Ayurveda and Homoeopathic medicine. There are over 140 compounds contained in different parts of neem. This herb has anti-inflammatory, anti-ulcer, antioxidant, antiviral, antifungal, antibacterial properties. You may use neem leaves or neem oil to help heal damaged skin and skin infections naturally. Follow the guidelines below:
Method 1:
Mix the extract of margosa leaves with 2 teaspoons of turmeric powder to create a good paste

Apply the paste over your infected area for 2-3 times per day to reduce burning and itching sensation associated with skin fungus.
 Method 2:
Boil neem leaves in water and use it for bathing.

Do this once per day for 1 week.
This will help you get rid of symptoms of skin fungus naturally without side effects. It helps get rid of bacteria at the private parts and remove body odor.
15. Aloe Vera
If you combine aloe vera gel and castor bean oil together, you will have one of the most effective home remedies for skin fungus. The green skin along with clear gel of aloe vera contains an array of amino acids, enzymes, and trace elements providing antiseptic, astringent, and anti-inflammatory properties[15]. According to a study in 2004, aloe vera may significantly inhibit the ability of fungi to spread. This was the first time antifungal abilities of aloe vera had studied officially.
You may mix fresh aloe vera gel with castor bean oil with the ratio of 1:1 and apply it over your infected area. That way, skin rashes and itching associated with skin infections will be reduced. You could also consume aloe vera juice on a regular basis to promote the healing process.
16. Ginger
Ginger is not only a cooking ingredient but also a solution for many diseases. It could be used for many skin issues, including toenail fungus or jock itch. Ginger has antifungal properties, making it a potential treatment for candida and other conditions. Studies reveal that ginger root contains some ingredients which possess antifungal properties, with gingerol and shogaol being the most effective[16].
What you need to do to take advantage of ginger as one of the home remedies for skin fungus is:
Mix ginger tea and add some honey into to get a good solution for skin fungus.

Consume this solution 3-4 times per day for 1 week to get your desired results.
Cautions:
Ginger is safe for most people. It means that ginger should not cause any side effects as long as it is used in reasonable quantities. However, some possible side effects of ginger root could be heartburn, bloating, rashes, gas or nausea.

People with gallstones, inflammatory bowel disease, intestinal blockages, and ulcers should not use ginger too much to avoid experiencing adverse reactions.
There is no evidence for the below information and homemade recipes. So, they have not yet been confirmed or reviewed by any expert. These additional home remedies are collected from some highly appreciated sources. Give them a try.
17. Epsom Salt And Baking Soda
Epsom salt, also known as magnesium sulfate, is a chemical compound made up of oxygen, magnesium, and sulfur. Soaking in Epsom is widely used as a treatment for infections. Although Epsom salt could work well to treat outer infections, it should not be ingested. Consumption of Epsom salt could cause magnesium overdose, which might lead to death. Soaking and bathing in Epsom salt might increase the magnesium level within your body through the skin, but not enough to increase the risk of magnesium overdose, thereby making Epsom salt a safe treatment for outer infections. You may use Epsom salt only or combined it with baking soda to get good results:
Method 1: Epsom salt only
Fill your bathtub with warm water. Remember that hot or warm water will bring toxins close to the skin surface, thus treating outer infections. The hotter the water is, the better it is.

Add 1 cup of Epsom salt to the water; stir it well till the salt is dissolved.

Soak your affected areas in this solution for 20 minutes or so

Rinse it well with water and pat dry.

Apply body lotion or oil to the area because it may be very dry.
Method 2: Epsom salt and baking soda
Mix baking soda and Epsom salt with the ratio of 1:1 (1/2 cup each)

Add them to the bath water and soak yourself in the solution for 15 minutes daily to remove skin fungus.

Rinse it off with plain water, pat dry and apply virgin coconut oil onto the area.

Dust, a small amount of baking soda powder every hour and your infection, will be relieved soon.
18. Clove Oil, Olive Oil, Epsom Salt, Apple Cider Vinegar And Tea Tree Oil
Fungal infections are uncomfortable. Damp, dark environments are a breeding ground for fungi. Once built, skin fungus could be hard to remove. The combination of some mentioned-above ingredients could create one of the best home remedies for skin fungus. Follow the recipe below:
After washing the affected area with warm water and mild soap, scrub lightly with a clean towel to remove dirt or debris. Rinse off with water.

Mix dry basil powder with a small amount of rosewater to have a good paste

Apply the paste over your skin twice per day for 1 week to see good results.
Also, consumption of basil leaves on a regular basis could provide your satisfying results.
19. Fig Leaves
Fig leaves are rich in flavonoids, anthocyanins, polyphenols, making this plant great for fighting free radical damage and oxidative stress. According to a study, consuming fig may help increase immunity and protect the body from different diseases.
Apply the juice extracted from fig leaves on your infected area to get relief from skin infections. This should be applied twice per day for 1 week or so to get your desired results.
20. Licorice Powder
Licorice has long been used to treat many health maladies for a long time. It is used in Ayurvedic as well as other traditional medicinal practices. Even western medicine has utilized this medicinal herb for various diseases. Licorice root has antifungal and some other chemicals that disrupt the fungus. That is why it is one of the home remedies for skin fungus.
Mix 4 teaspoons of licorice powder with 2 teaspoons of warm water to get a good paste

Apply the paste over your infected area to reduce stiffness and itching associated with skin fungus.
21. Lotus Flower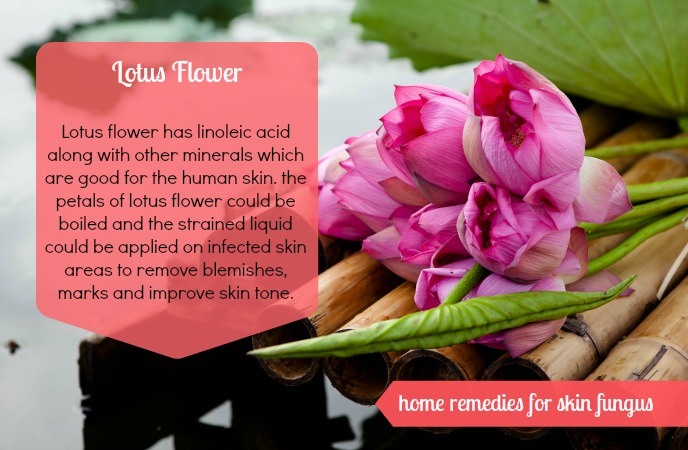 Lotus flower has linoleic acid along with other minerals which are good for the human skin. the petals of the lotus flower could be boiled, and the strained liquid could be applied on infected skin areas to remove blemishes, marks and improve skin tone. Lotus with its antibacterial and antifungal properties is used in many facial packs and creams.
What you need to do is:
Mix a small amount of lotus flower with milk

Apply the mixture over your infected area twice or thrice per day to cure skin fungus.

Do this method for at least 15 days to treat the problem well.
There, you have known top 21 natural home remedies for skin fungus which just use easy-to-find ingredients. Plus with these remedies, having good hygiene habits is necessary to avoid further fungal infections. If after using these remedies, your infection still gets severe, consult your doctor.
For further home remedies for other diseases, refer our Home Remedies Category. Leave your words below this post to share your ideas with us about this topic of Home Remedies for Skin Fungus. We will feedback as soon as possible.
Pages: 1 2