St. John's Wort is a genus of yellow flowers used to make tea, as a pill or ointment for treating many health problems, including mental disorders, neuropathy, and malaria. This herb is also used as a sedative, ointment for wound, burn and insect bites. Today, St. John's Wort is most commonly used to treat depression.
Surely you are wondering what St. John's Wort benefits are. The article below will give you full information about what it can do. But first, read some important things about St. John's Wort so you will know how to use it properly.
What Is St. John's Wort?
St. John's Wort (or Hypericum Perforatum) is best known for its anti-depressant effect. This herb is often known as St John's Wort, Common Saint John's Wort and St John's Wort. It is the No. 1 herb in Germany and is being researched by the Commission E (Germany).
St. John's Wort is a plant with bright yellow flowers and some black spots along the edge of the flower (depending on species). The leaves of St. John's Wort have transparent dots. Each St. John's Wort flower has 5 petals.
This herb is planted in sunny fields and pastures. Its flowers usually bloom at the end of June to early September. You should preserve the dried flowers in glass containers with airtight. Dried St. John's Wort flower can preserve up to one year.
St. John's Wort has been used as a cure for its anti-depressant and anti-inflammatory properties for over 2,000 years. The Greek doctors of the first century suggested the use of St. John's. John gives its medical value, and the ancients believed the tree had mystical and protective properties [1].
TrueRemedies Partner Solutions

Need a Help from the Leading Expert Online, Available 24/7?
They're all here and ready to answer your questions online or by phone. Keep asking questions until you get the answer you need.
This herb contains a variety of chemicals, including hypericin, hyperforin, and pseudoephedrine, which help fight depression. In many laboratory studies for animals and humans, St. John's Wort shows the ability to inhibit or reduce re-absorption of dopamine, norepinephrine and serotonin neurotransmitters in nerve cells.
How To Grow St. John's Wort?
You can buy seeds to grow your own St. John's Wort. Sow the seeds in early spring, after the last frost season. For safety, you should sow the seeds first and then take them out in the late spring, when the plant is about 5 cm high.It is not until the second year that flowers bloom.
If you need to use St. John's Wort right now, it's best to go out to buy dried flowers. Besides, if you do not want to grow or harvest St. John's Wort, you can buy dried flowers at the store or buy online. Then, you can use flowers to make tea or oil. Buy organic and harvested crops in the previous year.
How To Use St. John's Wort?
You can make St. John's Wort oil as the steps below:
Put St. John's Wort flowers into a glass jar

Add olive oil

Place the jar in a sunny window for 2-4 weeks until the oil turns red

Then, use a filter to separate flowers with oil

Pour the oil into a bottle and store it in the refrigerator
The oil can be stored for one year.
You can also use St. John's Wort for making tea. Here are instructions:
Prepare 1/4 cup of fresh St. John's Wort to make tea

If you use dry flowers, you only need 2 teaspoons

Pour a cup of boiling water over the flowers and wait about 5 minutes

Remove the flowers to get tea

You can add honey and lemon to enhance the taste
St. John's Wort is also commonly taken in liquid form or capsules. The usual dose is 300-400 mg once, three times a day. You always need to read the label to know how much St. John's Wort is in each capsule. Besides, read the list of sub-materials. Functional supplements often contain other ingredients and you should buy the purest one.
Do not consume St. John's Wort of different forms at the same time. For example, do not take a capsule dose after taking a liquid dose. Purchasing a product from a recommended brand will help ensure that the capsule is formulated appropriately. You should buy hypericin or hyperforin products listed on the label. These are active substances in St. John's Wort is the most studied.
Quality of functional food products from St. John's Wort may be different. Functional drugs are not administered like drugs. For safe and quality products, you should only buy St. John's Wort from the brand has been tested by independent commercial laboratories. The following brands meet all the required quality standards:
John's Wort of CVS Pharmacy

Kira® St. John's Wort Lichtwer Pharma Exclusive LI 160® Formula

Perika St. John's Wort by Nature's Way

John's Wort by Rite Aid

John's Wort Extract by Vitamin Shoppe
What Can St. John's Wort Interact With?
This herb affects the resolution of certain medications. In some cases, it can increase or decrease the rate of decomposition. St. John's Wort may interact with:
Antidepressants

Birth control pill

Cyclosporine prevented rejection

Digoxin boosts the ability of the heart muscle

Warfarin and other anticoagulants

General anesthesia used in surgery

Indinavir and other drugs used to control HIV

Irinotecan and other drugs used to treat cancer

Drugs that control seizures like Phenytoin and Phenobarbital
Who Should Not Take St. John's Wort?
Do not take St. John's Wort if you are pregnant. Besides, do not take this herb if you are looking to get pregnant as it can damage the eggs. If your mood fluctuates during pregnancy, talk to your doctor before using St. John's Wort. Also, ask your doctor whether this herb is safe when breastfeeding because it can negatively impact the baby.
What Are The Side Effects Of St. John's Wort?
You should not use St. John's Wort along with birth control pills, anti-seizure medications, and antidepressants. If you are taking any of these medicines, consult your doctor before using St. John's Wort.
In addition, St. John's Wort is an MAO inhibitor, so do not use the foods that contain Tyramine, such as cheese, red wine, preserved meat, and yeast extracts.
St. John's Wort oral and topical forms may leave skin sensitive to sunlight or artificial light in the solarium. Some evidence also suggests that St. John's Wort increases the risk of cataracts and increases the sensitivity to the light of the eyes. If you use St. John's Wort, you should use sunscreen and eye protection when exposed to the sun or artificial light when sunbathing.
Some other side effects when taking St. John's Wort includes dizziness, drowsiness, dry mouth, headache, irritability, and stomach pain.
In addition, there are very few cases of Serotonin syndrome when taking St. John's Wort. Uncontrolled serotonin syndrome can lead to coma, convulsions, and death. Symptoms of Serotonin syndrome are confusion, excitement, fever, hallucinations, muscular weakness, nausea, restlessness, tremor, sweating, and vomiting.
The above is some basic information about St. John's Wort. Hopefully with this information, you may have the most comprehensive view of this herb. Now is the time to find out its best benefits. Please take a look at TrueRemedies.com!
Top 10 Unknown St. John's Wort Benefits For Health And Skincare
1. Treat Depression

Treating depression is the most well-known use when it comes to John's Wort benefits for health.
Indeed, depression treatment is a primary use of St. John's. John's Wort. You should first know the value of using St. John's Wort works as an antidepressant to determine whether it is suitable. Some scientific evidences suggest that this herb is useful for treating mild to moderate depression, but is not effective in severe depression.
In 29 international studies, this herbal supplement was found to be more effective than a placebo and as effective as the standard drug used for the treatment of mild to moderate depression.
Neurotransmitters are chemicals that carry messages from nerve cells to other cells. Normally, when the message is transmitted, the neurotransmitters are reabsorbed and inactivated by the cells which secrete them. Chemicals in St. John's Wort can retain these antidepressant neurotransmitters for the body to use. St. John's Wort also combats mood swings and anxiety and work in delivering extra pleasure and energy [2].
If you are suffering from other mental disorders (such as bipolar disorder) besides depression, St. John's Wort can cause some issues like hallucinations, confusion, blind beliefs, and delusions.
The recommended dosage for treating depression is 300 mg. John's Wort/ times, 3 times a day with meals. Read the capsules or tablets label carefully. The product should be standardized with 0.3% hypericin extracts. Hypericin, which is active in St. John's Wort, acts as an antidepressant. It will take about 3-6 weeks for the herb to take effect. If you want to stop taking St. John's Wort, you should stop slowly, don't sudden stop to avoid side effects.
Be careful if you use St. John's Wort with anti-depressant drug. If you use them at the same time, serotonin levels can be increased to insecure levels. Symptoms of serotonin syndrome include tremors, diarrhea, muscle stiffness, decreased body temperature, severe confusion, and even death. In addition, using them together also reduces the effectiveness of the drug.
Let your doctor know you intend to use St. John's Wort for treating depression. Untreated depression can become serious and make you want to commit suicide. If St. John's Wort is not the right choice, there are still plenty of effective remedies and cures that can help.
If you do not feel comfortable, go to see a natural therapist. He trained in the use of herbs to improve health, so he has experience in treating depression with St. John's Wort. You can ask your doctor for a referral to a natural therapist.
2. Fight Inflammation And Skin Irritations
St John's Wort has anti-inflammatory and antibacterial properties so it can treat eczema, wounds or minor burns, skin irritation and hemorrhoids. When used, it rapidly penetrates the skin cells, removing the virus and pathogenic bacteria. Several experiments have shown that St John's Wort is capable of improving skin conditions after less than a week of use.
St. John's Wort contains a variety of antioxidants and anti-inflammatory properties to help relieve pain in arthritis, gout, and myalgia. In addition, St. John's Wort not only helps reduce inflammation of the intestinal tract but also reduces inflammation in the cardiovascular system, which can help regulate blood pressure and reduce heat stress.
This herb also helps to treat burn, bruise and scratches by stimulating the circulation of oxidized blood to damaged skin cells.
To use it, all you need to do is:
Cleanse the affected skin area

Apply St John's Wortoil to this area

Massage gently for 2-3 minutes to allow the oil to penetrate the skin

Leave it on the skin for at least 30 minutes
Do this 2-3 times a day to get the best results.
3. Relieve Premenstrual Syndrome (PMS)
Treating premenstrual syndrome is one of little – known St. John's Wort benefits.
Human physiology in general, the woman, in particular, has gone through many stages, including the premenopausal stage. During pre-menopause, women often experience menstrual irregularities. At the same time, menstruation also becomes erratic. Gradually, the amount of estrogen released is too little, causing the endometrium to fall off and lead to menopause.
St John's Wort can help relieve some premenstrual symptoms (both physical and mental) such as spasms, irritability, appetite, and hardening of the chest. Add 300 mg of St. John's Wort daily to relieve symptoms and stop taking it when symptoms disappear. The combination of Black Cohosh and St John's Wort can help ease mood and reduce anxiety during menopause.
4. Treat Soma Disorders
The next one in this list of unknown St. John's Wort benefits is treating soma disorders.
Soma syndrome is a feeling of pain or fear of no cause. Everyone is worried about his or her health at times, but for some people, the fear of illness is very strong, even when he or she is in good health. They feel it is hard to cope with their daily lives.
You may feel sick even if the tests and health tests are negative. Supplement 300 mg of St. John's Wort, twice daily to relieve symptoms.
5. Treat Some Diseases Caused By Viruses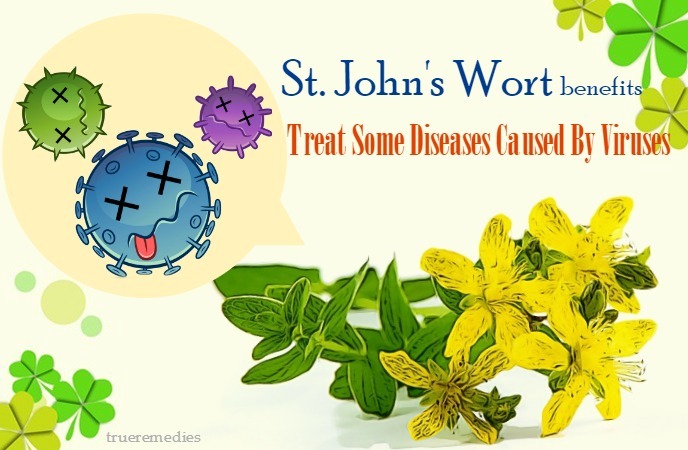 The next benefit in this list of St. John's Wort benefits is treating some diseases caused by viruses.
Antiviral activity of St. John's Wort is being studied for the treatment of HIV / AIDS, hepatitis C, and other viral diseases. Scientists believe that hypericin, pseudoephedrine, and other chemicals in St. John's Wort can attach to the surface of the virus and prevent them from attaching to the cells.
The researchers also point out another theory that St. John's Wort contains chemicals that interfere with the production of the virus. Other active viruses are strongly enhanced when exposed to light. However, the too high dose can reduce the use of it. Therefore, you should consult your doctor about the appropriate dose to get the best results.
According to recent research, St. John's Wort is resistant to certain viruses, thereby preventing and reducing the risk of AIDS and hepatitis. However, for antiviral use, St. John's Wort is very high in the dosage which can cause many unwanted side effects.
6. Regulate The Balance Of Hormones
In addition to treating and preventing depression, St. John's Wort can regulate the hormonal balance in the body, thereby enhancing metabolism, stabilizing the circadian clock, treating insomnia, irritability and chronic fatigue.
In addition, this herb also has the effect of inhibiting and eliminating stress hormones in the body. Removing chronic stress hormones improves health and cognitive function as these hormones can permanently alter the body's systems.
Active ingredients in St. John's Wort are very effective in regulating hormones. St. John's Wort is thought to help balance the thyroid hormone secretion while reducing the symptoms of thyroid disease – one of the most common thyroid disorders [3].
It is important to note that the dose of St. John's Wort depends on your condition, so consult your doctor before using this herb.
7. Relieve Pain During Pregnancy
One of unknown St. John's Wort benefits for health is the ability to relieve pain during pregnancy.
Pregnant women often suffer from hemorrhoids or muscle tension. The reason is that during pregnancy a large amount of calcium is taken from the mother to the fetus to develop the fetal system in the fetus leading to reduced maternal blood calcium levels. In many cases, being poorly diagnosed and treated affects the health of both mother and baby.
Although using the St. John's Wort food supplement during pregnancy is not recommended but pregnant women can still use this herbal in the form of ointment or patch to relieve the pain [4].
8. Improve Mood During Menopause
Menopause is the transition period from middle age to old age. This is a very long process. Often this period starts at the age of 40, lasting several years before the last menstrual period, averaging about 10-20 years. During menopause, mood changes are unavoidable. Then, women are more likely to feel overly happy or sad than for no reason.
St. John's Wort has been tested as a herbal remedy for relieving menopausal symptoms. In a study published in Advance in Therapy conducted in Berlin on 111 women ages 43 to 65. The researchers gave them a 900-milligram tablet three times daily. All of them are experiencing specific symptoms of menopause. As a result, after eight to twelve weeks of treatment, their menopausal symptoms were almost completely improved [5].
In addition, their sexual well-being status improved after treatment. This suggests that John's Wort is very active in the treatment of menopausal symptoms.
9. Prevent Cancer
Cancer is a group of diseases that reflect the cellular change in function, quantity, and fertility. When it comes to triggering cancer, normal cells do not follow the body's control mechanisms but become mutated. They inflate indefinitely and invade locally or distantly to other organs through lymph or blood vessels [6].
Many studies have shown that St John's Wort can block the growth of cancer cells and treat both benign and malignant cancer cells. Because St. John's Wort has remarkable anti-cancer activity, researchers say that it is an effective cancer treatment. As it is a natural herb, its use becomes easier than ever.
The results of a study conducted in 2003 in Spain show that hyperfori, a derivative of St John's Wort, is a compound that blocks important events in vascular formation and growth of cells. This shows the role of this compound in preventing cancer and in suppressing metastases, making it a useful drug in the treatment of angiogenesis-related pathologies.
10. Improve Symptoms of Obsessive Compulsive Disorder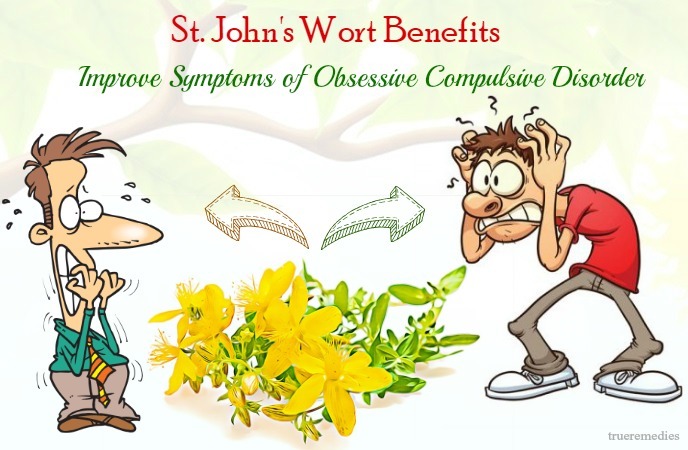 Improving symptoms of obsessive compulsive disorder (OCD) is worth mentioning in regard to St. John's Wort benefits that we want to mention in this article.
Obsessive compulsive disorder is a mental disorder. When this condition occurs, the patient will perform certain habits and cannot control their thoughts and activities. This may be a debilitating condition, so the studies show the positive effects of St John's Wort.
A study conducted at the Health Education Research and Education Foundation analyzed 12 patients diagnosed with obsessive compulsive disorder. These patients were treated for 12 weeks at a fixed dose of 450 milligrams of 0.3% St John's Wort twice daily.
Using St John's Wort to treat obsessive compulsive disorder can cause some side effects such as diarrhea and restlessness. Because the improvement began after a week and developed over time, John's Wort can be a useful ingredient in the treatment of obsessive compulsive disorder.
11. Ease Withdrawal Symptoms
Among St. John's Wort benefits, this may be lesser-known. It was indicated that using this herb could be helpful in relieving withdrawal symptoms and cravings after quitting alcohol, cigarettes, and other addictive substances. This is very beneficial because the recovery from abuse or addiction is really challenging [7].
12. Good For Skin
Using St. John's Wort in the form of a tincture or salve can help speed up the healing process of bruises, burns, and scrapes by enhancing oxygenated blood circulation to the damaged skin cells [8].
Above are the benefits of St John's Wort. With this information, you probably know better about this herb as well as the ways to use it properly. If you have any contributing ideas about our article of "Top 10 Unknown St. John's Wort Benefits And Side Effects", do not hesitate to drop your words below this post. We will answer as soon as we could.
For more helpful information about other foods, visit our category of Superfoods here.