Bath time is a great chance to create a bond between a parent and their baby or toddler. It is interesting and enjoyable when you watch your baby squirm, splash, and play with bubbles. Most kids feel interested in bath time and the truth is that bath time for a baby and the parent is a whole different ball game. However, the bath time with baby can result in plenty of risks. For example, wet babies are slippery, and they are likely to fall. Furthermore, you have to keep your baby's mouth and nose above water as drowning is one of the causes of accidental death in most one to four-year-old kids. There are a lot of things you should consider during the bath time with the baby such as soaps, water temperature, and even how much water used for the bath. To make bath time fun and safe for you and your babies, the key is being prepared, present, and attentive. According to Dr. Thomas Phelps, who is a well-known pediatrician at the Cleveland Clinic Children's, more engagement creates safety while distraction comes with more challenges.
Bath Time Dangers For Babies Under Four Years Old All New Parents Should Know 
Here are the common bath time dangers for babies under four years old all new parents should know. Some of these things can make babies sick or uncomfortable, while some can even lead to death. What is the best we can do for your babies as a good parent? This article will help you know.
1. Bathing More Than Three Times A Week 
Most new parents think that not bathing their baby is not a good thing. However, bathing the baby too often is also a bad idea.
Bathing the baby three times a week is ideal. Bathing your infants less than that will increase the risk of rashes, infections, and being super stinky. However, bathing too much can lead to the baby's illness, dry skin, and skin irritation. The baby does not need taking a bath too much until they start crawling and eating.  This is because babies at a young age do not sweat that makes dead skin to build up. The older they become, the dirtier they get.
So, the older baby can have more baths than infants. It is recommended to write down or make a schedule for bath time for baby so that you don't bathe your little love too much or too little.
2. Fill The Tub With Too Much Water 
Never fill the bathtub with too much water because of its dangers such as drowsing. Furthermore, the best way to give your baby a bath is placing in his own tub.
TrueRemedies Partner Solutions

Need a Help from the Leading Expert Online, Available 24/7?
They're all here and ready to answer your questions online or by phone. Keep asking questions until you get the answer you need.
When you bathe your baby with the regular bathtub, you should use enough water to cover your baby's feet and bottom. In the case of using their own bathtub, you can fill the bath with water about one inch or two. Furthermore, the best way for bath time for your baby is to bathe him in the bathroom sink.
3. Leave The Bathroom 
Never leave the bathroom and make a bathing baby unattended, as infants, babies, and toddlers require constant attention and watch. So, it is absolutely a bad idea to let your baby alone for one or two minutes.
Babies at under four years old can fall over and bump their head, leading to threatening consequences. Furthermore, if you fill the tub with a lot of water, leaving your baby in the bathroom alone will put him at the risk of drowning. It is one of bath time dangers for babies under four years old. No parent wants an accident to happen to the baby, right?
4. Test Water Temperature Incorrectly

 
It is important to check the water carefully because hot water can result in detrimental damage to babies. To test water temperature in the bathtub correctly, you can use a thermometer, elbows, or wrists. Furthermore, swirling the water round will give the bathtub mild temperature.
Make sure that you bathe your babies and children with lukewarm water. Avoid cold and hot water.
5. Do Not Secure Your Baby 
It is recommended giving your infants a baby tub or bath seat, especially when you want to wash your infant. The baby needs to be secured in the bath seat without sliding out of your grasp or moving around.
Keep in mind that the baby's skin is slippery. So, when they move around, your baby can slip out of easily and get a risky situation.
To prevent the bath time dangers for babies from happening, you need to keep your baby secure and safe in their own bathtub or bath seat. Of course, you can place your baby in the bathtub but ensure that your grip is strong enough to keep your baby.
6. Using Overly Scented Washes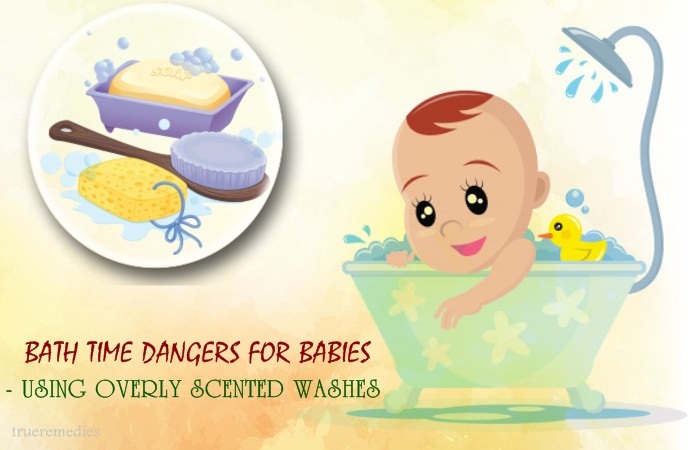 The babies' skin is more sensitive than adults', so it can be broken out very easily. Like the wrong food or milk, the chemical-based products like overly scented washes can lead to an allergic reaction and many problems with your child.
In these products, there are ingredients causing irritation in a baby's skin such as alcohol, highly fragrant chemicals, mineral oil, formaldehyde-releasing preservatives, formaldehyde, phthalates, fragrance, octinoxate, parabens, ethanolamines, benzophenones, and nitrosamines.
For safety, it is recommended choosing the products designed specifically for baby's skin. It is great to stay away from the products that cause allergic reactions in babies. Oftentimes, if you do not know whether your baby is allergic to certain ingredients, it is best to avoid scented lotions, soaps, and perfumes.
7. Do Not Dry Your Baby Completely
After giving your baby a bath, make sure that you dry him completely. This is because the wet problem will make your baby sick and lead to skin irritation caused by water or soap remaining on the skin. Soap residue leads to the red bumps, and your baby will feel itchy to scratch the skin.
Water residue also leads to dryness to the skin and causes irritation. Furthermore, when your baby feels bad, they cannot talk to you about the problem but he will scream and cry only, which will make you stress.
Therefore, after you bathe your baby, you have to make sure that the soap is rinsed off completely and your baby is also completely dry with the use of a towel. This towel should be soft enough for the baby's skin.
To dry your baby completely and easily, you can put your baby to lie on a flat surface to ensure his neck and head are supported correctly. Avoid the weak or uneven surface because they can make the baby uncomfortable and lead to injuries.
8. Do Not Prepare All Supplies Before The Bath 
This is the common mistake of new parents. For the bath time with baby, the useful advice for every parent is to ensure you prepare everything before and place them in reaching distance so that you can grab these supplies easily while keeping one eye on your baby.
The reason for that is if your baby is unattended when you turn around and grab something, he will easily slip or fall, facing the dangerous situation because he is wet and your grip will be loosened at any time.
Furthermore, always prepare the soft towels to dry your baby as soon as you finish the bath time because waiting too long for dry your baby will make your baby get sick or catch a cold. It is one of the common bath time dangers for babies.
9. Add Too Many Toys To The Bathtu

b 
Many parents love to watch their babies enjoy playing with multiple toys in the bath and in the bathroom; so, the result is that not a few parents add too many toys to the bathtub, which could be a serious hazardous.
The first reason is that toys will make your baby distracted, and when they reach out to get the toys,  they will easily get away from you and face the slipping situation.
Furthermore, when you place the toys outside the tub, the baby and toddler can try to climb out to get their toys. That may end in falling or injury because the baby is wet and the floor is completely slippery. Besides, toys can be wet for hours unless you place them somewhere to make them dry quickly. The wet toys may leave water on the floor, the baby's bed, and crib, and it increases the risk of injury to the baby.
10. Take A Bath With Your Baby 
Some parents may think taking a bath with your baby is the safe way to ensure their baby cannot get into any dangerous situations while others just enjoy the fun and interesting moments with their baby. However, in fact, it is one of the bath time dangers for babies under four years old all new parents should know, especially if you have infants. The reason is that the infant's skin is very sensitive and using regular soap, creams, or bubble bath can cause irritation to your baby's skin.
Furthermore, your skin and hair on your skin also irritate the baby's skin. Even the dirt from your skin can lead to irritation to the baby.
Even when you get in and out of the bathtub, it can be a hazardous thing. Taking baths with your baby isn't as safe as falling and slipping is always a common issue when parents take a bath with their baby.
11. Do Not Remove The Soap From The Baby's Hair Completel

y 
When you rinse your baby's hair, make sure that you do not leave any soap or conditioner on their scalp because that will result in irritation, lack of hair growth, and hair loss. Like the baby's skin, the scalp is so sensitive and tender.
To rinse the soap off from the baby's scalp, you need to pour a cup of warm water slowly over the baby's scalp.
It is important to ensure that the water does not get into their ears, eyes, or nose. You can also wash the baby's scalp using a soft sponge but make sure the material of sponge won't irritate or harm the baby's skin.
However, keep in mind that all babies or kids need washing their scalp. For instance, a very young infant does not need a scalp or head washing. The baby at six months or under does not need washing their scalp and head with soap.
12. Bathe The Baby In An Unclean Tub 
No one wants to bathe in an unclean tub. So does the baby. Moreover, bathing the baby in an unclean tub is one of bath time dangers for babies, resulting in threatening problems. For example, because the immune systems of the baby are not as strong as adult's immunity, the debris breeds germs and dirt will easily cause infections and illnesses for the baby.
Furthermore, the baby's skin is more sensitive; therefore, exposure to germs and dirt can lead to irritations to the baby, and this problem is difficult to treat.
Therefore, it is important for you to make sure that the bathtub and bath seat is completely clean before placing your baby in it. It is recommended using a clean, soft paper towel, or towel with liquid detergent, soap, baking soda, rubbing alcohol, and hot water to remove all the elements causing the irritation to the baby's skin.
If you have a newborn baby, you can clean the bathtub with chemicals that do not have any side effects. Furthermore, ensure the baby's bath seat is free of dust before taking your baby a bath.
13. Leave Your Baby In Water Too Long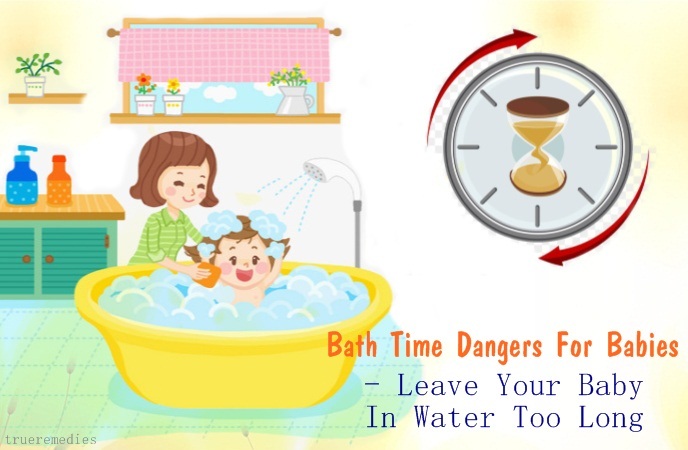 Do not leave your baby in water too long because it can make the skin dry and lead to skin irritations and even injury. When a newborn stays in the water for a long time, there is damage to the navel area, causing the skin to become stretchable.
Furthermore, being in the water too long can cause hypothermia, a cold, sickness, and heat loss in the baby. Therefore, you should not leave your baby for more than 5 to 10 minutes.
14. Use The Q-Tips 
Many parents may think that using the Q-tips is the safest and quickest way to clean the baby's ears; however, Q-tips is dangerous to the baby because it can puncture the eardrum and the Q-tips may be broken off and leave the cotton in the baby's ears.
So it is important for you to avoid the Q-tips when you want to clean the baby's ears. The best choices are to use a cotton square, a dry washcloth or a tissue to dry the ears out.
Many parents want to get rid of ear wax they see in the baby's ears. However, there is no need because the wax protects the baby's ears from bacteria.
Another reason why you should not use the Q-tips is that the baby's ears are sensitive so that you should handle their little ears with care.
15. Scrub
Many parents do not remember how sensitive and fragile the baby's skin is, especially when you bathe your baby. When washing your baby, it is recommended using a bath sponge and avoiding applying a lot of pressure. Instead of using the regular washcloth, the better choice is a baby washcloth or your hands to wash your baby.
If you have a baby at a very young age, you should pour a cup of water over the baby's skin to rinse the dirt off, which is better than putting the baby under the faucet or shower.
It is understandable that scrubbing the baby cradle cap is tempting to some people. But we advise you to meet your doctor before treating the cradle cap tissue on your own. Because the baby has very sensitive skin, you need to treat it with care.
16. Do No Select The Safe Bath Toys 
Bath toys may harbor germs and mold. In the market, there are various bath toys that come with super beautiful and adorable designs and feature; however, it is best to avoid the ones with holes in them. If you like to watch your baby play with toys during the bath time, the best and safest choices are growing sponges, bath letters, or toys without holes. Keep in mind that adding too many toys in the baby's bathtub or on the floor of the bathroom is not a good idea. So, you can let your baby play with their toys during the bath time but not too many.
Before the bath time, remember to clean and dry the toys completely. It is recommended using peroxide and hot water to get rid of any bacteria inside.
Keep an eye on your baby because babies tend to put everything in their mouth and I am certain no one wants the baby sucking in germs and mold from the dirty toys, right? It is the common bath time dangers for babies, but not many parents can notice that.
17. Rush The Bath Time
Even though you are busy, it is still important for you to ensure you give your baby enough tub time to make them completely clean. Rushing bath time can make you skip over the baby's body parts.
Furthermore, rushing the bath time will make it difficult for the baby to play, splash around, and bond with dad or mom during bathing that is important for the baby's well-being and development.
Moreover, bathing is also the time the baby gets used to the water. But if you rush the bath time, you are taking away from that opportunity.
18. Use A Ring And A Bath Seat Too Early 
Although the bath rings and seats seem they are safe, they will be dangerous if used improperly. For example, using a bath ring or seat too early will make the baby tip over, causing your baby's face to submerge in the water.
Therefore, it is not okay when you put kids and babies under one year old in a ring or seat. The best way to keep their baby safe is to use your arms to support him securely.
19. Skip Childproofing For The Tub
In the bathroom, tub bottoms are slippery; therefore, it will be a real danger to slippery, wet kids. Toddlers are constantly flopping and squirming, especially when the bath with soapy water becomes more slippery. Therefore, it is easy for the baby to fall and pump the head, causing injury. It is recommended using the soft rubber cover for the tub to prevent that accident from happening.
Bathing your baby can be extremely beneficial, but what you can do to maximize its benefits is important. We hope that the article about common bath time dangers for babies can help you reduce the risk and receive the benefits of the bath time with the baby. Any questions can be left in the comment section in TrueRemedies.com, and we will answer them as soon as we can.