Today, life is busy. People, especially those who are parents, seem overloaded with work and life responsibilities. This causes a common problem in most modern families that parents do not spend enough time on being with their children. Some parents even feel guilty due to not being able to pay attention and take care of their children as they deserve.
According to a study published in the Journal of Marriage and Family, the influence of how much moms spend time with their children is associated with the academic achievement, emotional well-being, and behaviors of the children[1]. It is true when saying that children need quality time from their parents and caregivers since it benefits them the most and impacts on their growth in the future. Some other benefits of spending quality time with your child include:
Deepening your empathy for your child

An improvement in the relationship between parents and children
Are you worried that you are too busy to spend a whole day with your child? Stay calm! Know that spending quality time with your child does not mean that you have to spend endless hours of your day with them, but it is about the way you choose to spend time with your children. It really makes sense since it is very important for children's happiness and development.
As a parent, how much quality time you spend with your child and how?  To help you know how to spend quality time with your child effectively, we from TrueRemedies.com reveal the top 10 ways to take actions today. Let's check it out!
How To Spend Quality Time With Your Child Today – 11 Ways 
1. Connect With Your Children Daily
This daily connection should be made face-to-face to deliver the best effects. Nevertheless, in case you cannot do it, you could make some changes by leaving a note on the fridge or in the lunch bag of your child.
2. Have One-On-One Time
Regarding the best way on how to spend quality time with your child, spending alone time with him/her is best. This time should be for doing something that you two both love to do, like going to the cinema, visiting the local theatre to watch Cinderella, taking a walk, or sitting on a bench at the park and talking.
TrueRemedies Partner Solutions

Need a Help from the Leading Expert Online, Available 24/7?
They're all here and ready to answer your questions online or by phone. Keep asking questions until you get the answer you need.
You can do it whenever you have spare time, but it is advised to do it at least one per month. If you have many children, making a schedule will be a good idea, which also shows your children that you prioritize the time for them and you give each proper attention to each one every day. As a result, no child feels less loved or left out.
3. Integrate Them In Your Stress-Relieving Activities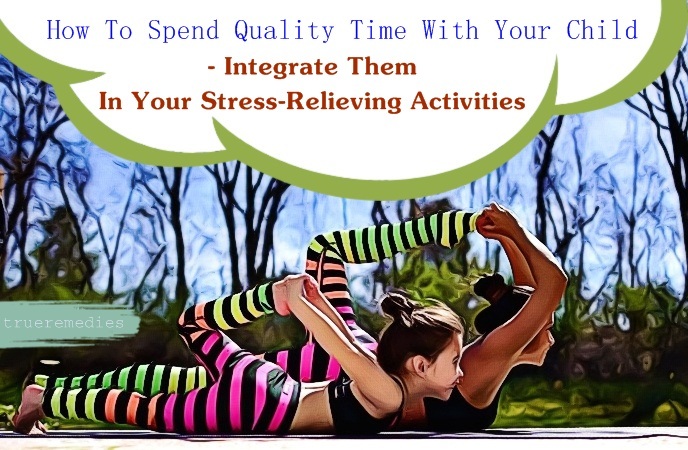 If you are stressed at work, you may want to relax when coming back home. If your children get noisy when you return home, it will accelerate your stress even more. So, a great way to not only alleviate your stress but also increase the emotional connection with your children is to integrate them in your stress-relieving activities, such as listening to music, gardening, or doing yoga. This also surely creates something memorable and pleasurable in your family relationships.
4. Make Meal Time Happy
Many parents say that they feel stressed at mealtimes due to their children's disturbing actions. It seems that the more they try to keep their children away from the home kitchen, the more resolute they try to get involved with you. Nonetheless, if you find that you could not beat them, simply allow them to join your routine. According to research, getting children involved in meal preparations can reinforce family bonding and decrease behavior problems[2] [3]. On the other hand, eating meals together is also a strong deterrent to quit drinking, smoking, and drug abuse.
5. Pray Together As A Family
Pray is a way that we thank God for sending His Son for us, and for the way, he blessed us and supported us. Prayer is one of the best methods to help a Christian family thrive. When praying together, each family member will learn what it means to be intimate with God.
Another benefit of prayer is deepening interpersonal relationships. It will encourage each family member to become much more sensitive to the feelings of other members. Actually, prayer is about intimacy. More specifically, it is an act of shared intimacy, creating family cohesiveness and strengthening the bonds among family members. That is why it is listed as one of the best ways on how to spend quality time with your children.
6. Plan A Picnic
Children love to go outdoors, especially with their family. Thus, it is a chance for you to consolidate the bond with your child, be it doing some physical activities or having a picnic at the backyard.
When it comes to planning a picnic, summertime could be the best time to spend quality time with your family. Not to mention simple activities above, there are also many destinations where you can have your family getaway from the hustle and bustle of daily life. Some examples are going to the amusement park, hiking the hills, and enjoying a beautiful beach.
7. Helping Your Children With Their Homework
One of the great ways to spend quality time with your children is to take part in their education. Do it by checking their homework and notes. By this way, you will know whether your child performs well at the school or has trouble learning specific subjects. What you should do is see the way your child does his homework. In case he has trouble resolving it, instruct him to do it. This is the quality time you can spend with your child.
8. Tell Story At Bedtime
To have quality time with your child, go for an old but amazingly good bedtime story, be it a fairy tale or a story of your childhood or a moral session hidden behind a fun story, or a mythological tale. This acts as a deep family bond and promotes your child's wish to read even more.
9. Exercise Together
Although your children might not get this point, exercising together is the ultimate way to spend quality time with your child. Not only does exercising regularly add years to your life, but it also pluses more years that you could spend together. It does not matter if you play indoors or outdoors; just playing literally is a fun way to bond with your child. Shooting hoops, learning racquetball, or playing tag are some examples of ideal exercises to do. How about teaching your child to play Frisbee, Gilli danda? That's great!
Read more:
10. Quietly Enter Their World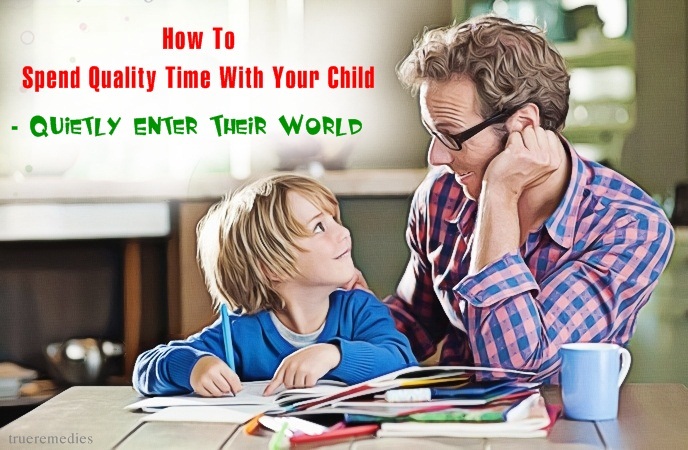 Regardless of your child's age, he wants to know whether you care for them and their stuff or not. They look for ways to feel loved, wanted, and valued.
This is an actual need for human beings. More than that, children are very vulnerable, and their growth depends hugely on the feedback of adults, so if parents can get to know their world in a non-invasive way (with their permission), it creates a huge bond in the family relationship.
Start this tip by quietly sitting or lying next to your child, then listen, watch, and observe merely.
For little kids, it is fun to see their sweet faces when they focus on playing. You can engage in conversations and let them be the center of the dialogues. Ask your child questions about toys and games, and then you can hear what they think in reality.
For older children, just sit next to them and let them continue doing what they are doing. Some children need merely little warm up. But remember not to talk too much or criticize otherwise they will clamp up.
11. Teach Your Child To Play Games 
Instead of giving your child the tablet or phone to let him play with on his own, you can teach him to play board games. Over time, this habit will become a meaningful family tradition. Also, it is probably considered the easiest manner to bond with your lovely ones.
Indeed, spending time with your child is a crucial component of parenting. The key ingredient is spending fun time together and reconnecting with your child when giving up your to-do things. In simple words, it is focusing on each other instead of homework, social media, or emails.
The result of togetherness is a sincere understanding, and this will create unity in the end. Unity is the thing that most families are looking for, isn't it?
Hope that 10 ways on how to spend quality time with your child mentioned above have helped improve the bond between you and your child. Which way do you choose to carry out? Share your experience with us below this post!