Updated: 07/26/2019
What makes a happier mom? Well, perhaps most women will say that it is stress-free. This is also the key happiness to a mom's happiness. How to achieve that key? In this article, you will discover the secrets of how to be a happier mom at home and at work. After reading, we bet that you will understand your value, let go of your fears, and find simplicity and solitude for your life. Then the result is that you will be able to move away from unrealistic demands and enjoy greater joy and fulfillment. Let's check it out on TrueRemedies.com!
9 Ways On How To Be A Happier Mom At Home
1. Know Your Value
It does not matter if you are a hairstylist, taxi driver, maid, head cheerleader, toy repair expert, finance manager, or personal chef, you are amazing, and your family cannot be completed with you. As a mother, you need to acknowledge your own value. Know that even when it does not feel like you are doing something valuable, you are still.
Actually, becoming comfortable with who you take time. But the most crucial thing you need to keep in mind is that your worth should not and is not determined by anyone else other than yourself. You are irreplaceable.
2. Understand And Label Your Feeling
A tip to help you be a happier mom almost right instantly is labeling your feeling. Do this by using a word or two to describe how you feel. Start with "I am feeling…". For instance, I am feeling annoyed" or "I am feeling frustrated."
TrueRemedies Partner Solutions

Need a Help from the Leading Expert Online, Available 24/7?
They're all here and ready to answer your questions online or by phone. Keep asking questions until you get the answer you need.
The reason behind this tip is that when you feel stressed, your brain will become hypervigilant. In this state, even the smallest annoyance of the day is also interpreted into a huge threat to your survival. By labeling your feelings in words, your brain will settle down.
An important caveat: compared with "I am angry," the phrase "I am feeling angry" has an extra word "feeling" which split your emotions from your sense of self. It will be much easier for you to get over anger if you define it as something you feel rather than something you are.
3. Simplify Your Daily Schedule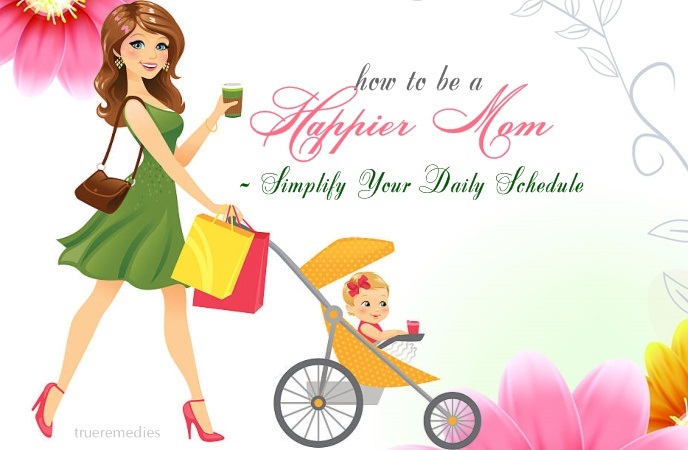 To feel happier, you should cut back on scheduled activities. To do it, firstly, you need to look at your own schedule and home management tasks and then delegate the tasks to someone else. This will create more space in your schedule and also teaches other people the feeling of belonging to a family.
Remember that less stuff means less chaos. Therefore, you will be less stressed. Struggling every day with tasks can feed depression, anxiety, and overwhelming. So, when everyone helps you out, it will improve life for you (the mom) and the whole family. After all, a spaced-out schedule is more relaxing than the cramped one.
4. Ask For Help
Happy moms are not afraid to look for support from family and friends. While martyred, morose moms often miss entertaining weekends or movie nights with their sweetie since they could not arrange their schedule or find a willing relative or babysitter, those happy moms can do it by simply say "Please!"
5. Regular Cleanups
If you are like most moms, you do not like messes, right? The mess can make our mood down; so, you should do regular cleanups to avoid low mood. At the same time, teach your kids to clean up themselves. You can allow them to make a mess, but always let them remove it on their own. Make this parenting tip a family routine to see its incredible effects.
However, make sure that you tell them to do cleanup before moving to another thing like mealtime or bedtime. Not only will this habit make your house cleaner and tidier, but it also makes you feel happier after all.
6. Choose Simple Clothing
Is this sound irrelevant regarding ways to be a happier mom? But in fact, it is relevant.
You should buy clothes for your children that are easily matched with each other. For example, choose a similar color scheme so that you can avoid digging through the wardrobe to find items that match.
Regularly review their clothes every several months to remove stuff that does not fit (because children grow fast) and then donate those clothes to in-need relatives or charity.
In other simple words, you should keep their wardrobe simple.
7. Plan Ahead And Always Prepare In Advance
This goes for almost everything. If possible, you should look at your schedule in advance (perhaps the day before) to see what to do. By this way, you can prepare for those activities or events early and avoid rushing out. When you are ready, things will happen much easier later on.
For instance, prepare your meals the night before. Take your clothes and breakfast in the previous evening; so, your morning will be smooth.
Whenever you can, know what and when you need to do it, then prepare yourself for success by arranging things beforehand.
8. Let It Go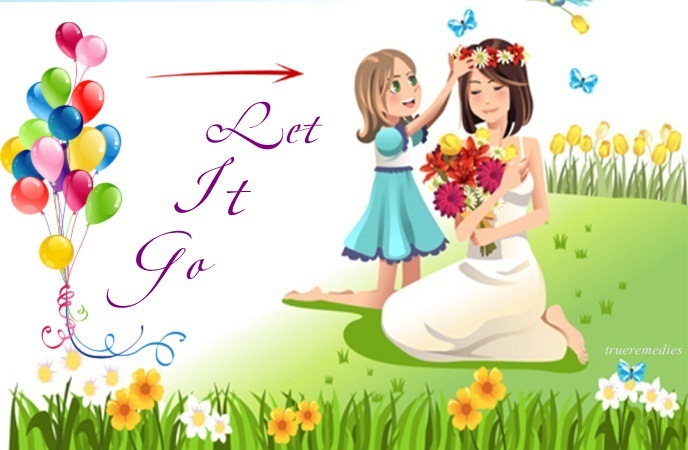 Well, you might be shocked with this tip, but no one is perfect (including you). So when someone or something screws up, acknowledge it and then make any possible/essential corrections to prevent it in the future, and simply let it go. Avoid holding it and bringing it up later.
On the other hand, you should also practice letting go of what doesn't serve you anymore, like comparing and despairing, excessive worrying, unrealistic perfectionism, gratuitous guilt, etc. These are pretty sure no longer serving you and your family as well.
9. Be Gratitude
Happy moms often have an attitude of gratitude since they know that this opens the doors of everyone's heart. You can inspire this to other family members by creating a habit of having everyone around the table and then talk about the thing that they are grateful for in their own lives and also something they really appreciate about others.  In fact, people often forget what you did, but they will remember how you made them feel.
There we have introduced a list of 9 practical ways on how to be a happier mom at home and at work. Now, it is time for you to put them into action and do not hesitate to share your results with us right below this post!
References:
http://edition.cnn.com/2007/HEALTH/parenting/02/15/par.happier.mom/index.html
https://www.womansday.com/relationships/family-friends/a5687/8-ways-to-be-a-happier-mom-118999/